Kate Moss Picked Up Some Beauty Tricks from "Mommie Dearest"
Like dunking your face in water in the morning. "Those old school tricks work!" the ever elusive Moss says an in interview. And it's not the only secret up her sleeve.
---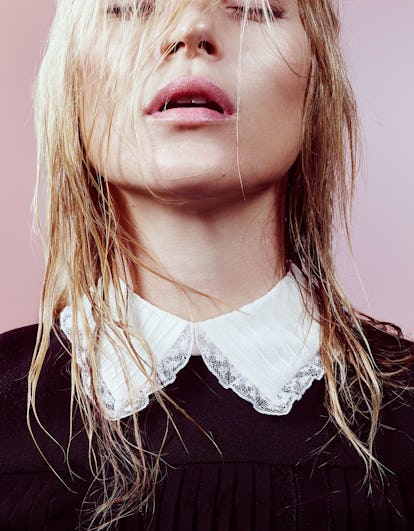 Upon entering the office of W, one is greeted by two Kate Mosses. On both walls hang imposingly large framed photographs of our March 2012 , award-winning double cover shots of "Good Kate" and "Bad Kate," as the Steven Klein pictures were referred to. Looking down at you with those commanding yet serene eyes, she's not exactly saying, "Let's hang out!" But that's not our Kate. Kate lures you in. Instead of having a resting bitch face, Kate has a resting elusive face, oozing mystery. Despite being the magazine's most frequent cover star in its history, I'd never met Kate. So, when the Japanese skincare brand Decorte signed one of the original Supers as their new face – her first ever skincare contract – and invited me to interview her, of course I said yes. We met in Toronto, where Kate was making a personal appearance at Saks Fifth Avenue. Given my preconceived notion of this British Mona Lisa, I presumed I'd do most of the talking. Boy, was I wrong! She was friendly and effusive as she spoke with me about juice cleanses, her daughter and the best beauty advice she ever got. Plus, it turns out we have some friends in common, including the great makeup artist Dick Page.
You guys, you and Dick, go so far back. We have such love. It's one of those things, when you've known somebody for so long. I was 14 when I met him! So it's just that, when I do see him, it's always exactly the same.
He's like a brother, right? He's just so normal. And funny. I wouldn't say "normal" [laughs]
Let's talk beauty! Do you practice beauty from inside out? For sure.
Do you juice or cleanse? I juice. At least three times a year, for a week, I do a juice cleanse. I like it. I feel amazing. And then I have so much energy! Everyone else is like, 'Please…shhhh…' Oh my god, I have so much energy start bouncing off walls!
Do you drink coffee regularly? Not a lot.
Because I always find that cutting off coffee gives me the worst headache whenever I do a cleanse, especially on the first day. I don't drink that much really, but I took my mum on a cleanse once and she said, 'Oh, I don't know if I can do this, Kate…' She drinks coffee and she found it really difficult. I think people who drink coffee say it's the worst for them.
And then you want to take aspirin for it and they're like, 'No, just drink water.' Please…Give me the aspirin. Oh, I know.
Speaking of your mom, did she give you good skin care advice when you were growing up? No. But back then, no one really did. I don't think English people do, in general. It wasn't a big thing. Now it's getting big, but back in the day…
Do you recall receiving sound beauty advice from anyone in your careers? Charlotte Tilbury told me not to go out in the sun, but it's because she's a redhead, so she knows. I kind of ignored her, but now I'm taking no risks!
Do you stay away from the sun now? Not completely out of the sun, but I don't sunbathe anymore. Before it was like, 'Lets just get as brown as we can!' Now, well, I'd look ridiculous anyway.
What SPF do you wear when you go out? Fifty. On my face. And like a 4 on my legs. I'm kidding! Oil everywhere else! [Laughs] I'm kidding.
__Good girl! What was the best skin care advice you ever received?__ I remember taking my makeup off at a Saint Laurent shoot and I was dragging it across my eye. The makeup artist was like, 'Don't do that to your skin! Don't pull it like that!' And I'm like, 'Really?'
You'd never thought about that… Not when you're 17, you don't!
What about your daughter? Do you give her skin care advice? Oh, she knows more than me now! She's into natural, organic. Now, she's into mascara and beauty blogs and stuff.
Who taught you the dunking your face in ice in the morning trick? No one! I just watched Mommie Dearest! That's what she does, isn't it? I first thought, that's insane, then I was like 'Hmmmm.' Those old school tricks work! With slices of cucumber and you just put your face in it and you definitely wake up.
How often do you do it? When I'm at work and it's an early morning and you're still asleep, really, then I do it. It's so good. It definitely works, because all the blood comes to the surface.
What beauty products are always in your purse? A lip balm. Anything that's in the drawer, really.
Favorite snack? Almonds.
Favorite hair product? Kérastase
Favorite restaurant right now? Scott's in Mayfair
What's the last song you listened to? Talking Heads' "Sugar on my Tongue."
TV guilty pleasure? Gogglebox
Last movie you saw? The Danish Girl. He was amazing. Did you see it? Oh my god, you would never think, 'Eddie Redmayne? As a girl?' He's so good and he's so shy and so feminine. The whole thing of him coming out and the pain of not being able to stop himself. Oh, it's so good. I also loved Listen to me, Marlon. That was a great documentary. I watched it twice. It was so well done. It was like he was talking from the dead.
Do you watch documentaries a lot? Yeah. I love them.
Here's an idea for filmmakers out there: a documentary on Kate! It's astonishing there isn't one already. In any case, with that question, our time was up. She was on a tight schedule. Hundreds of fans were waiting to see her in-person on Saks' first floor. Walking past the crowd, I almost told a fan I'd give him 20 bucks if he got her favorite movie out of her. But that would have removed a layer of the mystery.
Watch W's most popular videos here:
Kate Moss: See New and Old Pictures of the Supermodel in W Magazine Here