Kate Moss Takes It Off
In case you missed it, here are the top style stories of the week.
---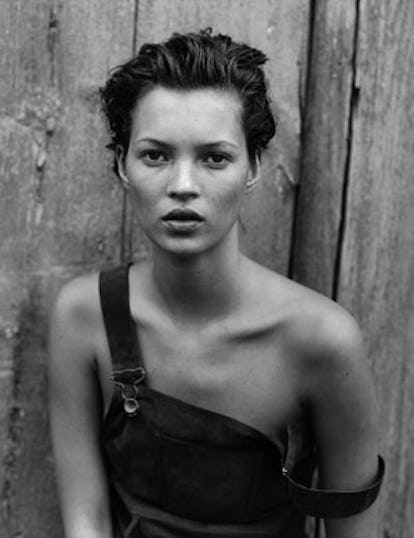 Barbie Gets a makeover courtesy of Hervé Leger; matching life-size bandage dress not included in purchase.
Beckham, David Will be fully clothed, alas, in his new ads for Belstaff.
Blahnik, Manolo Declares his love for Lilo, dislike for platforms; confirms preference for being contradictory.
Delevingne, Cara Pulled a Bieber by wearing a black ski mask during London Fashion Week.
Dore, Garance Cuts her hair; demonstrates French girls really can pull off any look.
Kirkwood, Nicholas Now owned by LVMH; let the expansion begin!
Moss, Kate Announced that she will be on the cover of Playboy's 60th anniversary issue; also that she loves mini-skirts. There's a definite theme here.
Mr. and Mrs. Carter Forbes names Beyoncé and Jay Z the highest earning couple in 2013. Sorry, Gisele.
Pilotto, Peter Is the next designer to collaborate with Target; get ready.
Pitt, Brad Debuts a short haircut, makes us forget all about David Beckham.
Prada Marfa The iconic installation may be closed down by the Texas Department of Transportation. Eight years after its inception.
Ratajkowski, Emily Makes the transition from "Blurred Lines" babe to actress.
Thakoon Addition Launches footwear; delights fans.
Timberlake, Justin Attended a movie premiere in a coordinating outfit with his new bride, Jessica Biel; demonstrates not much has changed since he and Britney wore those coordinating denim ensembles.
Vaccarello, Anthony May be the next guest designer for Versace; what a match made in slinky evening gown heaven.
Washington, Kerry Tops People magazine's list of the best-dressed stars of 2013. Duh.
West, Kanye Rants against corporate America; struggles to find backers for his collection. You do the math.