Kate Moss Stars in the Latest Music Video for Elvis (Yes, Elvis)
Kate Moss vamps in the first official Elvis music video of the decade.
---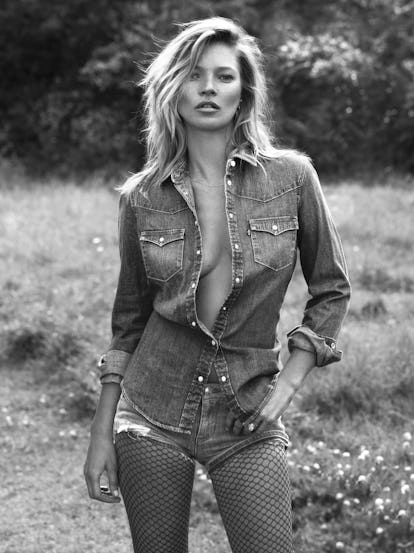 Photo by Mert Alas and Marcus Piggott, styled by Edward Enninful. W Magazine, September 2014.
Elvis Presley may have been the king of rock & roll, but he's actually playing catch up with Paul McCartney, The White Stripes, Elton John and Johnny Cash in at least one category. They've all nabbed Kate Moss to star in their previous music videos. Elvis has not. Until now.
You can't really blame Elvis himself for being so late to the game. Moss was only three-years-old when he died. He never even lived to see Moss star in those Calvin Klein ads.
Of course, with Elvis having passed away almost 40 years ago, maybe you're wondering why he has a new video in the first place. Well, it's for the title track of the latest compilation album The Wonder of You. The record pairs vocal recordings of Presley from the archives with all new orchestral backing tracks performed by London's Royal Philharmonic Orchestra. It's Presley's second posthumous collaboration with the Orchestra after 2015's If I Can Dream. That album hit number one on both the UK and Australian charts, so, naturally, there's a follow-up. Priscilla Presley is an executive producer of both disks.
Though, none of the singles ooff the previous album were accompanied by music videos, despite its commercial success. The only reason this one received a visual treatment is because, well, Kate Moss said yes. According to The Guardian, director Vaughan Arnell noticed some similarities between some of Presley's iconic looks and Moss's fashion shoots, so he conceptualized the idea of Moss channeling Elvis.
In the clip, Moss wears four looks inspired by some of Presley's outfits. Those include a sparkly dress reminiscent of Presley's bedazzled white number, and a black leather jumpsuit similar to one Presley wore in his 1968 comeback special Elvis.
Aside from the sartorial touches, the video lets Moss be herself. She vamps in front of a mic while lip syncing, lounges on a couch and otherwise commands the camera throughout.
Remember, she's an old pro at this music video thing.
Music video vamping isn't all Moss is up to these days. The supermodel is also seriously furthering her business career at the moment. She's started her own modeling agency and has created a team around her to help launch more of her own products.
Though he's currently resting in peace, Elvis is still somehow active in the fashion world as well. He was the unofficial muse of Coach's Spring 2017 runway show, while his granddaughter Riley Keough, a model in her own right, sat front row.