Kate Moss Is Considering "Building a Forest" as a Gift to Planet Earth
She's also gotten "involved with the gardening process," though isn't yet up to gardening herself.
---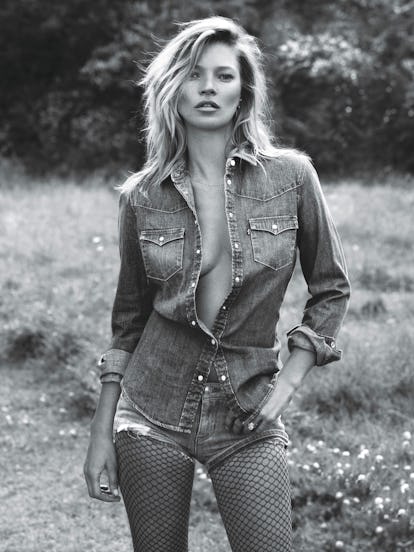 Photographer: Mert Alas and Marcus Piggott Stylist: Edward Enninful
Kate Moss is rarely spotted in nature. (Unless you're counting many Glastonbury Festivals where she's romped around the mud.) But it's never too late for the supermodel to pivot. And at 46, just a few years after discovering the gym and adopting a skincare routine, Moss has apparently decided to go back to her roots.
The revelation comes courtesy of a British Vogue video, which finds Moss responding to questions from 28 of her famous friends. Most kept it light: Winnie Harlow inquired about Moss's favorite dance partner (Mary J. Blige), and Marc Jacobs learned that what Moss misses most about the '90s is the lack of camera phones. But Jade Jagger, a Rolling Stones scion and jewelry designer, posed a weightier question: "How are you changing your life to make it more sustainable?"
Moss, who'd just revealed that she "hate[s]" litter bugs, told Jagger that she does "basic things." But she's considering taking a more significant eco-friendly step. "I've just bought some land," she continued, then paused. "And I think I'm going to build a forest."
Why "build," rather than, say, "plant"? It seems that Moss was just being honest. When answering the next question, about the "lovely" garden she's created in lockdown, Moss was quick to clarify that she has yet to play an active role in her newfound horticultural pursuits. "I didn't do much gardening myself," she told the hairstylist and avid florist Sam McKnight. "But I've gotten very involved with the gardening process."
Moss wouldn't be the first supermodel to show off her arboreal side. Brazil is home to the Gisele Bündchen Forest, which Bündchen and her team established by planting 25,500 seedlings in 2008. More than a decade later, she's still at it. When Bündchen turned 40 this summer, she marked the milestone by planting 40,000 trees.
Some younger supers are starting to follow suit. Last year, in an effort to offset her carbon footprint, Bella Hadid donated to a nonprofit that planted 600 trees (in California and the Amazon rainforest) on her behalf. The 24-year-old isn't on a Gisele level just yet, but it's certainly a start.
Related: Kate Moss Just Discovered the Gym and Juicing, Still Hesitant about Skin and Hair Care