NOICE. DIFFERENT. UNUSUAL.
Gen Z Is Obsessed with Kath & Kim, and You Should Be Too
Don't be a "chunt." Drink some "cardonay" and watch 'Kath & Kim.'
---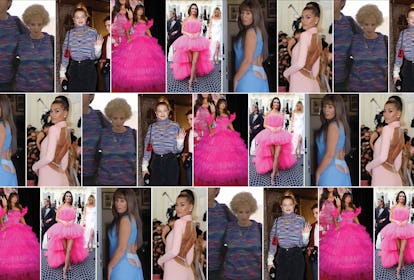 You know how Billie Eilish is obsessed with the American version of The Office? Well, apparently in Australia all of the Gen Z-ers have become similarly obsessed with the homegrown 2000s sitcom Kath & Kim. Ever since it reemerged on Netflix in Australia last year, the kids have gone wild about a show their parents were tuning into regularly less than 15 years ago. Meme accounts have sprung up. Challenges inspired by the show's jokes have gone viral on TikTok. In an odd twist of time and trends, the show's fashion choices, meant to be intentionally bad at the time, have actually dovetailed with the nostalgia-heavy fashion choices of many-a-teen and twenty-something today. The show's resurgence even resulted in Uber Eats paying Kim Kardashian a reported $2 million to play a version of the show's titular character Kim in a series of commercials aired only in Australia.
It's no mistake, though, that the show should be mentioned in the same breath as The Office. Along with the original British version of the workplace comedy, Kath & Kim was a pioneering single-camera sitcom drenched in cringe humor whose massive popularity overseas forced American networks to reconsider their approach to the traditional sitcom (indeed, NBC attempted a Florida-set adaptation of the series, starring Molly Shannon and Selma Blair in the starring roles, but it was canceled after 17 episodes).
Though, from another point of view, the series might be best compared to America's Golden Girls of the 1980s and Britain's Absolutely Fabulous of the 1990s as something of a holy triumvirate of boundary-pushing, female-created and female-starring sitcoms that stand the test of time.
Co-stars and co-creators (not to mention co-writers of every single episode) Gina Riley and Jane Turner first collaborated on a series of larger-ensemble sketch shows that constituted something like Australia's answer to MadTV or SNL. We'd call them Oz's Tina & Amy, but their show helped pave the way for both 30 Rock and Parks & Rec.
The setup for the show is relatively simple. Despite being just months apart in age, Riley and Turner play a mother and daughter who live a decidedly middle class life in Fountain Lakes, a fictional suburb of Melbourne. Riley's Kim, the daughter, is something of a directionless brat stuck in a marriage that seems perpetually on the verge of collapse. She fancies herself as the hottest "hornbag" on the block, even though it's hinted that she doesn't much enjoy sex. Her wardrobe constitutes the hottest items off the sales rack of the suburban mall's most affordable teeny bopper shops (literally, that's where the costume designer sourced them), and in later seasons she struggles at raising her daughter Epponnee-Rae (later to be played as an adult by Kylie Minogue in the show's series finale).
Turner's Kath is a less obviously funny character at first glance. Honestly, she's a rather pleasant suburban woman whose romance with second-husband Kel verges on obnoxiously healthy (while Kim may secretly be a bit of a prude, Kath's bedroom life is quite popping, thank you very much). She has a zest for life, and her biggest flaw seems to be that she overestimates her handle on the ways of the world. She's not dumb, she's just not one to let her own misunderstandings get in the way of her enthusiasm and self-esteem.
They're joined by Kim's "second best friend" Sharon (Kim has no actual "first best friend" or many other friends at all) as played by Magda Szubanski, an actress who has been voted as one of Australia's most trusted celebrities and who Americans may know as Mrs. Hogette in Babe and Babe: Pig in the City. The character Kel is Kath's metrosexual second husband who calls himself a "purveyor of fine meats" (he owns a deli). Then there's Kim's long-suffering but occasionally philandering husband Brett. It's strongly suggested that his true soulmate is actually Sharon.
The show excels at your traditional sitcom plot lines of comical misunderstanding, bad lucks, and bizarre situations and a good handle on catchphrase comedy ("It's noice! It's different! It's unusual!" might be its most well-known). Though, its true strength lies in its dense wordplay. For Americans, it may take a few episodes to familiarize yourself with the Australian accents, but one you acclimate, each episode is like an onion of wit with new jokes revealing themselves upon repeat viewing. Each line of dialogue feels like it's been massaged to be just ever so off from normal human speech, and half the fun is that the scripts are so chock full of dumb puns that you're delighted the actors managed to deliver them with a straight face. When it's suggested that Kath call off her formal wedding and just run away to marry Kel she declares "I can't elope," while holding up an actual cantaloupe she's in the middle of cutting. Characters refer to the Pacific Ocean as the "Specific Ocean" for so long, that by the time a character asks "Where pacifically in the Specific were you gonna go?" it feels like they've somehow pulled off the Mona Lisa of malapropism jokes. It is silly humor as can only be deployed by very smart writing. The writers of Modern Family certainly appreciated it. Everyone down under knows they straight up stole a joke revolving around the misunderstanding of the phrases "baby Jesus" and "baby cheeses."
The show's fashion statements have taken a life of their own. Kim's fashion icon is, obviously, daytime Paris Hilton. Whereas Kath is the kind of woman who hasn't thrown out any of her clothes in decades but still fancies herself up to date. "If she reads in a magazine that says green is in fashion, she'll pull out something green she bought in 1987 and wear that," costume designer Kitty Stuckey told The Guardian earlier this year.
Ironically, the characters have now become fashion icons in their own right. Their influence may have even reached the famed Met Gala red carpet.
Though designer Alexander Wang never confirmed that Kim's thong-exposing evening gown was the inspiration for the garment he designed for Hailey Bieber for the 2019 gala, half of Australia was quick to jump to that conclusion.
Meanwhile, various Jenners and Hadids (and possibly some Gomezes, Ratajkowskis, and Fentys) have all been spotted in outfits that seem to call to mind the women of Fountain Gates.
Maybe it's only Australian Gen Zers who are directly obssessed with the show, but it seems kids everywhere are accidentally dressing like the characters—whether they realize it or not.
Luckily, you can catch up with the kids of Oz. The entire 32-episode series is available to stream in America on Netflix.
Related: W TV Club: On Frasier, Roz and Daphne Carried the Team