There's Probably More Than 13 Reasons Why Selena Gomez Pegged Katherine Langford as a Star
The Australian actress has her breakout in the Netflix YA series 13 Reasons Why, produced by Selena Gomez and directed by Spotlight's Tom McCarthy.
---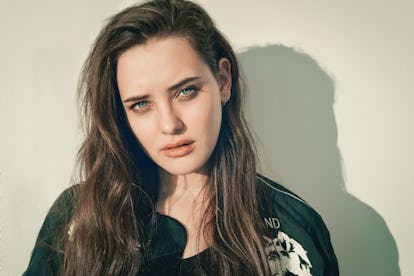 On an unseasonably warm winter day, the Australian actress Katherine Langford is being practically bombarded by new experiences. In New York for the first time, she's dressed in skinny jeans and a black-and-white satin bomber jacket. ("This was designed by a company called Off-White. They're a new designer. They help Kanye West," she offered, innocently.) In less than 24 hours, she will see snow for the first time (Hi, Niko!). And the reason for her trip is to talk about her role in the forthcoming Netflix series 13 Reasons Why, which happens to be Langford's first major job as an actor. A less grounded young woman might be a touch overwhelmed.
But much like Hannah Baker, the American teenager she plays in 13 Reasons Why, Langford exhibits a charming mix of poise and wide-eyed glee. Based on the 2007 novel of the same name, the 13-episode series, which drops March 31st, opens with a lingering shot of Hannah's locker and a voice-over from Hannah instructing her listener to, "Get a snack. Settle in. Because I'm about to tell you the story of my life." Hannah has committed suicide—her locker has become a shrine—and left behind a collection of cassette tapes with specific listening instructions for a pointed group of her classmates, chief among them her friend Clay (Dylan Minnette). As the series zig zags back and forth across time, the stories she reveals through these tapes, she promises, will explain the reasons she took her own life.
For a show premised on teen suicide, 13 Reasons Why, which counts [Selena Gomez]((http://www.wmagazine.com/story/selena-gomez-coach-mentor-high-school-students) as a producer and Spotlight's Tom McCarthy as a producer and director, is surprisingly funny, though poignant. Much of that is a testament to Hannah, whose beyond-her-years wise-cracking and seeming self-assurance masks a reservoir of closeted pain.
"The biggest thing that defines Hannah is her courage and also her belief in people," said Langford. "And it's that combination of courage and wanting to believe there's good in people that ultimately is her biggest fault. She's brave and she has emotion and she's not afraid to let that show."
Tackling Hannah was both a "pinch me" opportunity and a baptism by fire given the serious subject matter (compounded, of course, by the learning curve of being on a Netflix-scale set for the first time).
"What I found was challenging was having the endurance to keep up with the severity, but also the rate at which we were shooting these really sensitive topics," explained Langford, who despite having had a very different high school experience (a very happy one) discovered a universality in the show's portrayal of adolescence. "A lot of the issues we covered I definitely identified with. It was almost scary. I'm not that far out of high school, so I found myself getting nostalgic for when I was 16 and 17."
Born and raised in Perth, the daughter of two doctors, Langford has, as she put it, "always been a very strange, left-of-center, uninhibited human." When she was 15, she was asked to make a list of her top three prospective jobs by a school career counselor. It read, in descending order: medicine, politics, music theater. By graduation, music theater was in the lead, thanks in part to what Langford described as a life-changing Lady Gaga Born this Way Ball that inspired her to explore musical theater and acting. She did a short film in Melbourne called Daughter, a crowdfunded project that she auditioned for online and whose proceeds went towards helping abuse and domestic violence victims.
"I want to be a part of things that make a difference," Langford recalled having felt.
Her next project coincidentally and happily continues this thread. She will star in the Greg Berlanti-directed film Simon vs. the Homo Sapiens Agenda, which follows a boy named Simon who is struggling to come out when he is blackmailed by a stranger and must take control of his own narrative (Langford plays his best friend, Lea).
"You don't get to handpick what you do. I haven't really been pursuing anything with a social agenda, but I've found that they've all been really strong and honest projects," she said. As for the future, well, expect some more firsts. "The beautiful thing about being where I am and the age that I am and having the opportunities that are here right now is that I'm not really tethered to anything."
Watch W's best videos: