Katie Dippold, the Hottest Comedy Writer in Hollywood
Meet the woman behind Ghostbusters, The Heat, and Goldie Hawn and Amy Schumer's new mother-daughter romp.
Photographs by Brian Guido
---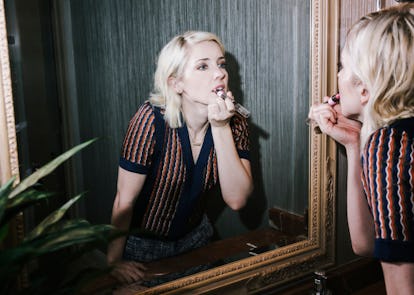 In 2012, when Katie Dippold was working on Parks and Recreation, a film script the then-unknown sitcom writer sold was fast-tracked: Suddenly, Sandra Bullock and Melissa McCarthy were onboard; Paul Feig was attached to direct. "When the script showed up at my house, I said, 'I have to meet the writer,'" Feig, who was then coming off the success of Bridesmaids, recalled recently. After it opened in 2013, The Heat, a female-centric twist on the buddy-cop genre, went on to gross $223 million. This week, Dippold's all-women version of the Ghostbusters reboot, written with and directed by Feig, opens to huge expectations from the fans and at the box office.
At 36, Dippold is not the hottest female comedy writer in Hollywood—she is the hottest comedy writer, period. In person, she is drier than a martini. When we met last week at the Beverly Hills Four Seasons hotel, she looked chicly refined in tweed shorts and a striped blouse, and was all gentle self-deprecation. "Now I spilled tea all over myself," she exclaimed, interrupting herself at one point. "Ah, just a dash!"
"Katie's such a kindred spirit and collaborator," Feig said of their instant chemistry. "I knew immediately that I'd found somebody who would be in my life forever. She was on set every single day on Ghostbusters, sitting there writing new jokes on a Post-It pad and handing them to me."
Success didn't always come so smoothly to Dippold. After graduating from Rutgers University, she actually applied for positions in the CIA and the FBI—she was a big fan of Silence of the Lambs—but was rejected because she'd "tried too many drugs," Dippold said, chuckling lightly. "I did acid when I was 16, and my face came apart like Poltergeist. I spent most of the trip staring in the bathroom mirror trying to put my face back together."
With a spook's life now out of the equation, she turned to her other love, improv comedy. She was first inspired, at age 11, by a pre-fame Ellen DeGeneres, whom her mother took her to see do stand-up. "I was blown away," Dippold recalled. "My back was sore the next day from laughing." In college, she began taking classes with the famed Upright Citizens Brigade troupe (alums include Amy Poehler and Adam McKay); when she graduated, she became a full UCB cast member. Stints writing for Mad TV and Parks and Recreation followed. "I went from doing sketches and jokes to learning that the main thing is worrying about story first," she said.
It was just a week before Ghostbusters opens, and Dippold was already in production on her next project: an untitled comedy starring Goldie Hawn and Amy Schumer as mother and daughter. "I've just come back from shooting in Oahu," Dippold said, pointing to her near-translucent porcelain skin. "As you can see, I've not let the sun touch me." Dippold based the film on her relationship with her own mother. "She's divorced and retired, so I'm always pushing her to do new things, like online dating. Then I thought, 'What if I took her on some crazy vacation, just to shake things up?' But instead of planning the trip, I wrote a movie about it."
Dippold was quick to point out that, despite appearances, "it's not a soft mother-daughter thing. I wanted it to not just be cute, but have hard laughs and R-rated moments. Amy was perfect for it—and it's blowing my mind to hear Goldie Hawn say things my mother says." Dippold likes a little crassness in her comedy. In Ghostbusters, the fart joke, the dick joke—the overplayed tropes of male comedies—have their, well, female counterparts. "It's not like I thought that one day I would be fighting for a queef joke, but it was a big debate," Dippold said. "Fart jokes have been in movies for years. If the only thing offensive about this is that it comes from the vagina, I'm like, 'That's on you!'"
"That's why I loved Bridesmaids," she went on. "There were jokes in there that I hadn't heard yet because it was from the female perspective. It's a different experience, and that actually makes it funny for everyone—if you haven't heard something before, it's even more funny."