Katie Holmes, Filmmaker, Talks Women in Hollywood
With her directorial debut All We Had, the actress sets her sights on a new Hollywood domain.
---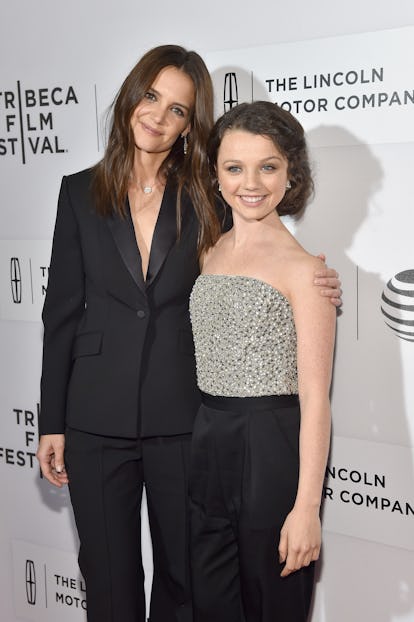 It was just the right time, Katie Holmes said numerous times as she moved down the red carpet. At 37, Holmes is something of a red carpet vet, but this time was different. All We Had, which premiered Friday night at the Tribeca Film Festival, is her feature-length directorial debut.
Based on Annie Weatherwax's novel of the same title (also her debut), All We Had centers on a young, unemployed single mother named Rita (Holmes, with a penchant for dark blue under-eye liner) and her daughter Ruthie (Stephania Owen) as they drive across the rural United States, fleeing yet another in what quickly appears to be a succession of deadbeat boyfriends. After a dine-and-dash gone awry, Rita finds work at a local diner operated by Marty (Richard Kind) and his transgender niece Pam (Eve Lindley). But just as they settle into a tenuous balance, the whole thing begins to unravel.
"I just felt like the mother-daughter story hasn't been told often," Holmes said during a question-and-answer session after the premiere. It's almost claustrophobically centered on that relationship: All We Had passes the Bechdel Test eagerly and repeatedly, many of its most compelling scenes playing out between Rita and Ruthie, or between Ruthie and Pam.
Yet for all its allusions to the economic downturn, to broken homes and systems, to partner violence, All We Had is a film that never takes itself too seriously.
"We were all dancing when we weren't filming," Owen said of the atmosphere on set, speaking just before the premiere. (She's a dead-ringer for a young Holmes, so it's no wonder that, within a week of a Skype call with her future director, she was on a plane from New Zealand to New York.)
Shooting took place over just shy of a month — "It was really, I would say, a lean and mean crew and set," Consuelos said ahead of the premiere. Holmes bounced back and forth between the video tent and the set, consulting with the director of photography and surveying scenes before plunging back into the thick of it. "These weren't easy scenes," Consuelos added. "My mind was spinning." (Holmes's cast, perhaps predictably, had nothing but glowing testimonials for their director on the red carpet.)
"Rita directed the movie," Holmes said, stony-faced, when asked about her dual role. The film has already been posited as the next step in Holmes's own McConaissance (for the uninitiated, the point at which Matthew McConnaughey hoisted himself out of romantic comedies and into True Detective), so perhaps it makes sense that she cited forebears who made a similar transition from mild entertainment to prestige: Angelina Jolie, Jodie Foster, Sarah Polley.
Holmes's move behind the camera also comes at a moment when the conversation about the gender gap in Hollywood is at a peak — and her premiere came just hours after the Chanel and Tribeca Women Filmmakers' Lunch, which she also attended. Despite all this, "I think that's always been a conversation in Hollywood," she said.
"I had so many women help me out in my career," Holmes said. "The power of paying it forward and helping other women is really, really important to every job."
"We all directed this movie," Holmes told the audience after the premiere. "It was really a group effort." That group is populated predominantly by women — Tribeca Film Festival co-founder Jane Rosenthal produced, while Holmes called in a favor with Judy Greer, who offered to fly herself out for two days of shooting, appearing in just one scene. When the filmmakers and cast stepped onto the stage after the premiere, seven women and four men stood in front of the audience — "lean and mean," as Consuelos said, but also a rare reversal in a Hollywood where just 4.1 percent of the top-grossing films between 2002 and 2014 were directed by women, according to a study out of the University of Southern California.
Next up, Holmes is slated to appear in Greer's own directorial debut, A Happening of Monumental Proportions, alongside Allison Janney, Common, and Bradley Whitford. "Paying it forward" might be more than just a mantra.
Meet the It Girls of the 2016 Tribeca Film Festival
Who: Dree Hemingway
What: The model-turned-actress stars as Nadine in "Live Cargo," a film about a couple's dramatic journey to the Bahamas.
Photo by Platon.
Who: Bel Powley
What: The 24-year-old actress stars in "Detour," a film directed by Christopher Smith about a man who suspects his stepfather of murder.
Photo by Kenneth Willardt.
Who: Lola Kirke
What: The "Mistress America" and "Mozart In the Jungle" star falls for a trucker's wife in "AWOL," directed by Deb Shoval.
Photo by Robert Maxwell.
Who: Mackenzie Davis
What: The Canadian actress, seen most recently in "The Martian," stars in Sophia Takal's psychological thriller, "Always Shine," with Caitlin FitzGerald from "Masters of Sex."
Photo by Sebastian Kim.
Who: Zoe Kravitz
What: The singer takes on a major role with Emile Hirsch in "Vincent 'N Roxxy," which also features a Kid Cudi appearance.
Photo by Inez van Lamsweerde & Vinoodh Matadin.
Who: Gillian Jacobs
What: The star of Netflix's "Love," worked with Demetri Martin on "Dean," which will be the comedian's directorial debut.
Photo by Mark Segal.
Who: Sky Ferreira
What: The singer landed a role in "Elvis & Nixon," starring Michael Shannon and Kevin Spacey.
Photo by Getty Images.
Who: Jenny Slate
What: The comedian stars in "My Blind Brother" with friend and fellow comedian Nick Kroll.
Photo by Getty Images.
Who: Maisie Williams
What: The young "Game of Thrones" actress stars in "The Devil and the Deep Blue Sea" with Jason Sudeikis.
Photo by Getty Images.