Katy Perry (In Any Language)
America's biggest export sings the international language of sex and empowerment.
---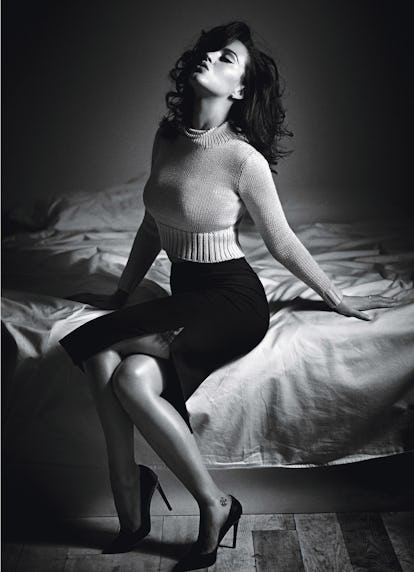 Katy Perry, whose latest album, Prism, came out in October, is a global pop star with subtext. Like many of her songs, her current hit "Roar," which topped the American charts (the video garnered 35 million views on YouTube within the first three days of the single's release), is an anthem with hidden meaning. "I do love a good innuendo," Perry said. "Mom and Dad know what this song means, but just sing along, kids—you won't know what these lyrics are about for another 10 years."
Her previous album, 2010's Teenage Dream, generated five of her nine No. 1 singles, most of them odes to adolescent lust wrapped up in irresistible hook-laden melodies, which made them international successes. The New York Times has labeled Perry "pound for pound…the most potent pop star of the day—her hits are relatable with just a hint of experimentation." "Roar," however, strays from the subject of love and sex. "This song is about sticking up for yourself," Perry explained. "People talk about bullying, but you can be your own bully in some ways. You can be the person who is standing in the way of your success, and that was the case for me. I was having a great professional streak, but personally, I was really immature, so I had to balance those things out." If Perry is referring to her short-lived marriage to Russell Brand, she isn't exactly saying it. "If you are not happy with something, you should change it. So I went to a lot of therapy, and finally, I am able to speak up for myself: You are going to hear me roar!"
Katy Perry: America's Biggest Export Goes Glam
What is the first song that made a lasting impression on you? "Killer Queen," by Queen. I was 15. Of course, I had heard music before that, but nothing had really struck a chord with me until that song. I was hanging out with my friend Morgan in Santa Barbara, my hometown. We were over at her house—she was that friend, the one that you idolize and maybe even have a weird obsession-slash-crush on. We were standing on her bed, wearing her clothes—because her clothes were cooler—and she put on "Killer Queen." My world froze. It was a very cinematic feeling, and it opened up this lyrical world.
Did you start dressing like Freddie Mercury? I didn't know what Freddie Mercury looked like! I was mostly impressed by his confidence. My style icons were Gwen Stefani, when she was in No Doubt, and then Shirley Manson in Garbage.
Santa Barbara is a coastal town. Were you a beach girl? A little bit, but I left for L.A. when I was 17. Santa Barbara was boring to me back then. Now all I want to do is be bored in Santa Barbara, because it is a beautiful place! But when I was young, I felt a little trapped on an island—my family isn't well-off, and it was kind of tough to be hanging out with the millionaire families that live there. I always made do—if I had five dollars, I'd go to the thrift stores on State Street and get my vintage cardigans and pencil skirts. Thank God for the body, because that '40s look really worked on me.
You recorded a gospel record when you were 15. Were your early songs all religious? The first songs I wrote were catchy, but the subject matter was God.
Are you religious now? I try and keep my connection with the G-O-D or with a power that's bigger than me. It's important—otherwise, you don't have any kind of accountability. If you think, Hey, at the end of it all I am just going to be dust, or I have no soul or whatever, why not just be a menace to society? For me, accountability works.
When you arrived in Los Angeles you signed a record deal with Glen Ballard, who produced Jagged Little Pill, a hit album for Alanis Morissette. You were only 17—were you one of those 17-year-olds who acted and felt more like you were 25? Yes. I was a little entitled, a little bratty. I was living in Beverly Hills, and a big famous producer had taken me under his wing. I was getting a monthly allowance—I had a Louis Vuitton key chain for my Jetta! I thought I was the bee's knees. But it didn't last: I got dropped from my record label. And the Jetta was impounded. And I couldn't pay my bills. I suddenly heard no more often than yes. As cheesy as it sounds, the rejection built a lot of character in me. It takes strength to stick around in this business. And I have always been highly ambitious.
Your first hit was "I Kissed a Girl," in 2008. That was far from gospel. It was a bit radical to sing about bisexuality, but it was a topic that was on the tip of everybody's tongue. And even though it was "I kissed a girl, and I liked it, and that's what I like to do sometimes," I sang it with a wink. It may be a fun little pop song, but sometimes fun little pop songs most clearly express the zeitgeist.
Do you remember the first time you heard one of your songs on the radio? I do. I was in Texas, and "I Kissed a Girl" came on, and I filmed myself jumping around. I love hearing my song on the radio the first time, but when it comes on again, I change the station. I already have so much of the spotlight on me. I don't need any more.
Other than lending your voice to The Smurfs and The Smurfs 2, have you been approached about acting in a film? Yes, but I hate mornings. So I told some executives who had asked me whether I wanted to act that if you want to start shooting at 11 a.m., then I'm your girl. Otherwise, I'm not interested. I live a rock-star kind of life where I don't go to bed until 4 a.m. I'm very nocturnal. But I always say that if Ridley Scott wants to hire me for Blade Runner 2 to play Rachael, I am absolutely available.
What movie makes you cry? The Notebook. And Titanic. And I always cry on planes. My boyfriend [John Mayer] and I call them "deprivation tubes": You have a glass of wine, and you're watching a movie, and then, wahhhh.
Do you have a cinematic crush? I actually am dating my crush. I had a crush on him for a long time, and it just so happens we fit together great.
Did you like being married? Of course. I really loved it. It was a new, fun, exciting journey. But I like how I am now, and I think all things happen for a reason.