Katy Perry Has the Best Taste in Opening Acts in All of Pop Music
Queen of Picking Opening Acts.
---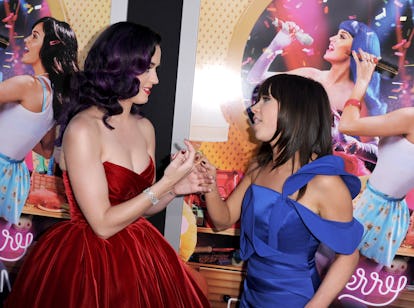 Kevin Winter
A headlining pop diva could use their opening act as a signal to the audience that they've got at least 45 minutes more to buy some merch and hit the restroom, or they could use the slot to expose their audiences to lesser known acts, support up-and-coming artists they admire and bridge inter-genre divides. A lot do the former. No one does the latter better than Katy Perry.
The "Swish, Swish" singer recently announced that none other than Carly Rae Jepsen, queen of opening concerts, critically beloved electro duo Purity Ring and Noah Cyrus will hit the road with her for her upcoming Witness tour. Thus continuing a singularly fire record of excellent choices for supporting acts.
The two acts join a list of past Perry openers that include Robyn, Janelle Monáe, Tove Lo, Tegan and Sara, Charli XCX, AlunaGeorge and Tinashe amongst others.
What's even more interesting in that in choosing these acts, Perry bridges an interesting pop music divide that few of her contemporaries seem interested in. In our increasingly fractured world, there're really two types of pop divas at the moment.
There's the few remaining monoculture pop divas. The types who always have a shot at getting their music played on the radio, who cover mainstream magazines, and are so famous that even your most out-of-touch aunt knows them on a first name basis. They're your Beyoncés and Britneys and Adeles and Gagas.
Then there's your "niche diva." The type of pop artist who maintains a fierce and devoted fanbase of their own that flourishes on platforms like Twitter and Tumblr, who often puts out music that pleases even the most discerning of critics. Though the niche diva may flirt with mainstream success here and there, they're mostly relegated to the pop culture undercard (sadly). They're your Bankses and Grimes and Róisín Murphys of the world. They're your, well, Katy Perry tour openers.
At the very least, it seems like these small-batch divas would make the perfect opening acts for the big-box divas. Don't rock bands always just bring lesser-known rock bands on tour with them to open? Don't rappers usually bring along other rappers? Shouldn't pop stars do the same? Besides, it's pop music fans who come out to their shows, who brave traffic and public transit backups, and who shell out increasingly shocking sticker prices for tickets. Don't they deserve a full night of relevant entertainment and exposure to new music?
And for all the talk of girl power and supporting creatives in vogue amongst pop singers at the moment, shouldn't headliners feel it something of a duty to, you know, actually bring other women on tour with them?
It's surprising how often it doesn't happen. Lady Gaga is currently on her Joanne tour without a traditional opening act of any sort (her frequent producer, DJ White Shadow, is opening some shows by spinning records). Rihanna once brought Kesha on tour, but increasingly seems to have a preference for male openers. Taylor Swift's openers for her Red tour were all men, but she did have HAIM and Rae Morris open select dates on her more recent 1989 tour. Beyoncé most recently relied on a mix of DJ Khaled, special guests, and artists from her own label. Ariana Grande deserves credit for bringing Victoria Monét and Little Mix on her most recent outing.
Though it's Perry who stands alone in her apparent commitment to bringing on other female or female-fronted pop acts.
It's a tradition that started with her first headlining arena tour, the California Dreams tour, back in 2011. She made the surprising decision to bring Robyn on the road with her. The Swedish pop star had one of the most critically adored and viral pop songs of 2010 with "Dancing On My Own." Perry brought her on board and showered her in praise. She's clearly a big fan (and, come to think of it, it's entirely possible that Robyn's signature blonde pixie cut inspired Perry's latest 'do). She continued the tradition with Marina and The Diamonds, Oh Land, Natalia Kills, Icona Pop, Kacy Musgraves, Betty Who and the aforementioned lot.
Perry is choosing female artists she actually seems to enjoy, making sure they get exposure and a nice paycheck along the way. Plus she's giving her audience more bang for their buck. Maybe other artists should take notice.
Related: Katy Perry Confesses to Crying to Some of Her Own Songs
Katy Perry Confesses to Crying to Some of Her Own Songs:
Katy Perry's Kitschiest, Candy-Covered, Firework-Spouting Costumes
Fresh on the scene, Katy Perry performs at the opening of a Las Vegas hotel in 2008 in a Vegas-themed ensemble.

Getty
Katy Perry performed at the 2008 MTV Europe Music Awards dressed up like a football player.

Getty
Perry performed at another 2008 concert, ending her set by jumping into a giant cake.

Getty
Perry entered the stage at a 2008 Jingle Ball via a giant banana and dressed like Mrs. Claus.

Getty
Perry performed on the Today show in 2009 wearing a mini-dress embroidered with some large dice.

Getty
The following year, in 2010, she returned in a candy-coated getup.

Getty
At the holiday-themed Jingle Ball, Perry turned herself into a snowman.

Getty
For the 2010 Victoria's Secret Fashion Show, Perry opted for a bright yellow latex dress.

Getty
At the 51st Annual GRAMMY Awards, Perry once again entered the stage via a giant banana.

Getty
Perry flew high above the crowd for the 2012 Billboard Music Awards.

GETTY
Perry got into the movie spirit for the premiere of her film Katy Perry: Part Of Me.

Getty
Perry closed out the 2013 MTV Video Music Awards in a boxer's ring in Brooklyn.

Getty
For the 2010 MTV Movie Awards, Perry enlisted Snoop Dogg to live out a beach paradise.

Getty
Perry jumped rope onstage during the iHeartRadio Music Festival at the MGM Grand Garden Arena on September 20, 2013.

Getty
At the Pepsi Super Bowl XLIX Halftime Show in 2015, Perry soared through the sky on a shooting star.

Getty
Perry's 2014 Grammy Awards performance was quite literally lit, with a dark magic themed set.

Getty
Perry became a maypole at the MTV EMA's in 2013.

Getty
Feeling feline on the opening night of her Prismatic World Tour at Odyssey Arena on May 7, 2014.

Getty
On the same tour, the singer also embraced a flower child persona.

Getty
And channeled Cleopatra, complete with a giant golden horse.

Getty
What would a Katy Perry performance be without some fireworks?

Getty
Katy Perry peforms onstage at YouTube #Brandcast presented by Google at Javits Center North on May 4, 2017 in New York City.

Getty
Katy Perry performs at 102.7 KIIS FM's 2017 Wango Tango at StubHub Center on May 13, 2017 in Carson, California.

Getty
Katy Perry performs "Swish Swish" in Studio 8H on May 20, 2017.

Getty
Katy Perry performs on the Pyramid stage on day 3 of the Glastonbury Festival 2017 at Worthy Farm, Pilton on June 24, 2017 in Glastonbury, England.

Getty