Katy Perry Has Had Shower Sing-Offs With Her Boyfriends, Naturally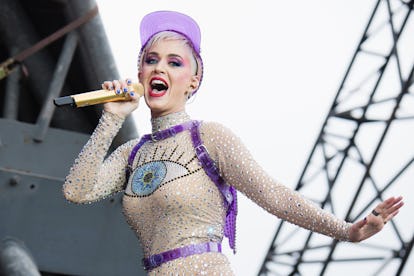 Harry Durrant/Getty Images
If the idea of Katy Perry and John Mayer having a classic-rock croon session while soaping up in the shower doesn't seem fathomable to you, well, we're about to burst your closed-minded bubbles.
Perry, W's September cover star, has divulged lots of shower talk in her profile, starting with the fact that it often gives her some of her best songwriting ideas.
"I get them in three different ways. From Transcendental Meditation, where I rest and kind of restart my mind. Or during a massage. Or showering," she explained. "I always have my phone on standby when I hop out of the shower."
So does she sing her own songs in the shower, then? Not quite. "I make up songs," she continued. "Or I go, 'I like to move it, move it.' I've had several sing-offs with boyfriends. That's very fun—singing in the shower and scrubbing!" A Tom Petty session with Russell Brand? Harmonizing to Enya with Orlando Bloom? Think creatively here, people.
Katy Perry Confesses to Crying to Some of Her Own Songs
And while the shower may not be a natural setting for a tear-jerking musical moment, Perry did confess something on the emotional side of the spectrum for her: She sometimes cries during her own songs. "I have. My songs are so personal. Sometimes they are about people who are no longer in my life, or they're about unrequited love," she said. "I started out on tour last time and I couldn't perform a couple of the songs on the record because I was just too upset." But if there's a non–Katy Perry song that makes Perry cry, it would be the entire Dear Evan Hansen soundtrack, which made her a complete "mess" after seeing the show on Broadway. You and thousands of others, girl.
Watch Perry's cover story come to life with W Magazine: Beyond the Page, our new (free) AR app. Download it for iPhone and Android.
Related: Step Into the Future with W's September Issue, Starring a Defiant Katy Perry
Katy Perry Roars for W's September Cover: "I Feel Very Free"
Photograph by Steven Klein. Styled by Edward Enninful. Hair by Shay Ashual at Art Partner; makeup by Yadim at Art Partner; manicure by Honey for Londontown at Exposure NY. Set design by Stefan Beckman at Exposure NY.
Miu Miu dress; Repossi ear cuff; Perry's own nose ring.

Photographs by Steven Klein, Styled by Edward Enninful
Katy Perry wears Saint Laurent by Anthony Vaccarello boots; Tom Ford skirt.

Photographs by Steven Klein, Styled by Edward Enninful
Miu Miu stole; Prada top and skirt; Swarovski necklace.

Photographs by Steven Klein, Styled by Edward Enninful
Photographs by Steven Klein, Styled by Edward Enninful
From left: AG shirt. Bottega Veneta dress; Delfina Delettrez ear cuff; Tom Ford boots.

Photographs by Steven Klein, Styled by Edward Enninful
Brandon Maxwell coat; Repossi ear cuff; Saint Laurent by Anthony Vaccarello boots. Beauty note: Shock hair into recovery with Moroccanoil Mending Infusion.

Photographs by Steven Klein, Styled by Edward Enninful
Miu Miu dress; Repossi ear cuff; Perry's own nose ring.

Photographs by Steven Klein, Styled by Edward Enninful; Hair by Shay Ashual at Art Partner; makeup by Yadim at Art Partner; manicure by Honey for Londontown at Exposure NY. Set design by Stefan Beckman at Exposure NY. Model: Louis Bubko at Fusion. Director of Photography: Mark Luckasavage; Lighting Director: John Torres; 3-d Scanning: Dir Dim; Producers: Jonathan Lia, Stephen Holtzhauser; Video Editors: Artem Nikitin, Alex Hammer; Video Artist: Douglas Abraham; Root Motion: Joshua Steen; Root Producer: Lynn Gaurino; Stills PostProduction: Jim Alexandrou; After-Effects Artist: Alexandre Moors; Illustrator: Michael DeWeese; Digital Technician: Tadaaki Shibuya; Lighting Assistants: John Temones, Kiri Wawatai, Tim Hoffman; Fashion Assistants: Dena Giannini, Devon Head; Production Coordinator: Sverre Wegge Gundhus