Katy Perry's 'Swish, Swish' Video: A Guide to All the Memes and References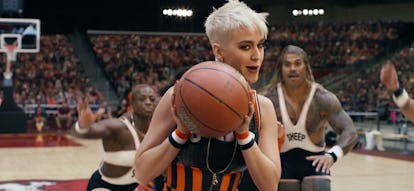 There's definitely a lot going on in Katy Perry's "Swish, Swish" video. Like more than most people can even detect. Even more than the numerous lyrical and musical references already contained in the song.
Sure, there's an obvious basketball theme to the long-awaited video that seems to borrow plot elements from Space Jam and (less obviously) an old Trick Daddy and Trina video, but at its heart the video is really about internet memes. Yes, it's a giant celebration of this year's weird internet memes, from the Bag Raider's "Shooting Stars" to proud Texan Christine Sydelko. More memes that one can really handle. So many memes that there's not even really time for direct references to the song's supposed inspiration: Perry's silent feud with Taylor Swift.
Here's a breakdown of all the many, many memes and references that we caught. Though, it's very possible there's even more that we didn't.
Pyramids = Illuminati
One of the web's undying meme is theorizing that certain celebrities are part of the illuminati, and thus constantly embedding the illuminati symbol of the pyramid into their work.
Nugget the Dog and Nugget Guy
Nugget (the dog) is Perry's teacup poodle who recently starred in his own Citi Bank commercial. He's sitting in the lap of Carter Wilkerson, a Nevada teen who recently asked the Wendy's Twitter account how many retweets he needed to get free chicken nuggets for life. "18 million," was the answer. He's currently at 3.7 million.
Sports Broadcasting
"Swish Center" is an obvious reference to ESPN's "Sports Center," and that's real life sports broadcasters Rich Eisner and Bill Walton (also a former NBA MVP in his day) calling the shots.
Her Teammates
You probably already know Gaten Matarazzo from Stranger Things, Ushkowitz from Glee and coach Molly Shannon from many, many pure and holy projects, but the Tigers are rounded out with a few web stars.
Christine Sydelko is a Vine star turned YouTube Vlogger turned Twitter sensation who always wears a "Don't Mess with Texas" t-shirt and is basically this year's answer to Joanne the Scammer.
Dexter Mayfield is a choreographer and dancer whose most viral moment was a particularly fierce runway walk for LA-based costume designer Marco Marco.
Then there's Backpack Kid AKA Russell Got Barzz who the non-internet world was previously introduced to during Perry's SNL performance earlier this year.
The Opponents
"The Tigers" feature Brooklyn Nine-Nine's Terry Crews, Game of Throne's Hafþór Júlíus Björnsson (AKA The Mountain) and cast members from Netflix's GLOW on cheerleading duty.
Bag Raider's "Shooting Stars" Meme
In 2008, Australian EDM duo Bag Raider released a single "Shooting Stars." Nine years later it's re-emerged as a video meme that is hard to explain, so just watch this:
SNL's Turtle Shirt Sketch.
Sure, that's referenced too, in a throwaway moment.
The Gronk
That's New England Patriot's tight end Rob "The Gronk" Gronkowski, who, if you're not aware, is sort of a human meme in and of himself. He was also the subject of an epic GQ shoot last year.
Crying Jordan
One time Michael Jordan cried in public and it became a whole thing that just will not die. Here, Katy Perry recreates it.
Space Jam
There's numerous references in the video to Michael Jordan's classic Looney Tunes flick Space Jam within. The most obvious and directed is Space Jam's Special Juice vs 'Swish, Swish's' Kobe Sweat. Oh, there's also an unrelated Popeye/spinach reference in here as well.
Doug the Pug
Doug, an Instagram famous dog, cameos for total meme inclusion.
Perry's Own "Last Friday Night" Video
Trick Daddy ft. Trina and The Slip-N-Slide Express's "Take It To Da House" Video
It's very possible no one outside of Florida remember this 2001 bop, but the video also featured an underdog basketball team coming together to defeat a tougher foe, the featured female rapper providing half-time show entertainment and, a key scene involving a glass backboard breaking.
Related: Katy Perry's "Swish, Swish": A Breakdown of the Song's Many References and Influences (and Taylor Swift Digs)
A 7-Year-Old Interviews Katy Perry:
Katy Perry's Kitschiest, Candy-Covered, Firework-Spouting Costumes
Fresh on the scene, Katy Perry performs at the opening of a Las Vegas hotel in 2008 in a Vegas-themed ensemble.

Getty
Katy Perry performed at the 2008 MTV Europe Music Awards dressed up like a football player.

Getty
Perry performed at another 2008 concert, ending her set by jumping into a giant cake.

Getty
Perry entered the stage at a 2008 Jingle Ball via a giant banana and dressed like Mrs. Claus.

Getty
Perry performed on the Today show in 2009 wearing a mini-dress embroidered with some large dice.

Getty
The following year, in 2010, she returned in a candy-coated getup.

Getty
At the holiday-themed Jingle Ball, Perry turned herself into a snowman.

Getty
For the 2010 Victoria's Secret Fashion Show, Perry opted for a bright yellow latex dress.

Getty
At the 51st Annual GRAMMY Awards, Perry once again entered the stage via a giant banana.

Getty
Perry flew high above the crowd for the 2012 Billboard Music Awards.

GETTY
Perry got into the movie spirit for the premiere of her film Katy Perry: Part Of Me.

Getty
Perry closed out the 2013 MTV Video Music Awards in a boxer's ring in Brooklyn.

Getty
For the 2010 MTV Movie Awards, Perry enlisted Snoop Dogg to live out a beach paradise.

Getty
Perry jumped rope onstage during the iHeartRadio Music Festival at the MGM Grand Garden Arena on September 20, 2013.

Getty
At the Pepsi Super Bowl XLIX Halftime Show in 2015, Perry soared through the sky on a shooting star.

Getty
Perry's 2014 Grammy Awards performance was quite literally lit, with a dark magic themed set.

Getty
Perry became a maypole at the MTV EMA's in 2013.

Getty
Feeling feline on the opening night of her Prismatic World Tour at Odyssey Arena on May 7, 2014.

Getty
On the same tour, the singer also embraced a flower child persona.

Getty
And channeled Cleopatra, complete with a giant golden horse.

Getty
What would a Katy Perry performance be without some fireworks?

Getty
Katy Perry peforms onstage at YouTube #Brandcast presented by Google at Javits Center North on May 4, 2017 in New York City.

Getty
Katy Perry performs at 102.7 KIIS FM's 2017 Wango Tango at StubHub Center on May 13, 2017 in Carson, California.

Getty
Katy Perry performs "Swish Swish" in Studio 8H on May 20, 2017.

Getty
Katy Perry performs on the Pyramid stage on day 3 of the Glastonbury Festival 2017 at Worthy Farm, Pilton on June 24, 2017 in Glastonbury, England.

Getty