Katy Perry Uses About 200 Words to Claim She Has Nothing to Say About Taylor Swift
Katy Perry doesn't want "Anyone. Anyone. Anyone. Anyone" to think she wrote a song about Taylor Swift, so let's get that straight, honey.
---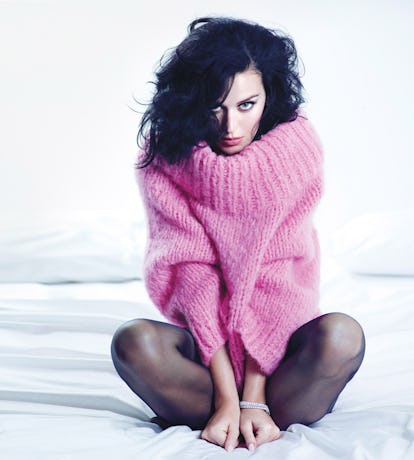 Usually Taylor Swift reserves her lyrical scorn for that long list of ex-lovers, but in a 2014 Rolling Stone profile she revealed that her then unheard track "Bad Blood" was about a rival female musician. Upon its release, dedicated amateur celebrity internet detectives quickly pointed to Katy Perry as the likely subject and the story has stuck ever since (the backstory, supposedly, has something to do with Perry luring away backup dancers from a Swift tour).
Though Perry may have fired off a few subtweets about the situation, she's never directly addressed it. Of course, Perry is prepping her first album since the release of "Bad Blood," and curious minds can't help but wonder if perhaps that still-untitled album contains a "Bad Blood" retort.
In deed, Entertainment Weekly dared to pose the question to Perry and in the course of not really saying anything about it she managed to ramble off almost 200 words (well, 197 give or take, and considering how much EW may or may not have edited the statement down for clarity. Four of those are just the word "anyone" in repetition. Two more of which are "honey," honey).
Here is her response in full:
"Well that's not my question to answer — if it's about me. I think [my new album is] a very empowered record. There is no one thing that's calling out any one person.
"One thing to note is: You can't mistake kindness for weakness and don't come for me. Anyone. Anyone. Anyone. Anyone. And that's not to any one person and don't quote me that it is, because it's not. It's not about that. Honestly, when women come together and they decide to unite, this world is going to be a better place. Period end of story. But, let me say this: Everything has a reaction or a consequence so don't forget about that, okay, honey. [Laughs] We got to keep it real, honey. This record is not about anyone else! This record is about me being seen and heard so that I can see and hear everyone else! It's not even about me! It's about everything that I see out there that I digest. I think there's a healing in it for me and vulnerability. If people want to connect and be healed and feel vulnerable and feel empowered and strong, God bless and here it is."
A simple "yes" or "no" would have sufficed.
Yet, we'd wager this means "No …not exactly."
Unlike Swift, Perry isn't known for settling every little score via song. Even the songs she's admitted were about, in part, her divorce from Russell Brand weren't really about Russell Brand. That's just not how Perry rolls. She's more about uplifting lyrics and portraying any negativity in her past as things to acknowledge overcome, not dwell on. It's her brand. She's a "Firework," not a victim.
Which is to say, Perry's next album likely does not include a direct clap back at Swift, but probably some vaguely empowering song about female unity or something that we'll all just pretend is pure shade directed at Taylor Swift.
If Perry really did want to twist the knife just a little, we can only hope that the inevitable music video features cameos from Tina Fey and Amy Poehler.
Katy Perry America's Biggest Export Goes Glam:
Katy Perry at the Met Gala: See the Singer's Outrageous Gowns on the Red Carpet (Including Her Comme des Garçons Gown)
Katy Perry wore a bold blue Tommy Hilfiger gown to the 2009 Costume Institute Gala.

Patrick McMullan/Getty Images
Katy Perry wore a bold blue Tommy Hilfiger gown to the 2009 Costume Institute Gala.

Patrick McMullan
Katy Perry wore a CuteCircuit gown covered in 3,200 LED lights to the Costume Institute Gala Benefit for the opening of the "American Woman: Fashioning a National Identity" exhibition at The Metropolitan Museum of Art on May 3, 2010 in New York City.

Stephen Lovekin/Getty Images
Katy Perry wore a CuteCircuit gown covered in 3,200 LED lights to the Costume Institute Gala Benefit for the opening of the "American Woman: Fashioning a National Identity" exhibition at The Metropolitan Museum of Art on May 3, 2010 in New York City.

Stephen Lovekin/Getty Images
Katy Perry wore a Dolce & Gabbana dress to the Costume Institute Gala for the "PUNK: Chaos to Couture" exhibition at the Metropolitan Museum of Art on May 6, 2013 in New York City.

Dimitrios Kambouris/Getty Images
Katy Perry wore a Dolce & Gabbana dress to the Costume Institute Gala for the "PUNK: Chaos to Couture" exhibition at the Metropolitan Museum of Art on May 6, 2013 in New York City.

Kevin Mazur/Getty Images
Katy Perry and Moschino designer Jeremy Scott attend the "China: Through The Looking Glass" Costume Institute Benefit Gala at the Metropolitan Museum of Art on May 4, 2015 in New York City.

Dimitrios Kambouris/Getty Images
Katy Perry wears Moschino to the "China: Through The Looking Glass" Costume Institute Benefit Gala at the Metropolitan Museum of Art on May 4, 2015 in New York City.

Larry Busacca/Getty Images