KAWS sets The Standard
"I am pretty much making the same work I've been making for ten years," says Brian Donnelly, or the artist known as KAWS (above). "I'll see where that takes me and not worry about...
---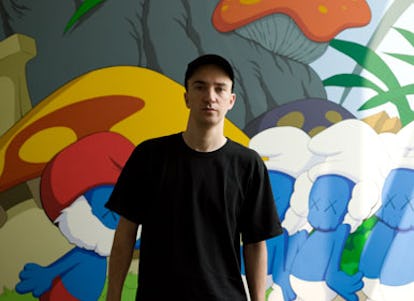 His latest installation, opening this Wednesday at The Standard, features one of his signature creations, Companion (Passing Through) in the front plaza. The 16-foot sculpture splices the body of one of pop culture's most iconic cartoon mice on what has become another pop icon itself: KAWS' signature inflated skull and crossbones. "I love the characters I work over," he says. "I love the Michelin man and how it's one of the first characters used to sell a product. It's not so much a take down as it is a redistribution."
It's this re-appropriation of icons like Mickey, The Simpsons, or SpongeBob that has been at the crux of his pioneering melding of street art, commercial images and products, and pop art. While it's fine art to be sure, it still absolutely smacks of something more mass-market. It's a formula that's been evolving since the early days of his career–as a graffiti artist, a short stint as an animator for Disney, and then creating his now iconic limited-edition vinyl figures. "Today, it's really different compared to the '90s when I was starting with toys," he says. "I felt like that was taboo. It was only really accepted and embraced in Japan." Now, with shows at the Bape Gallery, The Aldrich Contemporary Art Museum, and countless galleries, the rest of the world has caught up.
Though KAWS doesn't shun his roots. He still creates small-scale limited-edition figures, collaborates with big-name commercial brands like Burton, Nike, and Comme des Garcons, and even worked with The Standard earlier this year on a set of limited-edition light bulbs with filaments in his trademark X shapes (they quickly sold out).
Companion (Passing Through) will be on display at The Standard in New York (848 Washington St.) through October.
**
Photo of Companion (Passing Through) courtesy of Brad Bridgers for the Aldrich Museum.