KAWS in the Country
The artist on his new museum exhibition in the rolling hills of northern England.
---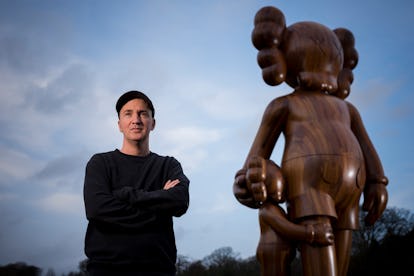 Brian Donnelly, the artist known as KAWS, famously got his start on the street. He tagged trains and billboards and, after studying at New York's School of Visual Arts, made stealth interventions to the ads on phone booths and bus shelters. His work has always been graphic, playful, and decidedly urban even as he has transformed such iconic pop culture figures like Bart Simpson and SpongeBob SquarePants into collectible toys and neon-bright paintings. Ever the populist, he's always worked in many modes at once—from a Kanye West album cover to a Macy's Thanksgiving Day Parade balloon to a bottle for a Pharrell fragrance. Increasingly, though, he's turned to making monumental sculptures that riff on his own characters. His most well-known creation is Companion, a kind of Mickey Mouse-as-Everyman figure, with X-ed out eyes, oversized shoes, and an air of weary resignation. Last summer, his 18-foot-high, lacquered black Along the Way, depicting a pair of Companion figures with bowed heads, their arms across each other's backs, was given pride of place outside the Rijksmuseum in Amsterdam during ArtZuid, an open-air sculpture biennial that also featured works by Frank Stella, Thomas Houseago and Georg Baselitz. (Simultaneously, a natural wood version of Along the Way, first shown at Mary Boone gallery, loomed over visitors to the Brooklyn Museum, prompting a selfie frenzy.)
But on Saturday, February 6, with the opening of KAWS's first museum exhibition in the U.K., the artist's colossal figures will dot the rolling hills of Yorkshire Sculpture Park, a sprawling contemporary art garden in West Yorkshire, England, home of the Brontës. "I think most people associate me with urban and street," Donnelly acknowledged the other day, as he was wrapping up the installation of the show, which includes several more sculptures and new paintings inside the park's gallery space. "I really like seeing how the sculptures relate to each other and to the landscape. There's a vulnerability to them that seems really right in nature."
One recent morning, the six outdoor works were completely covered in frost. "It gave a mossy feeling to the pieces," he recalled. "What's great about Yorkshire is that it's like 500 acres, so you can really walk from a distance and see the sculptures big and then almost at ant-size. I've never been able to see them from that kind of distance." Among them is a 18-foot high figure who appears to be comforting a smaller one clinging to his leg. Like most of his large works, Good Intentions elicits feelings of wonder, angst, and empathy in equal measure. Donnelly, who lives in Brooklyn with his wife and young daughter, calls the tiny figure "toddler-esque." For a long time, he said, he made lone figures whose relationship was solely with the viewer. But beginning with Along the Way in 2013, he began changing that dynamic. "When I made Along the Way, where two figures are dependent on each other, there seemed to be a conversation happening within. Seeing this work really opened up my thinking about creating works that allude to inner narratives. It gave me new ways of exploring the figures' forms."
The show runs through June 12, allowing the shifting seasons and scale to affect the figures in the landscape. "I really like having work in a public space," Donnelly said. "I mean, some people will come here to see my work, and some people will just happen upon it. And I love that idea."
Photos: KAWS in the Country
KAWS. Photo by Jonty Wilde.
At This Time, 2013. Photo courtesy of the artist and YSP. Photo by Jonty Wilde
Photo courtesy of the artist. Photo by Jonty Wilde.
Good Intentions (detail), 2015. Photo courtesy of the artist. Photo by Jonty Wilde.
Small Lie, 2013. Photo courtesy of the artist. Photo by Jonty Wilde.
Along the Way, 2013. Photo courtesy of the artist. Photo by Jonty Wilde.
Photo courtesy of the artist. Photo by Jonty Wilde.
Photo courtesy of the artist. Photo by Jonty Wilde.
Small Lie, 2013. Photo courtesy of the artist. Photo by Jonty Wilde.