Keenan Kampa Loves Wearing Denim and Trainers
The American ballerina shares a page from her personal style book.
---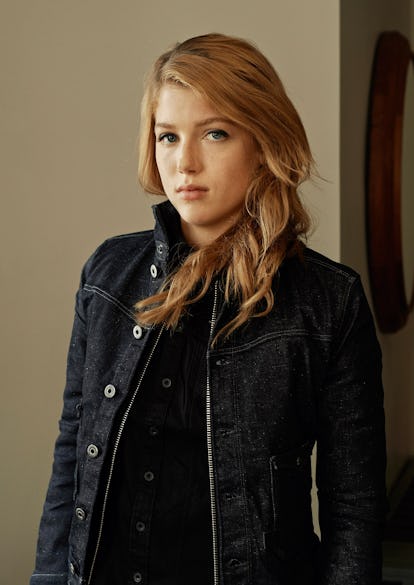 Keenan Kampa, 24, has already racked up some serious "firsts" on her resume. The Virginia native was the first American to be accepted into the prestigious Vaganova Academy of Russian Ballet, from which she graduated in 2010. And after a two-year stint with the Boston Ballet, she became, in 2012, the first American to join the Russian Mariinsky Ballet Company.
She is now lending her kineticism to the G-Star RAW fall campaign, which also features Kasabian guitarist Sergio Pizzorno. Tuesday night, Kampa took a break from dancing to attend G-Star RAW's fashion week party at the High Line Hotel, where the campaign made its debut. Here, the ballerina shares some of her favorite things.
Define your style in three words: Clean, slightly androgynous, unexpected.
Daily uniform: Boyfriend jeans and a clean top. Always something that is comfortable and does not distract from who I am.
Greatest hits: I'm constantly traveling so I try not to get too attached to certain pieces, as they might be left behind.
Preferred footwear: My trainers. I have a collection.
Finishing touches: My two wristwatches: one from Russia and the other from home. I always wear them together and they always strike a conversation. My long charm necklace that I never take off unless I'm performing. And my turquoise ring from my great grandmother—it's from her Santa Fe reservation.
Nighttime look: Usually a leather jacket and denim. I don't typically wear the standard skirt and heels because it's not my style, nor comfortable.
Style icons: Alexa Chung and Iris Apfel.
Last purchase: Custom-made bicycle from my friend in St. Petersburg—it has an aqua body with a bright neon orange back wheel. And a glass airplane brooch. Also these binocular glasses called Zoomies.
Lusting after: A top-of-the-line metal detector (like the kind used on beaches). The one I received for Christmas when I was 11 is a bit dated.
Favorite haunts: In Boston, a vegetarian bar, The Other Side. In St. Petersburg, a restaurant called 2213.
Fall must-haves: G-Star's Jeg Skinny and Stella jacket.