Keeping Up With Kim Kardashian at the Buro Fashion Forward Initiative
Kim stopped by the event, founded by Miroslava Duma to support young designers, with her sister Kourtney during Paris Fashion Week.
---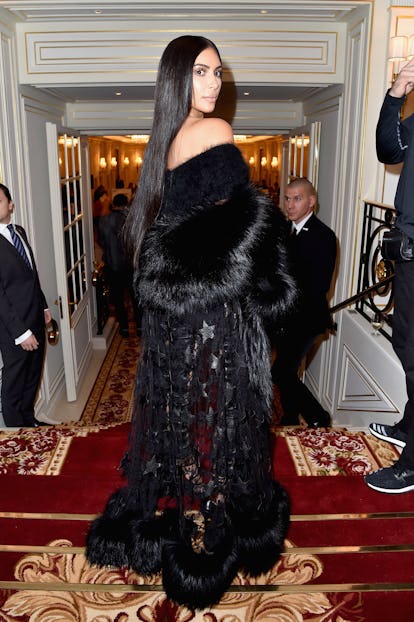 Photo by Pascal Le Segretain/Getty Images for Buro 24/7
"No interviews," barked Kim Kardashian's bodyguard. "One second," said Kardashian with a smile, as she wandered off.
Where she went, the party followed at Buro 24/7 and Farfetch's third annual Buro Fashion Forward Initiative inside the lower-level salon at the renowned Ritz in Place Vendôme.
"This year, we have seven designers," said Russian founder Miroslava Duma – who goes by Mira – of the event, which aims to foster and support young designers. "One from Armenia, two from Georgia, one from Ukraine and three from Russia. It's a pure charity project for us."
"I loved the Armenian one – this one," said Kourtney Kardashian, pointing to Russian-Armenian designer Tigran Avetisyan's collection display. Suddenly, she was pulled away. "Sorry."
The designers – Tigran Avetisyan, Olga Vilshenko, Julia Kalmanovich, Alexander Terekhov, Gola Damian, Djaba Diassamidze and Maxim Bashkaev and Dilyara Minrakhmanova of Outlaw Moscow – showcased their spring 2017 selects, as editors and buyers browsed and mingled, drinking Moët & Chandon.
The night was co-hosted by Russian models Irina Shayk, Natasha Poly, Sasha Pivovarova and Sasha Luss, as well as Carine Roitfeld and Inga Rubenstein.
"We're all friends," said former Russian model Rubenstein, wife of real estate developer Keith Rubenstein. "Mira came to me with the concept of having a few models to host, and I said to her, what about Carine Roitfeld?"
"Fantastic – the best place in Paris, no?" said Roitfeld, who's half Russian, of the recently reopened Ritz. "My God, it's not fashion week, it's fashion month…This has become a big event now. Everyone came."
There was Courtney Love, with daughter Frances Bean Cobain, Olivier Rousteing, Nicholas Kirkwood and models Natalia Vodianova, Daphne Groeneveld and Imaan Hammam, who was looking forward to some upcoming time off.
"I'm here with Brandon Maxwell and Riley Montana," said the Dutch model. "I'm going to go to Amsterdam straight after, take the train, three hours. It's my birthday on the 5th, so I'm excited for that. I'm turning 20."
The room was packed until about 8:40 p.m., when it instantly felt much less crowded. I locked eyes with a French waiter, who saw me looking around. "Kim has left," he said.
Inside the Buro Fashion Forward Initiative
Courtney Love, Kim Kardashian West and Miroslava Duma.

Photo by Jacopo Raule/Getty Images
Miroslava Duma and Gaia Repossi

Photo by Jacopo Raule/Getty Images
Photo by Jacopo Raule/Getty Images
Photo by Jacopo Raule/Getty Images
Photo by Pascal Le Segretain/Getty Images for Buro 24/7
Photo by Pascal Le Segretain/Getty Images for Buro 24/7
Kourtney Kardashian, Erica Pelosini, and Kim Kardashian West

Photo by Jacopo Raule/Getty Images
Kim Kardashian West, Kourtney Kardashian, Miroslava Duma, and guest

Photo by Jacopo Raule/Getty Images
Bianca Brandolini d'Adda and Eugenie Niarchos

Photo by Pascal Le Segretain/Getty Images for Buro 24/7
Photo by Pascal Le Segretain/Getty Images for Buro 24/7
Irina Shayk and Natasha Poly

Photo by Pascal Le Segretain/Getty Images for Buro 24/7
Kourtney Kardashian and Kim Kardashian West

Photo by Pascal Le Segretain/Getty Images for Buro 24/7
Photo by Pascal Le Segretain/Getty Images for Buro 24/7
Toni Garrn and Jon Kortajarena

Photo by Pascal Le Segretain/Getty Images for Buro 24/7
Inga Rubenstein, Miroslava Duma, Irina Shayk, Carine Roitfeld, and Natasha Poly

Photo by Jacopo Raule/Getty Images
Photo by Pascal Le Segretain/Getty Images for Buro 24/7
Alexandre de Betak and Sofía Sanchez de Betak

Photo by Pascal Le Segretain/Getty Images for Buro 24/7