Keeping Up With The Stallone Sisters, This Year's Miss Golden Globes
Three scions are better than one.
---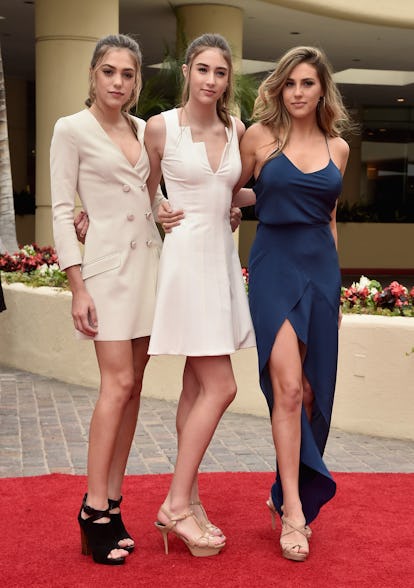 Getty Images
Are Sophia, Sistine, and Scarlet Stallone the new Kim, Kendall, and Kylie?
Their names certainly have the right ring to them. But more importantly, their appearance Sunday night as this year's Miss Golden Globes has these three sisters poised for Hollywood stardom. The position is given each year to the son or daughter of a celebrity, with alums including Dakota Johnson and Rumer Willis. So, it's the most coveted position for emerging scions like the Stallones, and an industry stamp of approval.
The Stallone sisters have been making red carpet appearances with their father, Sylvester "Sly" Stallone since they were toddlers, alongside their two older brothers from his first marriage, Sage and Seargeoh Stallone. Sage died tragically at the age of 36 of heart disease and Seargeoh was diagnosed with autism, but both boys pursued careers in acting. In May 1997, Stallone married his third wife, the former model Jennifer Flavin, with whom he had three stunning daughters.
Sophia, Sistine, and Scarlet appeared on everyone's radar again at the Golden Globes last year, when they attended with their father, who won Best Supporting Actor for his role in Creed. Since then, Sistine has joined the long list of scions signed by IMG this year, and also made an appearance front row at Saint Laurent in Los Angeles and Dolce & Gabbana's Milan Fashion Week millennial extravaganza. The oldest sibling, Sophia, boasts over 300,000 Instagram followers, and the youngest, Scarlet, is still a teenager.
Sophia Stallone, 20
Sophia Stallone is a sorority girl and communications major at the University of Southern California. Her over 300,000 followers on Instagram can often find her wearing a fratty fanny pack at college parties or on luxurious vacations with her family. She recently told The Hollywood Reporter that she has dreams of one day starting her own makeup line. (like, cough, Kylie, cough.)
Sistine Stallone, 18
Sistine Stallone was signed by IMG models this year, joining scions like Dakota Lohan. And she sat front row at Dolce & Gabbana's Milan show with Pamela Anderson's sons, Dylan Jagger and Brandon Thomas Lee. She's since covered several magazines, including, oddly, Harper's Bazaar Kazakhstan, but her most major fashion moment to date was her runway debut in the Chanel Métier's d'Art show at the Ritz along with Lily-Rose Depp and Sophia Richie. She's officially in the fashion scion clique.
Scarlet Stallone, 14
The baby of the family, Scarlet Stallone is still in middle school at St. Paul the Apostle School in Westwood. Unlike her sisters, she prefers sneakers to heels, and is currently on the track-and-field team. Nonetheless, she has almost 150,000 followers on Instagram, and is far from your average tween.
Meet the Stallone Daughters, Hollywood's Newest Scions
Golden Globes 2017: See What Everyone Wore on the Red Carpet
Natalie Portman in vintage Prada and Tiffany's jewelry at the 2017 Golden Globe Awards.

Getty Images
Millie Bobby Brown in Jenny Packham at the 2017 Golden Globe Awards.

Getty Images
Jessica Biel and Justin Timberlake at the 2017 Golden Globe Awards.

Getty Images
Blake Lively in Atelier Versace at the 2017 Golden Globe Awards.

Getty Images
Helen Lasichanh and Pharrell Williams at the 2017 Golden Globe Awards.

Getty Images
Winona Ryder in Viktor & Rolf and Fred Leighton jewelry at the 2017 Golden Globe Awards.

Getty Images
Naomi Campbell in Atelier Versace at the 2017 Golden Globe Awards.

Getty Images
Drew Barrymore in Monique Lhullier and Harry Winston jewelry at the 2017 Golden Globe Awards.

Getty Images
Janelle Monae in custom Armani and Forevermark Diamonds at the 2017 Golden Globe Awards.

Getty Images
Nicole Kidman in Alexander McQueen and Fred Leighton jewelry at the 2017 Golden Globe Awards.

Getty Images
Felicity Jones in Gucci at the 2017 Golden Globe Awards.

Getty Images
Brie Larson in Rodarte and Forevermark Diamonds at the 2017 Golden Globe Awards.

Getty Images
Emily Ratajkowski in Reem Acra at the 2017 Golden Globe Awards.

WireImage/Getty Images
Amy Adams in Tom Ford at the 2017 Golden Globe Awards.

Getty Images
Sarah Paulson in Marc Jacobs at the 2017 Golden Globe Awards.

WireImage/Getty Images
Reese Witherspoon in Versace at the 2017 Golden Globe Awards.

Getty Images
Lily Collins in Zuhair Murad at the 2017 Golden Globe Awards.

WireImage/Getty Images
Caleb McLaughlin, Finn Wolfhard, Noah Schnapp and Gaten Matarazzo at the 2017 Golden Globe Awards.

Getty Images
Kerry Washington in Dolce & Gabbana at the 2017 Golden Globe Awards.

WireImage/Getty Images
Jessica Chastain in Prada at the 2017 Golden Globe Awards.

Getty Images
Hailee Steinfeld in Forevermark Diamonds at the 2017 Golden Globe Awards.

Getty Images
Issa Rae at the 2017 Golden Globe Awards.

WireImage/Getty Images
Natalie Morales at the 2017 Golden Globe Awards.

Getty Images
Sistine, Scarlet, and Sophie Stallone at the 2017 Golden Globe Awards.

Getty Images
Ruth Negga in Louis Vuitton and Gemfields x FredLeighton jewelry at the 2017 Golden Globe Awards.

Getty Images
Mandy Moore in Naeem Khan at the 2017 Golden Globe Awards.

Getty Images
Evan Rachel Wood in Altuzarra at the 2017 Golden Globe Awards.

Getty Images
Thandie Newton in Monse and Harry Winston jewelry at the 2017 Golden Globe Awards.

Getty Images
Priyanka Chopra at the 2017 Golden Globe Awards.

Getty Images
BEVERLY HILLS, CA – JANUARY 08: 74th ANNUAL GOLDEN GLOBE AWARDS — Pictured: Actress/producer Viola Davis arrives to the 74th Annual Golden Globe Awards held at the Beverly Hilton Hotel on January 8, 2017. (Photo by Kevork Djansezian/NBC/NBCU Photo Bank via Getty Images)

NBCU Photo Bank via Getty Images via Getty Images
Watch video interviews with the 2017 Golden Globes nominees here: