Kehlani Wants Her Concerts to Be Safe Spaces For Her Fans During Dark Times
After a personal rough patch, the 21-year-old singer is back with the empowering debut album SweetSexySavage.
---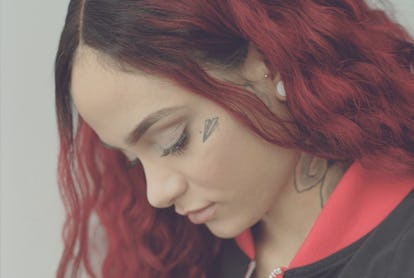 Like most 21-year-olds, the musical artist Kehlani has gone through a lot of changes—emotionally, spiritually, physically—in the past few years. But most of her peers don't have these ups and downs charted permanently on their body in tattoos.
Well, semi-permanently. She's already in the process of getting some removed, and is reluctant to show or talk about them. But the one she got most recently is of Coraline's doll, the button-eyed, blue-haired character in Neil Gaiman's 2002 novel and the 2009 animated film adaptation. It may seem like an odd choice for a flirty R&B/pop star, but to Kehlani they share a similar origin story.
"I love Coraline and I love that she was so herself the whole time," said Kehlani, who seemed exhausted from a long day of press, but perked up on the subject of the female heroine. "She's like a funny little quirky girl who wanted her parents to pay attention to her, so she goes into this whole other world. But instead of being tricked into the glitz and glam of the other world, she realizes that she has a mission and saves all those other kids from the crazy-ass other moms. Coraline is a shorty."
Born Kehlani Ashley Parrish, she was raised by her aunt in Oakland, California; her father died when she was young, and her mother was in and out of prison. (Both parents were addicts.) Kehlani always had an interest in music, and was encouraged to attend Oakland's School for the Arts. When she was 14, she was recruited to join a local pop cover band, PopLyfe, and in 2011 they made it all the way to America's Got Talent, finishing fourth, just missing out on prize money.
After America's Got Talent, Kehlani, now a senior in high school, left home for Los Angeles to pursue fame once again. But still under 18 and lacking a legal guardian, she was handcuffed and put in a group home when she tried to enroll at Hollywood High. Sent back to Oakland, she hopped from couch to couch for the next year, feeding herself by stealing groceries. And then, of all people, Nick Cannon, the host of America's Got Talent, gave her a call.
He asked how Kehlani was doing, encouraged her to keep making music. So she did, and a few months later dropped her first track, "ANTISUMMERLUV" on SoundCloud. After listening to it, he set her up with an apartment in L.A. and time in the studio.
Since then, Kehlani has released a full-length "mixtape" called, You Should Be Here, which was nominated for the Best Urban Contemporary Album Grammy last year. She's collaborated with Chance the Rapper and A Boogie Wit Da Hoodie; Rick Rubin declared her music would "change the world"; Chief Keef offered to sign her over FaceTime.
But despite all these highs, the lows kept coming for Kehlani, who is now signed to Atlantic. She was hospitalized in early 2016 after attempting to take her own life—an act she later revealed during a concert in Oakland was not her first. She's continued to be open about her battle with depression. And after cutting her hair and essentially breaking up with her old self, she's back with long, curly red hair and SweetSexySavage, an empowering album that refuses to be overshadowed by Kehlani's past.
"It happens to me all the time, and I know it happens to every woman: we're put in these categories of what type of woman we are," Kehlani explained. "But really, we're all multi-dimensional yet cohesive people. I'm sweet; I'm getting into my sexiness; and there's definitely some savagery in there. But it all goes together."
She is sweetest when she's around her cats, Koda and Jedi. (She's a big Star Wars fan.) Sexy when she puts on lotion and a big t-shirt after getting out of the shower. And as for savage, there's unfortunately no lack of inspiration.
"Donald Trump has me feeling real savage right now," she said. "And no pun intended, since 'savage' is a derogatory term."
Being queer, black, white, Native American, Spanish, and Filipino, Kehlani is everything that Trump's America is not. And thank god for that.
"I'm just trying to keep my fans educated and outraged without being aggressive," said Kehlani about how she's approaching activism today. "I remind them to be very careful about where they place their energy. We can't keep teaching fear. Spread knowledge of your rights. Make sure teenagers know what to do if police show up to their house. Tell people to be safe and stick together, and not just, 'Oh my god the world is over Donald Trump is going to kill us all!' Let's instead figure out the positive things we can do, the little things that create safe space."
For Kehlani and her nearly three million devoted followers (including Bella Hadid, who told W recently that SweetSexySavage is all she's listening to at the moment), the vulnerability of her music makes her concerts a safe space. Lyrics like "I could f–k you now and years later on / You gon' be stuck, just reminiscing," for example, appeal to someone who might, say, be going through a rough breakup. They may read as "savage," but she has a knack for making them sound sweet.
Kehlani asks her fans to be vulnerable with one another, too. They often connect with each other over social media; many have even formed close, lasting friendships—"like, only hang out with each other type stuff," she claimed.
Despite her large social media following, Kehlani is much more careful now about what she takes in, responding selectively to comments and filtering her DMs more closely. "I'm very energy sensitive," she said. "I don't read my DMs often because taking in too many life stories… it's a lot. But I do try to respond to comments. It's the right thing to do."
Being "energy sensitive" and all, she's also really into shows like Netflix's The OA (she "definitely" believes in angels), as well as astrology. "As soon as I meet you, I'm going to slap that ass on TimePassages and read your whole chart," she said. "I'll see if your venus matches mine, otherwise we probably can't date." (She's a Taurus.)
It's all good vibes for now though, despite what may be happening in the world and inside Khelani's own mind. She arrived shy and guarded, got sweet and serious, and left cackling with her head back.
"I want the album to leave a sweet taste in your mouth," she said at the end. She flashed a smile, which turned into a sly grin. "Then my bonus track starts and it's turnt uuuuuup!"
Watch W's most popular videos below.