Keke Palmer's Next Movie Proves White Supremacy is Stranger Than Fiction
"Alice" tells the story of a woman who escapes slavery only to discover it's 1973.
---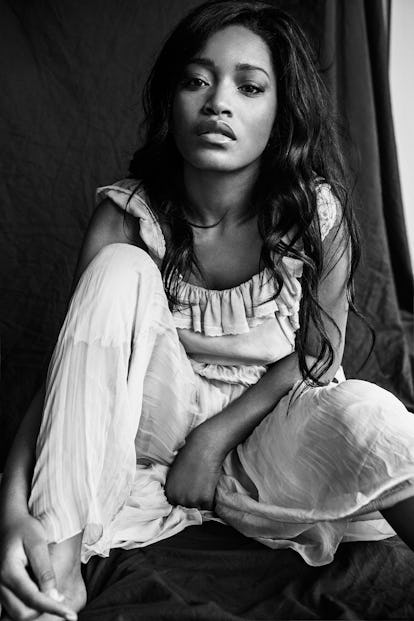 Photograph by Victoria Stevens for W magazine.
Frankly, Keke Palmer's agent's office should have been flooded with scripts after her turn in Hustlers. It's been a while, but the 26-year-old actress has now signed on to her first starring role since that hit and it's a doozy. Palmer will star in (and is the executive producer of) Alice, a thriller about a woman of servitude who seems to be living on a plantation in the 1800s. When she escapes, she quickly discovers that the year is actually 1973. The kicker? The script is based on true events.
The film will mark the directorial debut of Krystin Ver Linden, who also wrote the script. Linden previously worked with Quintin Tarantino, but is now a quickly rising talent in her own right. She's also written biopic scripts focused on astronaut Sally Ride, blues pioneer Robert Johnson, and Black tennis champion Arthur Ashe that are all in various states of development.
While we can't find anything about the exact real story the script is based on, forms of slavery certainly existed well into modern America. Despite haven been outlawed federally in the 1867, instances of "debt slavery" or peonage were still being uncovered in parts of the deep south until at least the 1960s.
Palmer says she was attracted to the project because ultimately it's empowering. "So many films that depict this time in our history are rooted in victimization of the black female lead," said Palmer in a statement according to Deadline. "This story is the opposite and that's what attracted me to Krystin's perspective. It tackles the harsh realities of slavery and white supremacy while also offering inspiration and vindication through the story of Alice's journey. I don't want anyone to leave the theater feeling debilitated, I want them to feel empowered."
Though this is her first leading role since Hustlers, Palmer's star has been on the rise since the film. She currently co-hosts an extra hour of Good Morning America alongside Sara Haines and Michael Strahan. She also recently hosted Quibi's reboot of Singled Out. Oh, and she also found time to release a new single, "Thick," today as well.
Palmer also went viral recently for her confrontation with a National Guardsmen while peacefully protesting the death of George Floyd in Los Angeles. "Stand together with the community, with society, to stop the governmental oppression. Period. We need you," she told the man.
How Keke Palmer Went From "VP" to VIP on the Red Carpet
Keke Palmer arrives to the 11th Annual Screen Actors Guild Awards at the Los Angeles Shrine Exposition Center on February 5, 2005 in Los Angeles, California. Photo courtesy of Getty Images.

Getty Images
Keke Palmer arrives at the Seventh Annual Family Television Awards at the Beverly Hilton Hotel on November 30, 2005 in Beverly Hills, California. Photo courtesy of Getty Images.

Getty Images
Keke Palmer poses at ShoWest, convention of the National Association of Theatre Owners, at the Paris Las Vegas March 14, 2006 in Las Vegas, Nevada. Palmer received the Rising Star of the Year award at the convention. Photo courtesy of Getty Images.

Getty Images
Keke Palmer films a music video for her new single on "All My Girlz", for Atlantic Records, on April 15, 2006 in Los Angeles, California. Photo courtesy of Getty Images.

Getty Images
Keke Palmer attends the Los Angeles premiere of the Lionsgate film "Akeelah and the Bee" on April 20, 2006 at the Motion Picture Academy in Beverly Hills, California. Photo courtesy of Getty Images.

Getty Images
Keke Palmer arrives at Nickelodeon's 23rd Annual Kid's Choice Awards held at UCLA's Pauley Pavilion on March 27, 2010 in Los Angeles, California. Photo courtesy of Getty Images.

Getty Images
Keke Palmer arrives on the orange carpet at the Nickelodeon Kids' Choice Awards 2011 at USC's Galen Center, April 2, 2011 in Los Angeles, California. Photo courtesy of Getty Images.

Getty Images
Keke Palmer attends CrazySexyCool Premiere Event at AMC Loews Lincoln Square 13 theater on October 15, 2013 in New York City. Photo courtesy of Getty Images.

Getty Images
Keke Palmer attends Black Girls Rock! 2013 at New Jersey Performing Arts Center on October 26, 2013 in Newark, New Jersey. Photo courtesy of Getty Images.

Getty Images
Keke Palmer attends the BET AWARDS '14 Debra Lee's Pre-Dinner held at Milk Studios on June 28, 2014 in Los Angeles, California. Photo courtesy of Getty Images.

Getty Images
Keke Palmer poses in the press room during the BET AWARDS '14 at Nokia Theatre L.A. LIVE on June 29, 2014 in Los Angeles, California. Photo courtesy of Getty Images.

Getty Images
Keke Palmer arrives at the 66th Annual Primetime Emmy Awards at Nokia Theatre L.A. Live on August 25, 2014 in Los Angeles, California. Photo courtesy of Getty Images.

Getty Images
Keke Palmer attends 2015 Vanity Fair Oscar Party Hosted By Graydon Carter at Wallis Annenberg Center for the Performing Arts on February 22, 2015 in Beverly Hills, California. Photo courtesy of Getty Images.

Getty Images
Keke Palmer attends the 25th anniversary MusiCares 2015 Person Of The Year Gala honoring Bob Dylan at the Los Angeles Convention Center on February 6, 2015 in Los Angeles, California. Photo courtesy of Getty Images.

Getty Images
Keke Palmer arrives at the 6th Annual ELLE Women In Music Celebration Presented by eBay at Boulevard3 on May 20, 2015 in Hollywood, California. Photo courtesy of Getty Images.

Getty Images
Keke Palmer arrives at the 2015 Summer TCA Tour FOX All-Star Party at Soho House on August 6, 2015 in West Hollywood, California. Photo courtesy of Getty Images.

Getty Images
Keke Palmer attends the 47th NAACP Image Awards at Pasadena Civic Auditorium on February 5, 2016 in Pasadena, California. Photo courtesy of Getty Images.

Getty Images
Keke Palmer attends Red Light Management 2016 Grammy After Party presented by Citi at Mondrian Hotel on February 15, 2016 in Los Angeles, California. Photo courtesy of Getty Images.

Getty Images
Keke Palmer attends the 2016 ABFF Awards: A Celebration Of Hollywood at The Beverly Hilton Hotel on February 21, 2016 in Beverly Hills, California. Photo courtesy of Getty Images.

Getty Images
Keke Palmer attends FOX 2016 Upfront Arrivals at Wollman Rink, Central Park on May 16, 2016 in New York City. Photo courtesy of Getty Images.

Getty Images
Keke Palmer attends the 2016 VH1 Hip Hop Honors: All Hail The Queens at David Geffen Hall on July 11, 2016 in New York City. Photo courtesy of Getty Images.

Getty Images
Keke Palmer attends the screening of 'Ice Age: Collision Course' at Zanuck Theater at 20th Century Fox Lot on July 16, 2016 in Los Angeles, California. Photo courtesy of Getty Images.

Getty Images
Keke Palmer attends Glamour Women Of The Year 2016 at NeueHouse Hollywood on November 14, 2016 in Los Angeles, California. Photo courtesy of Getty Images.

Getty Images
Keke Palmer attends the 2016 American Music Awards at Microsoft Theater on November 20, 2016 in Los Angeles, California. Photo courtesy of Getty Images.

Getty Images
Keke Palmer is seen outside of BET in Midtown on December 13, 2016 in New York City. Photo courtesy of Getty Images.

Getty Images
Keke Palmer is seen walking in Soho on December 15, 2016 in New York City. Photo courtesy of Getty Images.

Getty Images
Keke Palmer is seen arriving at 'Jimmy Kimmel Live' on September 06, 2019 in Los Angeles, California. Photo courtesy of Getty Images.

Getty Images
Keke Palmer talks about her movie "Pimp" at Build Studio on February 07, 2019 in New York City. Photo courtesy of Getty Images.

Getty Images
Keke Palmer attends the 2019 MTV Video Music Awards at Prudential Center on August 26, 2019 in Newark, New Jersey. Photo courtesy of Getty Images.

Getty Images
Keke Palmer attends Alexander Wang & STXfilms' New York Special Screening of "Hustlers" on September 10, 2019 in New York City. Photo courtesy of Getty Images.

Getty Images