Hollywood Remembers Kelly Preston, Who Died at 57 From Breast Cancer
Actors and celebrities responded to the shocking news of Preston's death on social media with remembrances of the Jerry Maguire actress and wife of John Travolta.
---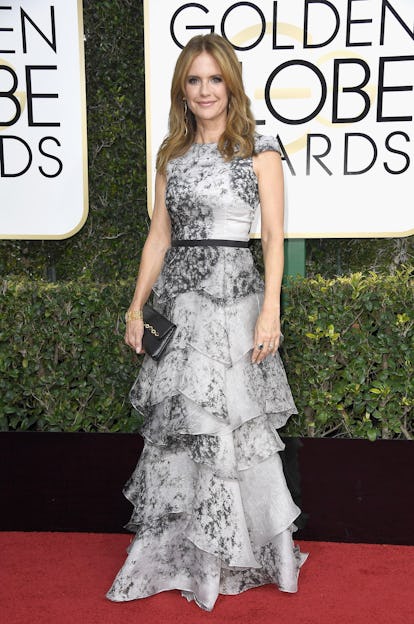 Courtesy of Getty Images.
John Travolta confirmed on Monday morning that his wife, Kelly Preston, had passed away at the age of 57. She had been battling breast cancer for two years.
Speaking to his followers on Instagram, the actor informed Hollywood of Preston's death, writing, "Kelly's love and life will always be remembered. I will be taking some time to be there for my children who have lost their mother, so forgive me in advance if you don't hear from us for a while. But please know that I will feel your outpouring of love in the weeks and months ahead as we heal." Many celebrities shared their condolences for the Travolta family in the comments of the post, including Andy Cohen, Sarah Paulson, Selma Blair, and Mariah Carey.
Preston's 20-year-old daughter, Ella Travolta, shared her remembrance for her mother on Instagram as well. "I have never met anyone as courageous, strong, beautiful and loving as you. Anyone who is lucky enough to have known you or to have ever been in your presence will agree that you have a glow and a light that never ceases to shine and that makes anyone around you feel instantly happy," she wrote. Travolta and Preston's eldest son Jett passed away in 2009 while on a family vacation in The Bahamas.
Preston was known for her roles in Twins, Jerry Maguire, and Jack Frost. She met Travolta when they starred together in a 1989 comedy film called The Experts. In her final film role, she played opposite her husband again in the 2018 biopic Gotti, about the crime boss John Gotti. Preston played his on-screen wife, Victoria Gotti.
Hollywood responded to the news of Preston's death with shock, expressing their condolences across social media. Among those remembering Preston were Maria Shriver, Russell Crowe, and Rita Wilson.