Kelly Rohrbach Is Only Baywatch's New Pamela Anderson, No Big Deal
The actress and model is making waves as the new C.J. Parker—the role originated by Pamela Anderson—in the Baywatch movie out May 25.
---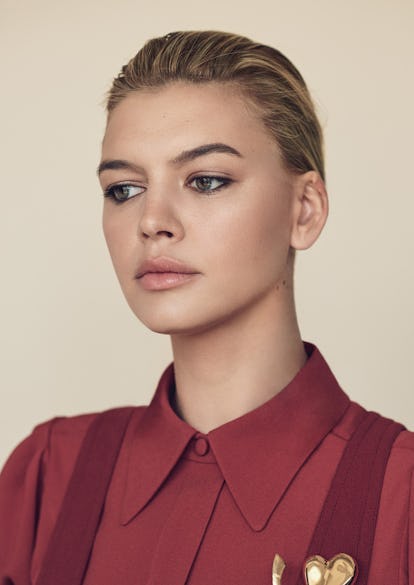 Photograph by Bruno Staub, Styled by Clare Byrne; Hair by Shin Arima for R+Co at Frank Reps; Makeup by Asami Taguchi for NARS Cosmetics at Frank Reps; digital technician: Jordan James; photography assistant: Evan Browning; fashion assistant: Emma Litvack
Kelly Rohrbach was not allowed to watch Baywatch as a child. So, naturally, she did it anyways. "When our parents would go out on Friday or Saturday night, that was the only time we would watch TV," she said.
It was an early winter morning in New York and Rohrbach, an East Coast native and California transplant, was getting her makeup done. Wrapped in a white robe with her knees pulled into her chest, the now self-described "quintessential L.A. girl"—an aficionada of hiking, green juice, and beaches—nursed a cup of tea. Occasionally, she broke off mid-thought to comment on the work of the stylists buzzing around her. ("Oh, I like the dark liner.")
Invariably, what was on television those weekend nights was Baywatch. At six years old, it became her favorite show. Nearly two decades later, Rohrbach, now 27, landed the iconic role of C.J. Parker, in the big-screen movie adaptation of Baywatch out next week.
For the uninitiated, C.J. is, of course, the defining, O.G. Baywatch babe—the babe that was, and is, Pamela Anderson. C.J. is a member of the squad of red-suited lifeguards patrolling the beaches of L.A. in the original show; she appeared in the series for roughly half of its decade-long run (excluding Baywatch: Hawaii, the late-'90s reboot) yet remains among its most memorable figures.
This might seem like a tough swimsuit to fill. Helpfully, the Baywatch movie re-situates its characters in contemporary scenarios and reimagines them with updated backstories— Rohrbach's C.J. Parker, as she explained, is a different woman entirely. (Pamela Anderson makes a cameo, as a legendary lifeguard named Claudia Jean from Hawaii, which fans will remember as C.J.'s last known location when she departed the show.)
"I really felt like I owned it," Rohrbach said of her character. C.J. and Jon Bass's Ronnie, a geeky tech wizard member of the lifeguard squad, cautiously flirt with each other throughout the film. But in earlier iterations of the script, C.J. had been more aloof and "dismissive," until Rohrbach met with the producers and the director Seth Grodon.
"We're sort of both awkward around each other now, both fumbling over our words," she said. "I tried to make her less of an object and more of a person."
Other characters undergo their own transformations. Matt Brody, the Frenchman originally played by David Charvet, is now a disgraced former Olympian and notorious party boy (Zac Efron). Team captain Mitch Buchannon, originally David Hasselhoff, is now Dwayne Johnson, essentially The Rock in swim trunks. There's also a new villain, the hotelier and real estate mogul played by Priyanka Chopra. (Her role was supposedly originally written for a man, but that might have been just a bit too on-the-nose.) The iconic motifs are of course still present—except C.J.'s slow-mo runs on the beach are ironic and self-referential rather than glamorous and sultry.
"She always looks wet, but not too wet," quips fellow lifeguard Summer Quinn (Alexandra Daddario) in the movie.
Despite Rohrbach's early fandom, she hadn't always pictured herself in that red one-piece onscreen. Rohrbach grew up in the tony suburb of Greenwich, Connecticut, and attended the elite private school Greenwich Academy. At an early age, her dad, an avid golfer, put a club in her hands.
"All my girlfriends would be at the mall, and I would be hitting balls on the range," Rohrbach recalled. "I'd be like, 'Wait, I feel like I got a bad deal here.'" Still, she ended up playing competitively throughout high school and was recruited to Georgetown's golf team. Though she never seriously entertained the idea of going pro, she still plays—this February, she even faced off against Jordan Spieth in a putting contest at the Pebble Beach celebrity pro-am tournament.
At Georgetown, she enrolled in an introductory acting class during her sophomore year because several fellow athletes had described the course as "like play time for an hour," she recalled. For her very first assignment, she played Nora in scenes from Henrik Ibsen's A Doll's House. That was all it took for her to catch the bug: "I had never really had that with anything until I found acting," she recalled, thinking, "this is it."
She spent a semester abroad at the London Academy of Music and Dramatic Arts, a self-imposed crash course in everything from Shakespeare to vocal technique, and, upon her return, graduated from Georgetown with a degree in theater and performance studies.
From there, she relocated to Los Angeles and landed the odd TV or film gig, racking up credits on The New Normal, Two and a Half Men, and Broad City. But her brief modeling career might have served as even more valuable training for Baywatch, her biggest screen role to date. In 2015, she was named the Sports Illustrated Swimsuit Issue's Rookie of the Year, an accolade previously awarded to Chrissy Teigen, Kate Upton, and Nina Agdal. Not bad company.
The red swimsuit in Baywatch is, in fact, an icon in its own right. Rohrbach consulted with the costume department on the silhouette of her particular suit, fine-tuning the plunging neckline and high-cut thigh of her "free-spirited" character over nearly 15 fittings.
"It was basically tape measures and safety pins the first time I put it on," she said. "It wasn't like that moment where I slipped into it and the birds started singing."
When the suits finally felt right, everything else seemed to fall into place. "The first day where we were all on set wearing them, we were like, 'Wow, we're really doing it,'" Rohrbach recalled. They shot the movie in Florida and Georgia in early 2016, where Anderson and Hasselhoff briefly joined for their cameos.
"It was like six months of hanging out at the beach and laughing. It really does still feel like playtime," Rohrbach said. "By the end of it, everyone was like, 'I'm so sick of sand! I'm so sick of the beach!'" She laughed. "I was like, 'I'm not.'"
A Celebration Of Pamela Anderson's Bombshell Style
In a more classic Hollywood look than often seen on Anderson, she attends a watch party for the 65th annual Academy Awards in Beverly Hills, California, March 1993. Photo by Ron Galella, Ltd./WireImage.
In 1999, Anderson attended the annual Vanity Fair Oscar Party in a simple white gown — more daring than the previous two looks, yet still markedly toned down from much of her late-'90s wardrobe. Photo by Ke.Mazur/WireImage.
At the British Fashion Awards in 2003, Anderson, wearing a wide-lapeled white pantsuit, rubbed shoulders with British designer Stella McCartney in London, England, September 2003. Photo by Getty Images.
Photographer David LaChapelle photographed Anderson for numerous magazines throughout her career, including Interview, Flaunt, and GQ Germany. Here, they appear together at the Vegas Supernova launch party at Selfridges in London, England, April 2005. Photo by J. Quinton/WireImage.
At the Valentino V fragrance launch in 2005, Anderson — in an espresso-colored dress with black patent belt — appeared with photographer Sante D'Orazio in New York, New York, May 2005. Photo by Rabbani and Solimene Photography/WireImage.
Anderson, who two years prior had been a Viva Glam posterchild, appeared at the New York Fashion Week Fall 2006 MAC Chinese New Year party, February 2006. Photo by Getty Images.
Later that same week, Anderson hosted the PETA Fashion Week party, preempting the current menswear-inspired jacket-as-dress trend by about a decade. Photo by Getty Images.
Anderson hosted the MAC Viva Glam IV Fashion Cares party, flanked by DSquared2 designers Dan and Dean Caten and wearing their design, in New York, New York, June 2006. Photo by George Pimentel/WireImage.
Pamela Anderson, in a gold lurex dress, met designer Vivienne Westwood backstage at her London Fashion Week Spring 2009 show in September, 2008. They presumably hit it off, as Anderson soon became the new face of Vivienne Westwood's eponymous label, appearing in several of her shows and frequently accompanying the designer to industry events. Photo by Mike Marsland/WireImage.
Pamela Anderson walks Vivienne Westwood Fall 2009 at Paris Fashion Week, March 2009. Photo by Alain Benainous/Gamma-Rapho via Getty Images.
Pamela Anderson walks Vivienne Westwood Fall 2009 at Paris Fashion Week, March 2009. Photo by Frederic Souloy/Gamma-Rapho via Getty Images.
Pamela Anderson sat front row at Vivienne Westwood's Spring 2014 show in Paris, France, September 2013. Photo by Getty Images.
Pamela Anderson, in Vivienne Westwood, with the designer at the launch of the Pamela Anderson Foundation in Cannes, France, May 2014. Photo by Getty Images.
In a navy dress with black leather detailing, Pamela Anderson attends the Daily Front Row "Fashion Los Angeles Awards" in Los Angeles, California, March 2016. Photo by Getty Images.
Pamela Anderson supports Vivienne Westwood both by wearing the designer and attending her book discussion in London, October 2016. Photo by Getty Images.

David M. Benett/Getty Images
Pamela Anderson opts for a strapless printed Vivienne Westwood dress at the Best Award Gala 40th Edition in Paris, January 2017. Photo by Getty Images.

Marc Piasecki/Getty Images
Pamela Anderson throws her coat over her shoulder to benevolently deliver vegan cheeseburgers to Julian Assange at the Ecuadorian Embassy in London, February 2017. Photo by Getty Images.

Neil Mockford/Getty Images
Pamela Anderson makes her Paris Fashion Week circuit again in Westwood, March 2017. Photo by Getty Images.

David M. Benett/Getty Images
Pamela Anderson heads to Monaco after turning up at the Cannes Film Festival, May 2017. Photo by Getty Images.

Marc Piasecki/Getty Images
Pamela Anderson before she jumped into the ocean in a lace and rhinestone adorned gown in Marbella, Spain, May 2017. Photo by Getty Images.

Fotopress/Getty Images
Pamela Anderson steals the show from Kelly Rohrbach in a sequined gown at the world premiere of Baywatch in South Beach, May 2017. Photo by Getty Images.

Alexander Tamargo/Getty Images
Watch W's most popular videos here: