Kelly Rowland's Hometown Guide to Houston, Just in Time for the Super Bowl
The singer, actress, and one-time Destiny's Child member shares her favorite local haunts as the Super Bowl descends on her hometown.
---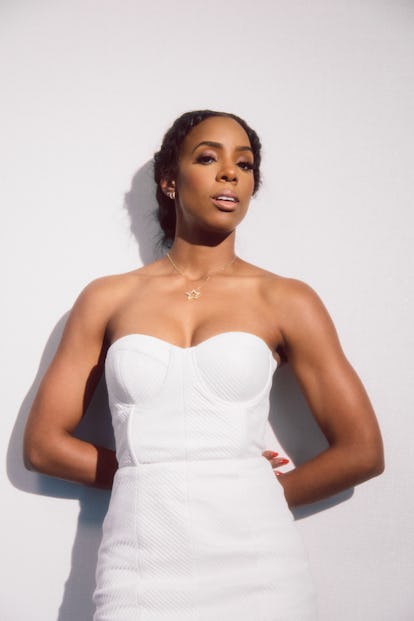 When Kelly Rowland was eight years old, she and her mother relocated from Atlanta, Georgia, to Houston, Texas, where the young Rowland would eventually meet Beyoncé Knowles, LeToya Luckett, and LaTavia Roberson and form the girl group Destiny's Child. The group's lineup fluctuated throughout its span, but Knowles and Rowland remained its constant. As the band gained notoriety and her career took off, Rowland relocated from Houston to Los Angeles, but the sprawling Texas metropolis remains dear to her.
"It's really where my life began," Rowland said wistfully, citing its southern charm and hospitable residents as what sets it apart from other cities.
She doesn't get back as often as she would like, but when she doe, she makes a beeline for a favorite Tex-Mex spot, Lupe Tortilla, with her closest friends and family, who still live in Houston. (Rowland recommends the margaritas.) When we spoke, just two weeks after she announced her first book Whoa, Baby!: A Guide for New Moms, out next month, she shared a few of her favorite Houston haunts, like the best places to eat, drink, and share a cigar, and even where to go ice skating—and, as our conversation drew to a close, she had one request: "Make sure people know about the pies at Goode Company." You've been briefed.
What to eat: Definitely Tex-Mex. I think people do overlook Tex Mex. When I first started coming to L.A. a lot, I asked them for queso, and I didn't know that queso was really a Tex-Mex thing. They just brought me out a big-ass block of cheese. They were like, "You asked for queso." I was like, "No, no, but where are the peppers, the onions, the this, the that, the extra meat that goes inside?'"They were like, "No. That's Tex-Mex. We only do Mexican food." A little Texas is thrown in there—it's so good.
Lupe Tortilla is the best. There's also Pappasito's, there's obviously the Pappadeaux chain. There's the best breakfast place called The Breakfast Club. It's the best breakfast you've ever had in your life; I used to go there all the time after church. It really doesn't matter what you order. I just scan the menu with my eyes closed and pick something every time I go, and I eat whatever that is. There's this place in the village called Freebirds. It's the best Burrito you will ever have in your whole life. There's a fried chicken spot called Frenchies that's been around for years—actually, it's a family friend's. It's the best fried chicken you've had in your life.
Where to drink: It's this really cute cigar bar off of Kirby and Bissonet. They have chocolate cigars, but the drinks are so good. Some friends and I would go there and hang out and drink. It's just fun.
What to do: The Village [Rice Village District] has the cutest restaurants and places to hang out, there's a lot of music playing. There's a lot going on over there. You can get your hair done, your nails done, shop, eat, just chill. Everything is over there, it's really cool. [When I was younger] I would go over there, shop, meet my girlfriends for a nice little lunch, and then we would hang out in the evening.
Where to shop: When people go to Houston, they always want to go to the Galleria—and, to be honest, the Galleria is fun, especially this time of year, because there's a skating rink. It actually reminds me of when myself and my mom first moved to Houston. It made me so happy because it was the first time I saw a skating rink, and I thought it was the coolest thing ever.
If you had to give a person visiting Houston any piece of advice… Taste everything. [laughs] It doesn't mater what restaurant you go to; the food is so good in Houston. Everybody boasts about their cities' cuisines, but actually, Houston has the best food. Everything that you taste there is just an experience. It tastes like love, whatever it is, whatever bakery you go into or what little boutique store you go into. It's just sweet and nestled and filled with love. I just love that vibe. Every corner in Houston.