J'adore: Kelly Wearstler
Interior maven and budding fashion and jewelry designer.
---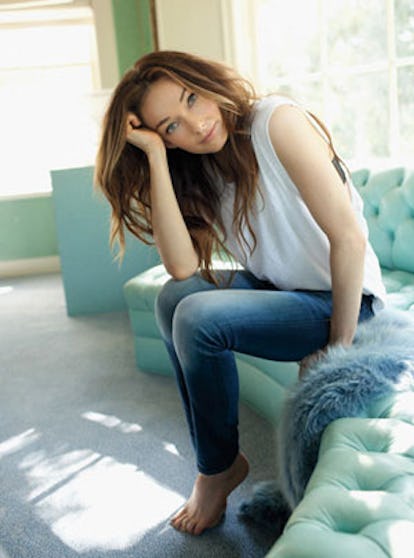 Interior designer Kelly Wearstler has put her colorful, mod-­baroque stamp on everything from napkin rings to rugs. This month she debuts her fashion line—a bold mix-and-match collection of hand-painted blouses, cropped jackets, full-legged pants, and pouf skirts—as well as an assortment of stone-laden metal clutches and sculptural jewels with which to accessorize. "The line is very feminine, but with an edge," she says. "It's the same with my interiors—I like it when something's a little off." That sentiment extends to most of her favorite things.
Aldo Rossi: My obsession with the late Italian modern architect Aldo Rossi began when I was in college studying graphic design. I appreciate that his buildings are serious and whimsical at the same time.
Maison Francis Kurkdjian's Aqua Universalis: I can't live without this fragrance. I love the lightness of the lemon and bergamot notes.
Erewhon Natural Foods in Los Angeles: The juice and tonic bar at this market has an incredible assortment of herbal remedies. I go daily for my 20 ounces of freshly squeezed organic beet-kale-spinach-lemon-apple-and-ginger juice.
Auction Houses Phillups de Pury, Tajan, and Rago's: One of the best parts of my job as an interior designer is getting to source amazing furniture, art, and sculpture for my projects. I rely on Phillips de Pury, Tajan, and Rago's for their incredible selections of art and antiques. I collect their catalogs and archive them for inspiration.
Kelly Wearstler Pyrite Frame Necklace: The Pyrite Frame necklace from my first jewelry collection is one of my favorites. I love the mix of textures, the unusual shape, and the scale.
Artists Sheila Hicks and Yaacov Agam: Textile phenomenon Sheila Hicks and Israeli sculptor Yaacov Agam both have an unbelievable talent for color and scale.
Photography Apps for my iPhone: I am obsessed with taking photos with my iPhone, especially with the apps moreBeauté2—which makes you appear gorgeous and young—and Hipstamatic, for a vintage look.
Vintage Hats: I've been collecting hats for years. I have more than 100 from all different periods and in various shapes, colors, and textures. There is nothing better for sassing up an outfit than a cool vintage cloche.