DON'T MISS: KELSEY BROOKES' SAN DIEGO TRIP
Catch Kelsey Brookes' "Serotonin; Happiness and Spiritual States", on display through December 29 at San Diego's Quint Contemporary Art.
---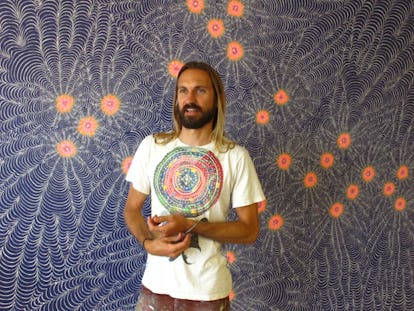 "Without art, science would be as useless as a pair of high forceps in the hands of a plumber," Raymond Chandler once noted. "Without science, art would become a crude mess of folklore and emotional quackery." Much like the work of Leo Villareal or Cory Arcangel, the paintings in San Diego-based artist Kelsey Brookes's latest series seem to exist in the sweet spot between the two fields.
Called "Serotonin; Happiness and Spiritual States" — and on display through December 29 at San Diego's Quint Contemporary Art —the new work marks a breakthrough departure from Brookes's earlyskate-and-surf-influenced figurative paintings, which employed geometric abstractions, spiritual deities, hipster figures, and animal heads. The new abstractions, based on molecular line diagrams, "seem like the most me," admits Brookes. "For a long time I just ignored my scientific understanding of the world."
That understanding took root during an early fellowship for the Centers of Disease Control, before Brookes ventured off for a year on a "soul-searching surf voyage" across the South Pacific (where he began drawing) only to end up back in the biotech grind making diagnostic charts for HIV and HPV. But with the artistic bug scratched, Brookes continued his drawings, selling works in local coffee shops until he could quit to pursue painting full time. In the past six years his work has found its way onto gallery walls from London to Los Angeles, not to mention gracing RVCA t-shirts, and the cover of the new Red Hot Chili Peppers album.
Chili Pepper frontman Anthony Kiedis bought Brookes's "Iris" painting this spring during an exhibition at the private Malibu gallery Compound Project, then asked to use it as the cover on the band's nine-record series of 7-inch releases for their new singles collection, I'm With You.
While this painting isn't grounded in any real science, it does offer the same "visual distortion effect" that now defines Brookes's new style.
This style — reconciling his painting with his inner scientist — hadn't occurred to Brookes until he had a chance run-in with Julian Schnabel at the RVCA house on Oahu's North Shore last fall. Over late-night drinks Schnabel told him: "What you really need to do as a young artist is to figure out where you fit in art history, find your place, and then move into that new direction instead of rehashing what you've already done."
Brookes found this new direction in the small "tunnel" paintings he'd been making in his downtime. Featuring wavy multichromatic lines radiating from a center point, the tunnels paved the way to his Oculus series on 7-inch circular canvases. Like contained energy fields, the works appear to expand and move, giving off hallucinatory effects, with repeat viewing.
"I realized I could orientate these paintings to show a molecular formula that could inform what the colors would be or what the design would look like," says Brookes, who took the science a bit further when he began extrapolating the molecular line diagram for serotonin, the neurotransmitter that regulates happiness, well-being, and our sense of spirituality. After noticing the structural similarities between serotonin and four other monoamine molecules — the psychedelic drugs DMT, LSD, psilocybin, and mescaline — he painted a suite of large (6'x6′ and 9'x8′) canvases attempting to show (via thousands of vibrant hand-painted lines) what a molecular diagram might look if you were on these drugs.
"It's kind of like a peripheral experience of hallucination," says Brookes, who has delved into the psychedelic in the past but swears he doesn't paint high. "I'm really not trying to create some further scientific understanding but to show how these things exist in your mind under the influence of a psychedelic landscape. It's less science and more art."
That said, the scientific boost seems to be paying dividends. The show has already sold out, but is still very much worth seeing — if only for the effects.
"When you look at the world as a scientist you see it as a reductionist and a materialist and it wasn't until this show that I've been able to marry the science understanding with my artistic ideas," he says. "Now I'm finally standing on two feet and people seem to be responding to it."
Portrait: Roy Porello