Kendall and Kylie Jenner Have Very, Very Different Style Icons
One loves Audrey Hepburn, the other prefers Kris Jenner. Can you hazard a guess?
---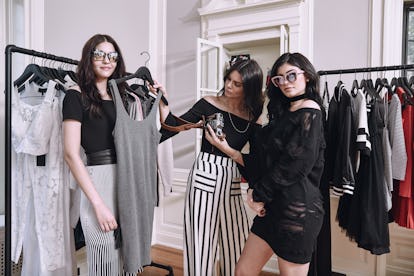 Kate Bogucharskaia
Kendall and Kylie Jenner are a lot of things: reality stars, models, designer muses, designers in their own right, and, for Kylie Jenner, a beauty mogul, too. They debuted their eponymous label, Kendall + Kylie, in June 2016, and it's since grown to encompass two seasons of ready-to-wear, footwear, and a customizable handbag line. Now, the sisters are starting off 2017 right by expanding their reach again. They debuted an eyewear collection with Revolve this week, a range of seven styles they plan to expand later in the spring. But, though they're looking to summer with their newest project, the quintessential Los Angeles-based sisters aren't over winter style just yet. Here, they share their design and personal style inspirations, their favorite shopping destinations, and their essentials for fashion week as the womenswear shows loom closer.
Age: Kendall: 21. Kylie: 19.
Describe your style: Kendall: Simple, clean, and tailored. Kylie: Whatever I'm feeling at the moment.
Favorite vintage store in Los Angeles: Kendall: What Goes Around Comes Around. Kylie: I love Wasteland and have been shopping there ever since I was kid.
Daily uniform: Kendall: Black KENDALL + KYLIE booties, skinny jeans, one of our bodysuits and a leather jacket. Kylie: Sneakers, denim, and a cropped hoodie. I also like our Strappy Sports Bra with an oversized jacket.
Nighttime look: Kendall: I love to go out dancing so usually some kind of mini-dress. For dinner, I love a high-waisted tailored pant and silk blouse. Kylie: I like getting glammed up and dressing up for the occasion.
Style icon: Kendall: Audrey Hepburn. Kylie: Kris Jenner.
Travel essential Kendall: Moisturizer, always. Kylie: I always keep make-up wipes and perfume in my carry-on bag.
Last purchase: Kylie: Gifts for my puppies.
Something you would never wear: Kendall: I wouldn't ever say "never." There's always a way to take a trend and make it more polished and refined. Kylie: I love to take risks.
Favorite accessories you own: Kendall: Shoes are probably my biggest obsession. I love pairing a simple outfit with statement shoes. Kylie: Purses. I love collecting new bags—all types, shapes, styles and sizes.
Something you always carry in your bag: Kendall: Our new KENDALL + KYLIE sunglasses. Kylie: My Lip Kit 🙂
Design inspirations: Kendall: Kylie and I love finding our favorite vintage pieces and putting our modern spin on them. We also love working with new artists. We collaborated with two artists to add personalization and painted details on a few pieces for our collection. Kylie: We like raiding our sisters' and mom's closets to get inspired.
Fashion week go-to: Kendall: That's a hard one. I love Paris Fashion Week. The perfect gown goes a long way. Kylie: For Fashion Week, I like to push myself and choose looks that I wouldn't normally wear.
Something you're excited to wear through the winter: Kendall: Oversized coats… We made some of my favorite coats for our fall collection. Kylie: Thigh-high boots.
Music you're listening to at the moment: Kendall: The Weeknd, Chance The Rapper, Beyoncé. Kylie: Kendrick Lamar, Future, Drake, new artists that I discover on Soundcloud and Spotify.
Kylie and Kendall Jenner Celebrate Their Kendall + Kylie Launch
Kendall Jenner, Kim Kardashian, and Kylie Jenner at the Kendall + Kylie Fall 2016 launch in New York, New York, September 2017.

Benjamin Lozovsky/BFA.com
Tyga at the Kendall + Kylie Fall 2016 launch in New York, New York, September 2017.

Ryan Kobane/BFA.com
Joan Smalls and Doutzen Kroes at the Kendall + Kylie Fall 2016 launch in New York, New York, September 2017.

Ryan Kobane/BFA.com
Chantel Jeffries at the Kendall + Kylie Fall 2016 launch in New York, New York, September 2017.

Ryan Kobane/BFA.com
Justine Skye at the Kendall + Kylie Fall 2016 launch in New York, New York, September 2017.

Benjamin Lozovsky/BFA.com
Josephine Skriver at the Kendall + Kylie Fall 2016 launch in New York, New York, September 2017.

Benjamin Lozovsky/BFA.com
Kendall Jenner at the Kendall + Kylie Fall 2016 launch in New York, New York, September 2017.

Benjamin Lozovsky/BFA.com
May Kwok at the Kendall + Kylie Fall 2016 launch in New York, New York, September 2017.

Ryan Kobane/BFA.com
Kendall and Kylie Jenner at the Kendall + Kylie Fall 2016 launch in New York, New York, September 2017.

Benjamin Lozovsky/BFA.com
Kendall Jenner at the Kendall + Kylie Fall 2016 launch in New York, New York, September 2017.

Benjamin Lozovsky/BFA.com
Yung Taco at the Kendall + Kylie Fall 2016 launch in New York, New York, September 2017.

Ryan Kobane/BFA.com
Kendall Jenner at the Kendall + Kylie Fall 2016 launch in New York, New York, September 2017.

Benjamin Lozovsky/BFA.com
Kendall Jenner, Kim Kardashian, and Kylie Jenner at the Kendall + Kylie Fall 2016 launch in New York, New York, September 2017.

Benjamin Lozovsky/BFA.com
Kendall and Kylie Jenner at the Kendall + Kylie Fall 2016 launch in New York, New York, September 2017.

Benjamin Lozovsky/BFA.com
Kylie Jenner at the Kendall + Kylie Fall 2016 launch in New York, New York, September 2017.

Benjamin Lozovsky/BFA.com
Kendall and Kylie Jenner at the Kendall + Kylie Fall 2016 launch in New York, New York, September 2017.

Benjamin Lozovsky/BFA.com
Kendall Jenner presents a lesson in performance art, from Marina Abramovic to Yves Klein: