Kendall Jenner and Hari Nef Emerge from London as Fashion's New BFFs
At London Fashion Week, Kendall Jenner and Hari Nef posted matching bathroom mirror selfies, 2017's answer to the friendship bracelet.
---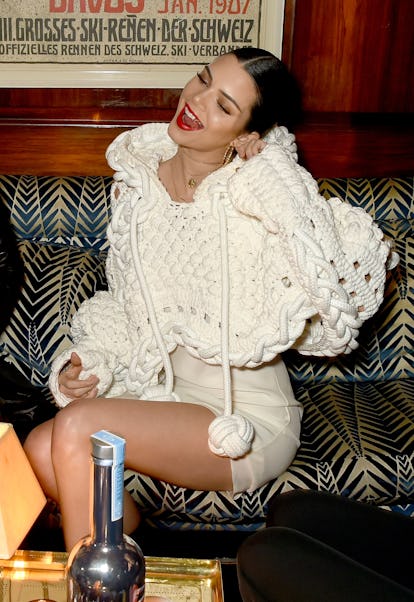 David M. Benett
Watch out, Taylor Swift—Kendall Jenner is slowly amassing a squad all her own.
On the eve of the last day of London Fashion Week, Jenner co-hosted Love magazine's bash, celebrating the U.K. publication's latest issue, which features cover images shot by none other than Jenner herself. Who ever said that family wasn't talented?
As the last party to be held the popular club Annabel's, located in London's Soho neighborhood, before it relocated to a larger venue, the party drew out the likes of Bella Hadid, Lily Donaldson, Stella Maxwell, Helena Christensen, Erin O'Connor, and Anna Cleveland, among others. But lest you forget it was Jenner's night, look no further than her ensemble.
Less than two hours after the final model took her turn down the Burberry runway, Jenner arrived at the club wearing a cocoon-like white crocheted hooded cape, which had debuted on that very runway (The brand was co-hosting the bash). Though Jenner did not walk the show herself—or any show in London, for that matter—it was clear she was still keeping a very close eye on the latest trends. And that's surely one way to ensure that no one else shows up wearing the same dress as you.
But Jenner wasn't the only party-goer who deigned it beneath them to wear last season's clothes. Enter Hari Nef, clad in a feathered Fall 2017 dress from J.W. Anderson. In fact, both Jenner and Nef's fresh-off-the-runway looks were both originally worn on the catwalk by on-the-rise model McKenna Hellam.
The party was also the site of a brand-new fashion power duo forming, as Jenner and Nef seemed attached at the hip. The two even posted matching bathroom mirror selfies, 2017's answer to the friendship bracelet.
It was a fitting meeting of the minds, as Nef is one of the cover stars shot by Jenner for Love, in addition to Sienna Miller and Kaia Gerber. "This cover was photographed by Kendall Jenner, who sees women the way she wants to be seen," Nef wrote on Instagram. BFFs, indeed.
London Street Style Stars Aren't Afraid to Let Their Sartorial Freak Flag Fly
A scene from London Fashion Week Fall 2017 Street Style

Photo by Julien Boudet
A scene from London Fashion Week Fall 2017 Street Style

Photo by Julien Boudet
A scene from London Fashion Week Fall 2017 Street Style

Photo by Julien Boudet
A scene from London Fashion Week Fall 2017 Street Style

Photo by Julien Boudet
A scene from London Fashion Week Fall 2017 Street Style

Photo by Julien Boudet
A scene from London Fashion Week Fall 2017 Street Style

Photo by Julien Boudet
A scene from London Fashion Week Fall 2017 Street Style

Photo by Julien Boudet
A scene from London Fashion Week Fall 2017 Street Style

Photo by Julien Boudet
A scene from London Fashion Week Fall 2017 Street Style

Photo by Julien Boudet
A scene from London Fashion Week Fall 2017 Street Style

Photo by Julien Boudet
A scene from London Fashion Week Fall 2017 Street Style

Photo by Julien Boudet
A scene from London Fashion Week Fall 2017 Street Style

Photo by Julien Boudet
A scene from London Fashion Week Fall 2017 Street Style

Photo by Julien Boudet
A scene from London Fashion Week Fall 2017 Street Style

Photo by Julien Boudet
A scene from London Fashion Week Fall 2017 Street Style

Photo by Julien Boudet
A scene from London Fashion Week Fall 2017 Street Style

Photo by Julien Boudet
A scene from London Fashion Week Fall 2017 Street Style

Photo by Julien Boudet
A scene from London Fashion Week Fall 2017 Street Style

Photo by Julien Boudet
A scene from London Fashion Week Fall 2017 Street Style

Photo by Julien Boudet
A scene from London Fashion Week Fall 2017 Street Style

Photo by Julien Boudet
A scene from London Fashion Week Fall 2017 Street Style

Photo by Julien Boudet
A scene from London Fashion Week Fall 2017 Street Style

Photo by Julien Boudet
A scene from London Fashion Week Fall 2017 Street Style

Photo by Julien Boudet
A scene from London Fashion Week Fall 2017 Street Style

Photo by Julien Boudet
A scene from London Fashion Week Fall 2017 Street Style

Photo by Julien Boudet
A scene from London Fashion Week Fall 2017 Street Style

Photo by Julien Boudet
A scene from London Fashion Week Fall 2017 Street Style

Photo by Julien Boudet
A scene from London Fashion Week Fall 2017 Street Style

Photo by Julien Boudet
A scene from London Fashion Week Fall 2017 Street Style

Photo by Julien Boudet
A scene from London Fashion Week Fall 2017 Street Style

Photo by Julien Boudet
Kendall Jenner, Performance Artist, Channels Icons Like Marina Abramovic and Yoko Ono