Kendall Jenner Hires Beyoncé's Stylist Marni Senofonte
She's the latest of the Kardashian-Jenners to make a wardrobe shift.
---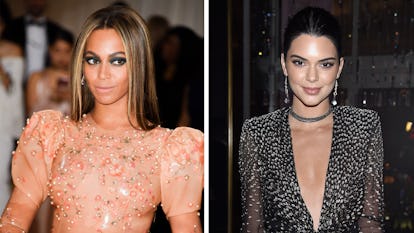 Composite. Getty Images
The majority of the Kardashian-Jenner family, including Kendall Jenner, Khloé Kardashian, and Kim Kardashian, have Hollywood fashion stylist Monica Rose to thank for their now-signature neutral color palettes, form-fitting ensembles, and trend-setting chokers. (Rose also styles the likes of Gigi Hadid and Chrissy Teigen.) However, yesterday, People reported that sources suggested the at least one Kardashian, Revenge Body star Khloé, had split ways after nearly a decade of collaboration.
That news is being followed up with [Kendall Jenner](http://www.wmagazine.com/topic/kendall-jenner's very public hiring of Marni Senofonte, the noted stylist behind Beyoncé's Lemonade visual album that originally aired on HBO this year. Yes, she's the woman responsible for picking that now iconic yellow Cavalli dress. Although no details have been confirmed, sources close to People report that Jenner began working with Senofonte as recently as April 19th, when Jenner attended the Harper's Bazaar 150th anniversary event, presented by Tiffany & Co., in a plunging, patterned gown from Redemption.
The other sisters have been working with other stylists, too: Kylie Jenner reportedly worked with Rose's former assistant, Jill Jacobs, on her New York Fashion Week wardrobe, and Kourtney Kardashian has been working with Dani Michelle.
This may seem all like rather inside baseball, even by Kardashian standards, but between the sisters the Kardashian-Jenners launch a thousand trends, and there's no creative blood behind the scenes guiding their choices. For a peak at what Kendall Jenner may be wearing in the near future, take a quick glance at Senofonte's Instagram, and you'll see more color than you would from Rose, along with avant-garde pieces from labels like Vetements, Balenciaga and MSGM, plus traditional favorites like IRO Paris.
Oh, and aside from Yoncé and Jenner, Senofonte has recently attended to another iconic client. Someone named Barbie. Yes, Senofonte recently leant her styling to the original plastic girl squad by designing duds for Barbie and all her friends for Mattel. Get a taste of Jenner's future looks by scrolling through a few of Senofonte's chicest styling moments from Instagram, Barbie dolls included.
Related: Beyoncé's Stylist on the Met Gala, Lemonade, and Her Insane Instagram
Watch What's Trending in W Video: