Kendall Jenner's Love Affair With Pizza Continues As She Teases a "Pizza Boys" Instagram Account
The 'za enthusiast has been teasing a pizza-themed clothing line with Kylie.
---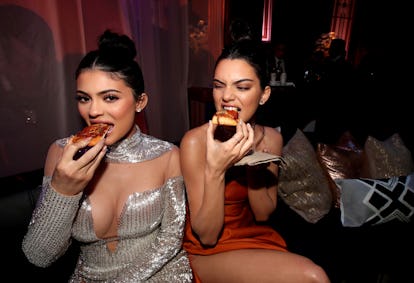 Christopher Polk/NBC/NBCU Photo Bank via Getty Images
If you're keeping up with Kendall Jenner, then you already know that the model has a thing for pizza. Yesterday, though, Jenner doubled down on her love of a slice and teased a cryptic Instagram account for @pizzaboys, an account that only has three posts: the words "Coming Soon" and a photo of herself and her sister Kylie Jenner in a pool clutching a mysterious pizza-themed object while wearing T-shirts that say "pizza boys." As many have since commented, what does it all mean?
What we do know is that yesterday Jenner shared a screenshot of the account on her Instagram stories, taking the follower count from less than 1,000 to more than 50,000 in 18 hours. The Instagram account, which has a bio that reads "In crust we trust," is following only Jenner and the private account @sweetboydaniel. The fact that @pizzaboys isn't following Jenner makes the account even more puzzling.
As for the name, that's easier to decode. Pizza Boys happens to be a "DJ/friend group I'm part of," as Jenner revealed on Instagram last August after explaining a NSFW photo she posted of herself in a sheer shirt censored with pizza emojis, as Elle reported. One of the members of the group is @sweetboydaniel, whom she posted a picture with back in January 2016 with the caption "pizza boys."
The following month, Jenner took in another DJ set from Pizza Boys at a New York Fashion Week event. That same night, she popped up at Joe's Pizza wearing a Pizza Boys t-shirt and baseball cap while handing out late night pies, as The Daily Mail noted at the time. She was accompanied by Gigi Hadid, who was also decked out in Pizza Boys gear, and @sweetboydaniel.
A few months later, in April of 2016, Jenner shared her love of pizza with the world once again, this time with a list that detailed her favorite spots to grab a slice on her app. While Joe's Pizza didn't make the cut (her New York picks were Artichoke Basille's Pizza and Ben's Pizzeria instead), Jenner did reveal that the chain's pizza style was among her top pick. For her Los Angeles choice, Prime Pizza — which followed Pizzeria Mozza and Jones Hollywood — Jenner wrote, "This is the type of greasy pie I can chow down on."
Almost a year later, at the beginning of 2017, Jenner showed her love for pizza once again, this time by iconically downing a slice in her Golden Globes afterparty gown next to Kylie.
Back to the @pizzaboys account, though, the mysterious rollout is reminiscent of when the model's beauty mogul sister first teased her Kylie Shop. Could @pizzaboys be Kendall Jenner's own merch shop? Or, are she and Kylie just endorsing their friend's project? Knowing the Jenners, guesswork won't do any good — the meaning behind @pizzaboys will be revealed with a calculated rollout. Until then, we'll stay hungry for the answer.
Related: Victoria's Secret Angel Jasmine Tookes Will Have Her Pizza and Eat It Too
The Public School Designers Threw a Pizza Party
Jacquelyn Jablonski, Martha Hunt

Madison McGaw/BFA.com
Dao-Yi Chow, Victor Cruz, Maxwell Osborne

Madison McGaw/BFA.com
Dao-Yi Chow, Maxwell Osborne

Madison McGaw/BFA.com
Dao-Yi Chow, Maxwell Osborne

Madison McGaw/BFA.com
Maxwell Osborne, Waris Ahluwalia, Dao-Yi Chow

Madison McGaw/BFA.com
Maxwell Osborne, Cam'ron, Juelz Santana, Dao-Yi Chow, Mack Wilds

Madison McGaw/BFA.com
Dao-Yi Chow, Martha Hunt, Jacquelyn Jablonski, Maxwell Osborne

Madison McGaw/BFA.com