Kendrick Lamar Returns, But On Damn He's Speaking Only For Himself
The Compton rapper's follow-up to To Pimp a Butterfly is an attempt to shrug off the mantle of American prophet, and a return to his own lyrical narrative.
---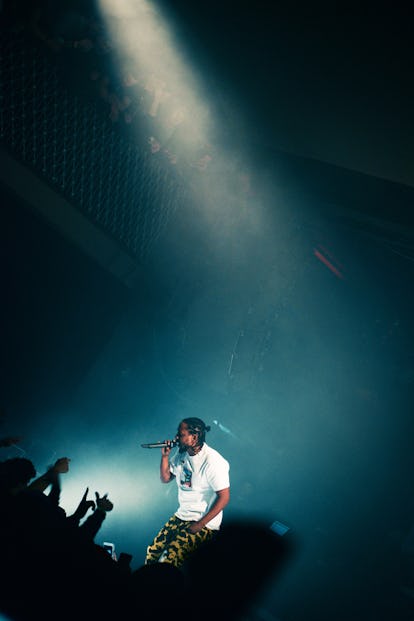 Kendrick Lamar can no longer escape success. Once he dropped the single and video for "Humble.", immediately there was a strong reaction to the body politics that were on display in the video. The response was divisive, but the song landed at #2 on the Billboard charts, showing that the Compton rapper is still at the center of many conversations. It's been just two years since his critically adored To Pimp a Butterfly, but it feels closer to decades in the turns America's taken. In response, Lamar doesn't devote another 80 minutes to the black male experience of America. He returns instead to a space of comfort: himself.
An epic in ambition, scope, and subject matter, To Pimp a Butterfly called upon not only rap, but blues, funk, and jazz to try and make sense of a world of constant protests and daily news footage of black death at the hands of police. The sauna of that climate allowed "Alright" to bubble up from an album deep cut into a street march anthem. Damn pivots from tapping into that collective power; instead, on "Feel.", Lamar wonders, "I feel like the whole world want me to pray for em / But who the f— praying for me?"
Paranoia flows through Damn. The opening track "DNA." samples a Fox News broadcast in which Geraldo Rivera chastises Lamar for his anti-police lyrics. The irony of such a charge from an outlet whose target demographic is retired white people is not lost on Lamar, but still, on "Yah.", he rhymes: "Fox News wanna use my name for percentage / My latest muse is my niece, she worth living / See me on the TV and scream: "That's Uncle Kendrick!" / Yeah, that's the business." Lamar is constantly stressing about how he is perceived by the broader world and what exactly he can do to fight or subvert those narratives. The rapper fought the same fight with fame back on To Pimp a Butterfly, on "i," where out loud he questioned whether he was the right leader for this important moment.
Lyrically, not only is he fighting with himself, but the political statement he made on To Pimp a Butterfly is scaled back on Damn. On his last outing, Lamar opened by sampling Boris Gardiner's "Every N—– Is a Star" and jumped into spacey funk by Thundercat, Flying Lotus, and George Clinton that set the tone for the album. Damn removes Lamar from the lineage of black protest music invoked by the 70's funk of To Pimp a Butterfly or the 90's G-Funk that was laced throughout his 2012 major label debut good kid, m.A.A.d. City. Longtime collaborator Sounwave handles a lot of production on Damn, and the album regresses back to the staid underground rap production of Lamar's early work, like Section .80 and Overly Dedicated. Mike WILL Made-It offers some musical flourishes on the industrial clank on "Humble.", and BadBadNotGood offers a bit of melancholy on "Lust." Still, the political urgency of To Pimp a Butterfly is nowhere to be found on Damn.
Lamar appears eager to take a step down from the cultural pedestal he was foisted upon and instead return back to his own story. That personal narrative carries the final few songs; on "Fear.", Lamar recounts his life on three different occasions, and on "Duckworth.", he retraces the steps that led him to rap success and imagines an alternate, unknown path. Pulling back on the reins is a move Lamar's closest peers, Drake and J. Cole, also made on their last projects, which were major releases that didn't try to invent a new narrative or try to directly address the political moment. Even the big guests here, Rihanna and U2, do not land on momentous singles or obvious radio plays. They're here to support on songs, "Loyalty." and "XXX.", that are fully wrapped up in Lamar's personal demons.
On "XXX.", Lamar mentions the election of Donald Trump, but it's in service of an instant nostalgia for the Obama years: "Donald Trump's in office, we lost Barack / And promised to never doubt him again." Last year, fellow Compton rapper YG found a political purse with his anthem "FDT (F— Donald Trump)," but here Lamar is still struggling, along with the greater rap community, to find the right response.
Damn is an attempt to cast off the weight his music would be asked to bear. The longstanding rap DJ Kid Capri is included throughout the album saying "New Kung Fu Kenny," which adds bit of levity into Lamar's music. Last year Beyoncé and Solange produced albums that were personal, but also tapped into the nerve of black American struggles. Here, Lamar appears unsure if he can sustain that voice. "30 shows a month and I still won't buy me no Lexus," he raps on "Fear.", making it clear that even with success, he's not confident he has the answers to the questions the world keeps asking.
Related: The Emerging Menswear Designers Featured in Kendrick Lamar's New "Humble" Music Video Were Surprised By the Shout Out