Kendrick Lamar's Next Album, DAMN, Features Rihanna and U2
Kendrick Lamar has released the track details for his next album, 'DAMN,' and Rihanna and U2 have appearances alongside Kaytranada and more.
---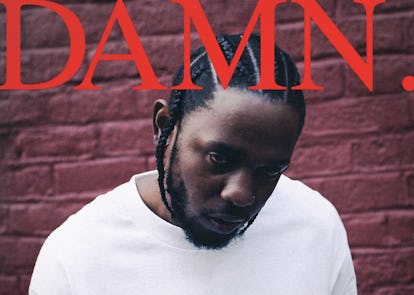 kendricklamar/Instagram
Anticipation for Kendrick Lamar's next album is reaching its zenith. As if people weren't sufficiently hyped by the masterful music video for first single "Humble," Lamar has confirmed intriguing new details about the upcoming release, which we now know is called DAMN. Lamar is getting notable company on the album, thanks to features from Rihanna and, more unpredictably, U2.
The Compton MC shared news of the collaborations by posting a picture of the album's track listing on Instagram. Rihanna will feature on a song, "Loyalty," and U2 joins for "XXX," which is probably not as dirty as it sounds. The two acts are the only cited collaborations on DAMN. It has also been revealed that, in a production capacity, Lamar will work with the likes of BadBadNotGood, Mike WiLL Made-It, DJ Dahi, Sounwave, 9th Wonder, the Alchemist, Greg Kurstin, and someone credited as "J. Blake," which could be a moniker for James Blake, the U.K. crooner who's worked with Lamar before in a remix capacity. The other songs on the 14-track album, in addition to the previously released "Humble," are "Blood," "DNA," "Yah," "Element," "Feel," "Pride," "Humble," "Lust," "Love," "Fear," "God," and "Duckworth." Basically, DAMN promises to run you through the emotional gamut, plus whatever "Duckworth" is. "The Heart Part 4," the surprise single dropped by Lamar in March, is not among the included offerings.
Lamar also debuted DAMN's cover art, which features him facing the camera, head down, in front of a brick wall. The reveal was ostensibly also the reveal of DAMN's title, though a Reddit user noted that Lamar wore a shirt bearing the title in the music video for "Humble."
DAMN marks Lamar's fourth studio album, following 2015's beloved jazz-inflected To Pimp a Butterfly and last year's prophetic compilation album untitled unmastered. After some release-date confusion (a line in "The Heart Part 4" warns, "Y'all got 'til April the 7th to get your shit together," so fans hoped the album might drop then), DAMN is expected to finally come out this Friday, April 14. In the meantime, stay humble.
Related: The Emerging Menswear Designers Featured in Kendrick Lamar's New "Humble" Music Video Were Surprised By the Shout Out
See What's Trending in W Video: