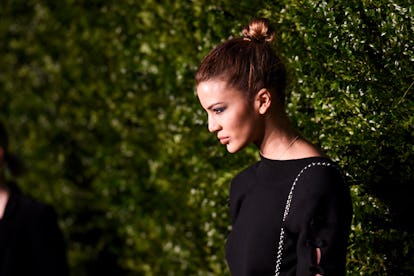 Billy Farrell/BFA.com
Kenya Kinski-Jones, the 24-year-old daughter of famed record producer Quincy Jones and German model-actress Nastassja Kinski—and half sister of Rashida Jones—has been modeling on-and-off since she was a teenager. One day, while visiting her mother on set with Bruce Weber, the photographer immediately saw that Kinski-Jones junior had it in her, too.
Since then, she's modeled for him in a Vogue Spain spread, landed Calvin Klein campaigns (alongside her boyfriend of six years, Will Peltz), and was the face of Stella McCartney's Pop fragrance last year with Amandla Stenberg, Lourdes Leon (Madonna's daughter), and Grimes.
Finally, in December, Kinski-Jones made her runway debut at the Chanel Pre-Fall show, where she was fittingly joined by fellow-scions Selah Marley, Georgia May Jagger, Lily Rose Depp, Lottie Moss, Sistine Stallone, and Sofia Richie. The timing was perfect, seeing that she had just graduated from Loyola Marymount University and was free to model full-time—something she had never done before.
Born and raised in Los Angeles, Kinski-Jones was obsessed with horses as a child, and focused all her energy on riding and jumping competitively. She even wanted to go to the Olympics. Now that she's got a full-time fashion industry job, however, she's had to give it up. But Like McCartney, Kinski-Jones still finds the time for animal advocacy work, and her acting debut was for a PSA about endangered mountain gorillas.
One month after her runway debut, the emerging model opened up on set about how she's balancing modeling with activism.
What were you like as a kid?
As a kid, I was definitely a nerd. I'm still a nerd. I grew up riding horses and jumping competitively, so that was a huge focus for me. I spent a lot of time at the barn with my horses.
Do you remember the name of your first horse?
Lilo, after Lilo & Stitch. I was obsessed with that movie. [Laughs.]
Do you still ride now?
No, I don't anymore. I had two horses and one passed away over the summer. I'm still healing from that because it's such an intense relationship. But of of course, eventually I'm going to want to get back into it. It's the best.
When did you start modeling?
I started when I was 18, but I was in school at the same time. Since I graduated from college in December, I've started doing this full-time.
What drove you to modeling in the first place?
My mom took me to visit a Bruce Weber shoot once and he took a picture of me just for fun. A couple of months later, he requested me for a Vogue Spain editorial in Montauk. That was my first real, official shoot and I loved it. It was my first time going out of the house and finding my own way.
How do you think your style has changed over time?
When you're younger, you go through so many different phases, but I feel like I'm still the same way now. I'm still figuring myself out.
What are you feeling at this moment then?
When it comes to style, I'm always drawn to combining feminine and masculine pieces. I love mixing opposites. I like to be comfortable, but I also want to be chic.
What was it like walking your first runway show for Chanel?
I'm short, so runway hasn't really be in the cards for me. So, when I got the Chanel show it was a dream come true. I was nervous, but when I was actually there it was just fun. Everyone was so sweet.
What's the best advice you've gotten from your parents?
They always just tell me that the most important thing is enjoying it; don't do it for anyone else.
What was it like working with Stella McCartney?
I've always looked up to Stella because I'm an animal advocate as well. I've been a vegetarian since I was eight. I feel like she's the only one who's been able to combine fashion with caring for the planet and animals.
Was riding what sparked your love of animals?
I think it started before that. I had eight dogs and five cats as a kid. My mom was down! We found some, rescued some, and then bought the others.
Do you have any pets of your own?
My boyfriend and I have a French bulldog named Banksy.
How did you guys meet?
My mom was doing a movie with him in Santa Monica. She had me come visit. I was in high school and showed up in my gym clothes. I saw him and was like, 'Oh God!'
Tell me about your animal advocacy work.
I was working with this organization called Last Chance for Animals (L.C.A). I did a video for them about endangered mountain gorillas. I want to do more with them in the future. They're really passionate about what they do.
If you weren't modeling, what would you be doing?
Actually, I really wanted to go the Olympics for riding.
What do you love most about riding?
People always say like, 'How hard is it to just sit on a horse?' But it actually takes a lot of discipline. What I love about it is that it's not about you; it's about your connection with the horse. You don't say anything, yet you say everything.
It sounds like hanging out with your best friend.
One-hundred-percent.
What's your dream job?
My life goal is to have an animal sanctuary and live there and have a farm and horses.
Related: Kenya Kinski Jones Doesn't Style Her Hair, Gets Highlights
Watch 6 Rising Male Models from Famous Families Share Their Biggest Pet Peeves