RIP Kenzo Takada: Naomi Campbell and More Supers Remember Fashion's Fountain of Joy
The hugely influential designer, whose joyous shows made couture salons seem dreary, has died of Covid-19.
---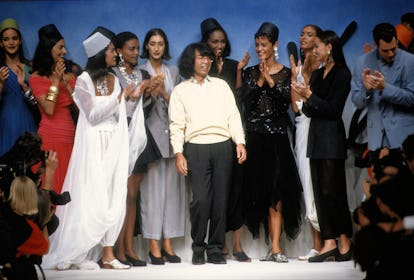 PL Gould/Getty Images
Fifty-five years ago, Kenzo Takada boarded a boat and took a month-long journey to Paris. The designer, who has died of the coronavirus at age 81, had never left Japan before, and planned to stay just six months. Instead, he became one of the most influential designers of the 20th-century, popularizing Japanese fashion in the west and opening the Parisian door for Yohji Yamamoto and Comme des Garçons's Rei Kawakubo.
At the time that Takada decided to pursue design, only one school would accept him: Tokyo's Bunka Fashion College, where he became the first male student. That training was all that prepared him for his voyage in 1965, when he spoke minimal French, knew no one in the city, and was at complete odds with the Paris fashion establishment and its exclusivity.
For a time, Takada tried to fall in line with Christian Dior, Yves Saint Laurent, and more of the couturiers then in their prime. But in 1970, Takada decided to stop taking things so seriously. From the moment he staged his first runway show, which took place inside a makeshift jungle, having fun became the designer's no. 1 priority. And Grace Jones, Jerry Hall, Iman, and Tyra Banks were just a few of those eager to get in on it.
At the same time that Takada became what Jean-Paul Goude once described as "a tremendously exotic pop star—a sort of gang leader, surrounded by groupies of all races, colors, and creeds," he also revolutionized the French fashion industry, mixing influences like African motifs and Tokyo street style and favoring a riot of prints. "I started mixing Japanese influences with European culture, bringing Japanese materials and cuts to European fashion," Takada recalled in an interview with W in 2017. "And then I quickly got influenced by other cultures and mixed in elements from around the world. That was very fresh to the market at the time—it was a whole new way of doing things. But from the beginning, I really wanted to do something different than everyone else. And I wasn't too scared, so I just did it. And it did work in the end."
By 1974, Takada was so successful that his fanbase had extended back to Japan, where he staged not one, but two runway shows. (Some even paid for their seats.) And that success only allowed Takada to take things even further: one of his 1979 shows took place inside a circus tent, and ended with models on horseback and Takada atop an elephant. The more the designer traveled, the more his designs got eclectic, mixing everything from Romanian peasant skirts to North African caftans. When he decided to move on from the house in 1999, on its 30th anniversary, Takada made his exit in true form, descending from the ceiling and landing atop a giant globe.
Without Takada, interest in Kenzo waned until 2011, when Opening Ceremony's Carol Lim and Humberto Leon took over and pulled moves like casting Britney Spears in a fragrance campaign. The role of creative director has since passed on to Felipe Oliviera Baptista, who bid "farewell master" to Takada on Sunday night with three tributes on Instagram.
Many of the others who've paid tribute to Takada have celebrated his pure joy. ("Remember our boat trip in Sardinia?," Bethann Hardison commented on Pat Cleveland's post.) Read more remembrances from fans like Naomi Campbell, Carla Bruni, and Linda Evangelista, here.