Kerry Washington Admits It Can Be Difficult To Celebrate Fashion In 2017
The actress received the Lord & Taylor Fashion Oracle Award at the FGI Night of Stars.
---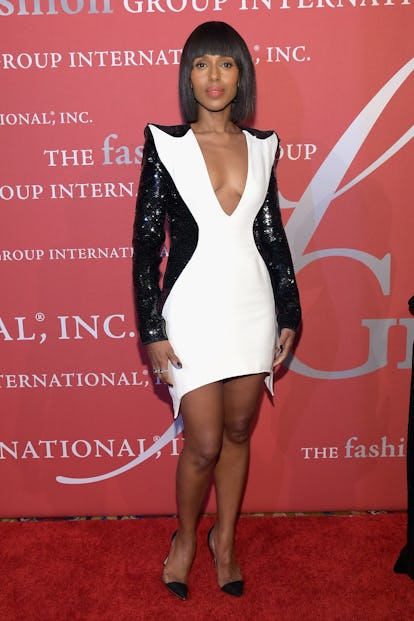 Ben Gabbe
Awards shows are notoriously long. Take it from anyone who has attended, or even watched, the Academy Awards, which when you factor in the red carpet, can stretch to the six hour mark.
It is a predicament that extends beyond just Hollywood, so when emceeing Thursday evening's Fashion Group International's Night of Stars—which honors luminaries in the world of fashion—Simon Doonan, never one to mince words, offered a sound piece of advice. "One little house-keeping note: raise your hands if you are praying that everyone makes short speeches," Doonan said by way of introduction. "I mean, short speeches, por favor."
It was the evening's titular fashion stars—Dries Van Noten, Thome Browne, Simone Rocha, and Isabel Marant—who heeded to Doonan's instructions best. "I wish I could pretend I don't speak English, but I do," quipped the very French Marant. "I didn't prepare anything and there was a very long speech [before me]. They said we had two minutes and that took ten, so I think I can end here." That little bit of shade was directed at loquacious It Cosmetics founder Jamie Kern Lim.
However, Van Noten, the evening's final recipient, had perhaps the most brief, albeit charming speech of the evening while accepting the Superstar Award. "I think most people know that I love to make clothes, I love to garden…but I really don't love to give speeches," he said. "Thank you for this fantastic honor and this fantastic evening, and good night."
Surprisingly, the celebrities in attendance were the most verbose—and political. "In these times, I'm going to be honest, I think it can be challenging, at least for me, to spend an entire evening talking about and celebrating all things pretty," said Kerry Washington, recipient of the Lord & Taylor Fashion Oracle Award. "You in this room are the arbiters of beauty. And that is no small responsibility. You give people the tools to express themselves and live who they are. That is no small thing."
Dwayne Wade, on the other hand, opted for a more comedy-driven routine when introducing Browne. "Besides being able to pull off the shorts-suit look better than any Asian or Pharrell, he was normal," the basketball player said of his first introduction to the designer. The crowd ate it up. "Yes, my joke landed!" he enthusiastically declared.
In the end, despite twelve awards in total—other recipients included Terry Lundgren, WWD's Bridget Foley, Rebecca and Uri Minkoff, Kering's Marie-Claire Daveu, and QVC's Mike George—the night concluded at a very bedtime friendly 10:15 p.m.—unless, of course, you opted to stay for the afterparty, DJ'ed by none other than Paris Hilton.
Related: Nnamdi Asomugha, the Ex Football Player Who Would Be a Hollywood Power Player
These Women Are About to Make History as the Organizers of the Women's March on Washington