Kesha Says New Album Rainbow "Saved" Her Life
The singer got candid, and emotional, in a new TV interview.
---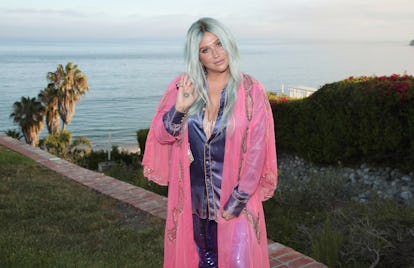 Christopher Polk/Getty Images
After three years of legal battles with producer Dr. Luke, Kesha has returned with a new, acclaimed sound and is striking a defiant and liberated tone on the press circuit. Last month she released "Praying," the first taste of her long-awaited third studio album Rainbow—out this Friday—and it arrived with a stunning music video that showed the musician wandering through Salvation Mountain in California. It was hard to miss the subtext.
Now, she's beginning to unpack the song as well as the rest of her album. Today, Kesha made her return to TV on Good Morning America, where she delivered what os arguably her most emotional interview in recent memory, certainly from this turbulent period in her career.
"I was backstage dancing, punching stuff and crying," Kesha reveals at the start, while seemingly holding back tears. "I'm so many emotions all the time right now." "It's so personal," she said of Rainbow's lead single. "I've written every song on this album and they're all so personal and this song, I think, is just really important because it talks about me, personally, going through something very hard—lots of very hard things, making it through, not giving up and finding empathy on the other side, which is incredibly hard sometimes."
Despite its challenges, Kesha said making her followup to 2012's Warrior helped her cope with her pain. "I think this record has quite literally saved my life,"she said. "And I hope you guys like it and I hope you can hear it and I hope it helps people."
The album's optimistic title was purposeful, the singer said. "Color symbolizes hope. It's no coincidence that it's also the symbol for the LGBTQ community," she said. "I've always just found hope in the bright colors, and I wanted to bring that more into my everyday life. My house is covered in rainbows. I have like 10 rainbow tattoos."
Kesha also opted to channel the title of her album in her attire for the Good Morning America interview with a kiwi green suit emblazoned with colorful flowers on the flared legs, a hot pink shirt with orange trim and a turquoise necklace—an ensemble that brings to mind her vibrant video for "Praying."
Watch Kesha's emotional interview below and look out for Rainbow to hit shelves and streaming services August 11.