Kesha Is a Fan Girl of Ozark's "Bad Bitch" Laura Linney
The singer shares her latest pop culture obsessions.
---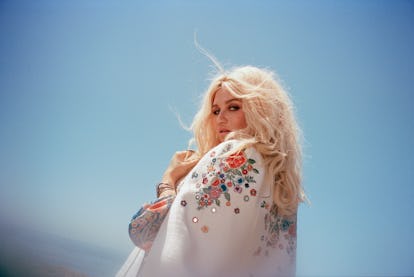 Icon
When Kesha first emerged as a pop star, she was primed for Top 40 radio with her bleach blonde waves and glitter-soaked skin, all fun raps and outrageous behavior. But the 31-year-old has suffered a lot since then, and as her legal battle with Dr. Luke drags on she's reinvented herself as a leader of the #MeToo movement with the empowerment ballads to match—including, of course, the Grammy-nominated hit single "Praying," as well as a new song, "Here Comes the Change," inspired by Ruth Bader Ginsburg for the upcoming RBG biopic On the Basis of Sex. Ahead of the upcoming midterm elections and fresh off her Rainbow tour, Kesha fills us in on what she's been obsessing over lately in her Culture Diet, here.
What was the idea behind "Here Comes the Change?"
I felt honored to write a song to pay tribute to Ruth Bader Ginsburg, who is a personal hero, and a hero in the fight for equality. I connected to the director [Mimi Leder] and the film so much, so I felt a passion to do the best I could to capture a classic, timeless song that would live up to the film and RBG's legacy.
On "Here Comes the Change," there's a poignant line that says the idea of change "is not a phase." What change in our culture do you hope to see this year?
I believe that our generation can be the one to focus this country back towards the principles it was founded upon: equality and freedom for all no matter where you were born, the color of your skin, your sexual orientation or preference or anything else. "This is not a phase" is in reference to the fact that if this gets hard we aren't going to give up.
You're hosting Kesha's Weird & Wonderful Rainbow Ride cruise in February. Who are you most excited to see on the cruise?
I am so excited to boogie with all my animals on a boat! It's going to be a magical ride.
So, getting into the Culture Diet questions: What are some of your favorite social media accounts to follow?
I've been taking an extended break from social media because I think it can suck you in, and at times be extremely unhealthy. I also find people have an easier time anonymously being hateful, and I've decided that I don't need to participate in that side of social media. The one thing I do cherish social media for is being able to communicate directly with my fans. They are the ones who keep me from just swearing off social media for good. And the cute animal accounts—those are magical.
What's the first thing you do when you wake up in the morning?
Every morning, wherever I am, I have to get outside or open a window as soon as I'm up. Even if it's cold, I don't fully feel awake and alive until I'm hit by fresh air. Then I usually remember to brush my teeth.
What books are you reading right now?
One book I always come back to is Brian Weiss's Many Lives, Many Masters because I have always been fascinated with learning about various religions, spiritual beliefs, and [the] human inclination to look to something bigger than ourselves. The ideas in this book are about how we live many lives in the physical realm and our spirits travel in groups through space and time in ways we can't understand. The cycle of life and what happens afterwards is something that has always spoken to me. I'm also halfway through Cat's Cradle by Kurt Vonnegut for about the fourth time.
What television shows have been keeping you up at night?
Ozark. It's so good, and the twist at the end of Season 2 is the best. No spoilers, but all I can say is don't underestimate a bad bitch! Also I have been watching black and white films from the 1950s and 1960s: [Alfred] Hitchcock, What Ever Happened to Baby Jane and Sunset Boulevard. All classics I recommend!
What's the last movie you saw in theaters?
I hadn't seen a movie in theater in ages, but last night I saw The Sisters Brothers, and it was beautiful, exciting and heartwarming all at the same time. I absolutely love John C. Reilly, Joaquin Phoenix, Jake Gyllenhaal, and Riz Ahmed. Such amazing actors!
What's the last song you had on repeat?
Whenever I'm stuck in traffic I turn on the Spice Girls to combat other drivers' road rage. Also the second The Black Keys record, Thickfreakness, and Raw Power obviously. I have a new "Raw Power" tattoo.
Are you into astrology at all? What's your sign?
[I'm a] Pisces, and I'm obsessed with it.
Do you believe in it? Of course, I do. I definitely check my horoscope and what the moon is doing about every day.
What's the last concert you went to? Does the robot restaurant in Tokyo count as a concert? If not then it was Black Sabbath I think.