Kevin Hart Will Host the 2019 Oscars
Year after year of fiasco after fiasco, the Academy might have finally done something right.
---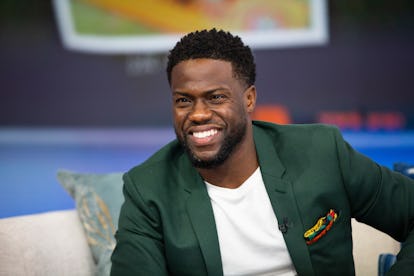 GETTY
The 2019 Oscars host has finally been revealed, and the emcee for the spectacular evening will be none other than comedian Kevin Hart.
Hart confirmed on Instagram that he would be hosting the ceremony on February 24 at the Dolby Theatre, sharing his excitement with his nearly 66 million followers. "For years I have been asked if I would ever host the Oscars and my answer was always the same," he wrote. "I said that it would be an opportunity of a lifetime for me as a comedian and that it would happen when it's suppose to. I am so happy to say the day has finally come for me to host the Oscars." Fellow comedians and collaborators like Nick Cannon and Tiffany Haddish shared their support in the comments ("He ready," Haddish wrote, adapting her "she ready" catchphrase for Hart).
Hart's addition to the long roster of Academy Awards hosts is actually a big deal, especially given the ceremony's recent brushes with controversy. There are almost too many fiascos to count, but between the #OscarsSoWhite backlash after all acting categories were only filled with white nominees, the great Moonlight versus La La Land Best Picture scandal, last year's attempt to address the atrocities committed by Harvey Weinstein and the subsequent Time's Up and #MeToo movements, and this year's new "popular" category, the Oscars have had a rough go of it. Not to mention, there have only been a handful of black comedians who have hosted the show (Chris Rock, Whoopi Goldberg, and Richard Pryor made the cut). After all of the recent Oscars debacles, maybe the Academy finally got something right.
Hart's comedic timing and previous hosting experience for various ceremonies including the MTV Video Music Awards and the BET Awards in the past have likely well prepared him for this new gig, and fans of his on Twitter and Instagram seem to agree. While the congratulations from fans and comedians rolled in, the expected trolling and clowning from one of Hart's closest frenemies, Dwayne Johnson has been noticeably absent for now.