Khloé Kardashian on the Beauty Advice She Would Have Given Her Younger Self
Plus, she opens up about the beauty advice Kim has given her over the years.
---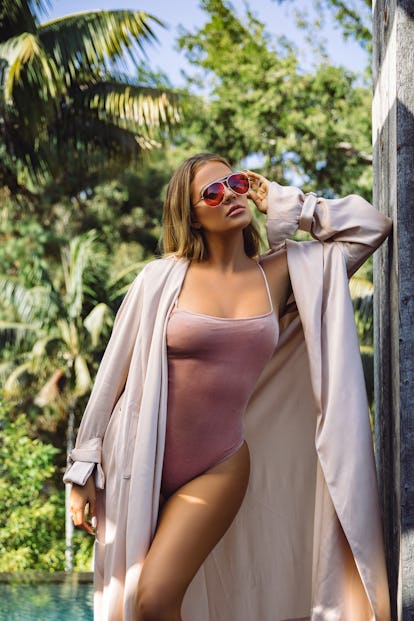 DIFF Eyewear
Over the past couple of years, Khloé Kardashian has made fitness her signature. In doing so, the Kardashian has seemingly aged in reverse, walking around with a glow and a newfound confidence. But her workouts, which she frequently documents on social media, isn't her only beauty calling card. Kardashian also credits strong defense against the sun, whether it's lathering on sunscreen or shielding her eyes with protective eyewear. In the latter case, it's easier than ever to follow in her wake as Kardashian just released a collection of sun blocking aviators with the eyewear brand Diff dubbed "koko," her nickname as viewers of Keeping Up With the Kardashians already know. The '70s-inspired shades, which come in four different lenses—ranging from red to gold—aren't just good for warding off sun damage. They also have a charitable component: With the sale of every pair, a person in need will receive an eye exam and glasses. To celebrate the launch, we caught up with Khloé Kardashian to talk about the inspiration behind them, why she loves aging, and the surprising place she wears sunscreen. Hint: it's not on her face.
What inspired you to create a pair of aviators? I've been a fan of Diff for years and when the opportunity came about for us to team up on creating a shade, I was excited to work with a brand that is really making an impact on the world. The inspiration behind the Koko was the '70s—the shades are a perfect blend of vintage '70s aviator and modern oversized shape.
Can you talk about the charity component of the collaboration and why it's important to you? I love that this collaboration gives back—it's really what makes this partnership so special and close to my heart. For every pair we sell, we're able to help someone who really needs reading glasses or an eye exam in parts of the world where resources aren't readily available. Working with younger millennial brands that are socially conscious is very important. It's more than just creating cool shades—it's helping make a real difference in someone's life.
Who has the best sunglasses collection in your family? Kris! Her collection is incredible. I grew up borrowing my mom's sunglasses. She's always had a great collection and it keeps on growing. I love a lot of her vintage aviators which played a little bit into the Koko shade.
How deep is your own collection of sunglasses? I probably have over 300 pairs of shades. When you grow up in California, sunglasses become a wardrobe staple.
What kinds of other precautions do you take against the sun? Favorite sunscreen? It's so important to protect your skin from the sun, I can never emphasize it enough. I use a daily SPF moisturizer and always lather on at least a 85 SPF (especially on my hands!) if I know I'm going to be in the sun for long periods of time. I even keep sunscreen in my glove compartment. Some people don't realize that you're still highly exposed even when you're inside of your car. I don't really have a favorite sunscreen brand—usually just use whatever my dermatologist gives me or something over-the-counter with a high SPF.
How does your beauty routine change seasonally? What is it like on an average day in fall? California weather doesn't change too drastically from season to season so neither does my routine. Generally, I try not to layer on too much product on my face, but when I do, I always make sure to take extra care at night before bed. Bio-Oil's Multiuse Skincare Oil is great for a deeper, overnight pick-me-up.
When you travel, do you do anything special to keep your skin hydrated? Drink water! I habitually carry a liter of water with me wherever I go and drink as much as possible.
What is a beauty piece of advice you wish you could have given to your younger self? Wear sunscreen every day. When you're younger, it's hard to imagine the effects that sun exposure will have on your skin but it's real. I get my skin checked every three months for any abnormalities—you can never be too careful.
Within your family, who gives the best beauty advice and what's an example of it? Definitely Kim and Kylie. Kim taught me the importance of a investing in a good eye cream and I never go to sleep without it. Kylie isn't afraid to take chances with her makeup, which I really admire, and she always keeps it real.
This year, the phrase anti-aging has become somewhat obsolete. What are your favorite things about getting older? Confidence just comes more naturally as I've gotten older. There's a certain amount of self-acceptance that happens after the age of 30—you learn to embrace things about yourself that maybe once made you self-conscious. It's so important to love yourself!
A Brief History Of All the Times the Kardashians Have Gone Blonde
Kim Kardashian steps out in a blonde lob alongside husband and rapper Kayne West during Paris Fashion Week in 2015.

@kimkardashian
Kendall Jenner looks unrecognizable with her blonde wig walking alongside Gigi Hadid who also sports a brunette wig after the the Balmain Fall 2016 show in Paris.

@kendalljenner
Known for her ever-evolving hair colors, the youngest of the Kardashian/Jenner crew wears her locks in long, tousled waves.

@kyliejenner
These days, Kim Kardashian can regularly be seen sporting her blonde locks and poses alongside with singer Fergie and model Chrissy Teigen backstage during Fergie's "M.I.L.F" music video.

@kimkardashian
Khloe Kardashian, the most regularly blonde of the whole family, wears her long platinum locks sleek straight with a nude lip.

@khloekardashian
Sporting dramatic platinum blonde locks during New York Fashion Week, Kim Kardashian steps out for the Yeezy Season 3 show.

@kimkardashian
Kylie Jenner takes on a silver platinum shade, wearing a sleek, middle-parted pony in tousled wet waves.

@kyliejenner
As the most recent Kardashian to go blonde, Kris Jenner debuts a chic platinum blonde pixie.

@kimkardashian
Khloe Kardashian takes her blonde locks to new heights, sporting perfectly tousled air-dried beachy waves.

@khloekardashian
At the 2017 Met Gala, Kylie Jenner showed up in a side-swept chin grazing blonde bob.

@kyliejenner
After debuting silver platinum locks during New York Fashion Week, Kim Kardashian styles her locks in an ultra sleek high pony.

@kimkardashian
Posing alongside sister Kendall, Kylie wears her blonde locks in soft, polished curls.

@kyliejenner
While she may have temporary tried on a platinum pixie, Kris Jenner starts off the New Year with freshly dyed tousled do.

@krisjenner