Khruangbin Hopes Their New Album Mordechai Sounds Like the World
Meet your favorite musician's favorite musicians.
---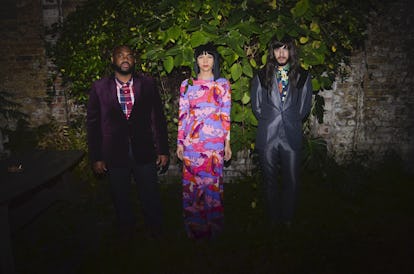 Photograph courtesy of Tamsin Isaacs.
Three weeks before the musician Jay Electronica released his long-awaited debut album A Written Testimony in March, Laura Lee, the bassist and vocalist for the band Khruangbin, received a text message.
Lee, who sings vocals with her bandmates Mark Speer (guitarist) and Donald Ray "DJ" Johnson, (drums), for the Houston-based trio affectionately referred to as KB, saw her phone's screen light up with a text from a friend of hers, whose father owns a record shop in Los Angeles. They told her in the message that Jay-Z was in the store buying "all the KB records," Lee said on a recent video call with Speer and Johnson.
Among the Khruangbin vinyl selections Jay-Z made was the band's 2018 album Con Todo El Mundo. Although receiving that text at the time was thrilling, Lee didn't give it much thought until a few weeks later, when she went on "the last trip I'll take for the foreseeable future."
"When the plane landed, my phone had—just on our band thread—132 missed WhatsApp messages," Lee recalls. It turns out Jay Electronica, who featured Jay-Z on most of the songs on A Written Testimony, wanted to give a Khruangbin song called "A Hymn" on Con Todo El Mundo the mixtape treatment, and rapped over the instrumental for his track "A.P.I.D.T.A."
You may not have heard of Khruangbin, nor their music, and might be wondering what's up with the name (pronounced KRUNG-bin, it's derived from a Thai word that means "airplane.") But the story of Jay-Z and Jay Electronica effectively stanning KB is the epitome of the band's being: they're your favorite artist's favorite artist.
Khruangbin has been making hazy, ambient music influenced by Southeast Asian funk, Middle Eastern and South American soul, and dub since the three met in 2007. At that time, Johnson and Speer played in a gospel band at St. John's United Methodist Church (coincidentally, Beyoncé and the Knowles family's church of choice in downtown Houston). Lee, Speer and Johnson would meet for dinner weekly at Rudyard's pub in the city, and talk music. In 2010, they officially created the band Khruangbin. Since then, they've released two full-length albums and an EP in collaboration with Leon Bridges. Their third album, Mordechai, drops today.
The conversation I had with the band occurred in mid-March, as the coronavirus pandemic began to sweep through the U.S.—all three members were stuck in different cities, with Lee in Miami, Speer in Oakland, California, and Johnson in Houston. In that moment, they grappled with the idea of releasing an album—was it tone deaf to try and promote a piece of work during such a scary time?
Now, the world looks different. And for Johnson, who calls to check in from Houston the day before the record is set to come out, the opposite sentiment is true: this is the perfect time to put art into the world. Protests and demonstrations against police brutality and systemic racism, (which, Johnson notes, is "nothing new,") have caused distinct cultural and socio-political changes to occur. That backdrop gives even more poignant context to Mordechai.
"The overarching theme of the album rings so much louder with all the events that have happened since we recorded it," Johnson says. "It's always been our intent to bring people together, to try and erase barriers that have been set up for centuries. In the scale of the universe, we're on this tiny planet, and we've all got to share it. Hopefully in the years to come, it will be shared among everyone equally, not just one kind of people."
The work for Mordechai began in May of 2019. The band hunkered down in the red barn in Houston where they do most of their recording, and got to writing. Among its fans, Khruangbin is well-loved for their soulful instrumentals—some with beats provided by a bongo drum, others featuring guitar melodies straight from a surf rock song. On Mordechai, though, the band says they were inspired by working with Bridges, who laid his vocals down onto their tunes for Texas Sun, and decided to get inventive with their lyricism.
They've described this latest album as "a whole new world for KB" in past interviews, and Speer maintains he still feels the same way.
"It still sounds like us, but we're trying new stuff," he says, wearing the bands' signature black, bobbed wig during this interview. "Every album you want to add more things to the pot and try to mix it all together. This one, there's just more vocals overall."
"It's not just vocals, there are lyrical themes too," Lee adds. "We pushed ourselves in that realm, but when you start pushing yourself in certain ways, then you have to balance it out in other ways. As soon as we put full lyrics on one song, then the album seems imbalanced so then you have to add other stuff to balance out that. And then all of a sudden, you've got a—
"—Then all of a sudden, you've got a great record," Speer says, smiling.
The array of sounds and influences makes complete sense once the band lists what they were listening to while writing Mordechai. Lee had been playing music by a Pakistani singer named Nazia on repeat and, with Speer, had been "listening to a lot of Spanish disco" and live performances from the Belarusian band Pesniary. Speer was obsessed with Russian and Eastern European soul and funk. "A lot of Israeli, Yemenite jams were involved in my daily listening," he adds. Johnson, meanwhile, was listening to the Isley Brothers almost exclusively. Before COVID-19, the band traveled frequently to perform for their global fans (Khruangbin was set to go on tour with Tame Impala in the spring.) On their long flights, Johnson employed a tactic that Lee showed him years ago: he'd put one song on a loop and fall asleep listening to it over and over again. In this case, it was the Isley Brothers' cover of Todd Rundgren's "Hello, It's Me."
The band wanted Mordechai to sound like "the world, rather than any one particular part of the world," as Lee says—a lovely, bow-on-top description of Khruangbin's sound in general. Which they all insisted, is Houston in a nutshell: a snapshot of many different cultures—West African, Indian, Vietnamese, German, Czech, Mexican, all thriving communities—a diverse microcosm of the seven continents in 670 square miles.
"Most people look for the country or Americana sound in our music to somehow get that we're from Texas," Lee says. "There were so many interviews like, 'How are you from Texas?' There are still plenty of interviews out there that say we're from Austin."
Houston, Johnson points out, is also one of the birthplaces of a singular hip-hop style: the chopped and screwed sound. Khruangbin certainly has rap-influenced aspects in the music, even if it's just a hint of hip-hop—like the beat on "A Hymn," which Jay Electronica and Jay Z ended up using in "A.P.I.T.D.A," a rap song.
"There's so much rich culture that we have in Hoston, which we always tap into subconsciously, because whether you try or not, if you're from Houston, it's going to come out of you," Johnson says. Whether you're making music, if you're filmmaking, if you're a painter, whatever you're doing, Houston is going to find its way into your heart because it's embedded in who you are."
Related: Haim Is the Most Open and Experimental They've Ever Been on 'Women in Music Part III'