The Glass Menagerie
With her new line for Steuben, Kiki Smith gives engraved crystal a nontraditional edge.
---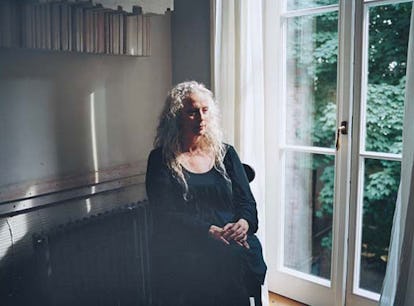 The third floor of artist Kiki Smith's town house in New York's East Village is littered with scissors, pencils and pots of glue. Two young assistants are sprawled on the rug, busily pasting paper cutouts of stars onto collages that Smith intends to give as gifts to friends. It's hot outside, and the large windows overlooking the street are open, allowing gnats and flies to zoom inside and around the bare lightbulbs hanging from the ceiling. Smith, her frizzy silver mane at maximum volume, presides over the room, which serves as her studio.
Smith's vase
If the scene resembles a summer camp arts and crafts session, it's no surprise. From the provocative sculptures of female anatomy that made her a leading feminist artist in the Eighties to the nature-inspired prints that have consumed much of her past 15 years, Smith's most well-known work has emerged from bouts of experimentation conducted inside her home. "I have a very rewarding experience hanging in my living room, working," she admits. "But I'm also interested in interacting with the broader spectrum of the world, not just the art world."
Which may partly explain why she agreed to her latest project, a collaboration with Steuben Glass—the 104-year-old American company known for its decorative engraved crystal—on a five-piece limited-edition collection. At the very least, Smith's Steuben line, which consists of a vase, priced at $60,000, and four small ornamental objects (a bird, a snake, an apple and a cat, each of which has a detachable piece of precious jewelry incorporated into the design and is priced between $6,300 and $8,700), is certainly more accessible than, say, her famed 1990 wax sculpture of a naked man and woman oozing semen and breast milk.
The crystal cat, which cradles a silver flower that can be worn as a pin
The way Smith sees it, the project—on which she worked hand in hand with Steuben's master engraver Max Erlacher—was not so much a commercial endeavor as it was a chance to expand her artistic vocabulary. "Working with masters like Max is the great pleasure of my life," she says. "Engraving is not something I could just do in my house. He did the hard physical labor. The part I got to do was just putting the frosting on the cake."
Her "frosting" is like nothing Steuben has ever done before, and getting the artisans on board with her aesthetic was a challenge. "Traditionally Steuben is extremely precise and tidy—we make sure every dot on the flank of a trout is anatomically accurate," says Peter Drobny, Steuben's project coordinator for this collaboration. "She wanted the designs to be sloppy and loose, which was odd for us. So there was a certain amount of eye rolling at first, but everyone here was pleasantly surprised in the end by how much it absolutely is her hand on these pieces."
The snake, which comes with hammered-gold rings as its rattle.
Erlacher, who's been with the company ever since he came to the U.S. from Austria in 1957, was more accustomed to replicating ancient Roman urns than creating Smith's shimmery, surreal snakes and kitties. "Kiki asked me to forget everything I know about engraving," he says. "Ultimately we came up with something that's never been done before—a new style. At first I thought it looked primitive, but now I realize it's terrific."
Unlike typical Kiki Smith works—which are often physically delicate and thematically weighty—the Steuben pieces are the kind of thing a noncollector might buy to casually adorn a bookshelf or office. This is what the artist had hoped for. "I like the idea of things on desks," muses Smith, reclining on her studio's sofa. "I love that people have these knickknacks, because the desk is a folly. It's the scene of reported activity, but there's a daydreamy, fantasy aspect to sitting at a desk."
Part of the apple
Photo credits: vase: Robert Moore; cat and apple: John Aquino