Killing Eve Season 3 Episode 3 Fashion Recap: Together at Last
Villanelle heads to London, still reeling from the news that Eve is alive.
---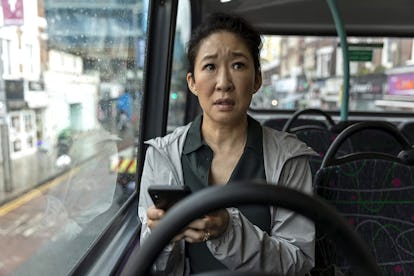 BBCAmerica
It's a perfectly ordinary day for Villanelle, who's spent her morning murdering someone, stealing a baby, and dumping said baby in the trash. And then, Dasha hits her with a curveball: Her next assignment is in London—home to Eve, whom she's just learned is very much alive. "It's too soon. I have to prepare. I'm not ready," Villanelle says, clearly flustered. "Not ready for London? All you need is anorak, and face like cheese," Dasha responds. Somehow, that has Villanelle convinced: "You're right. I know what I'm doing. I can handle this."
For the first time this season, there are signs of Eve piecing herself together. Her leads on The Twelve have her newly invigorated, to the point of wearing "real" clothes and sitting at an actual desk. Little does she know it, but Villanelle has just arrived in London, wearing a silky blouse by Petar Petrov—whose fans include another noted celesbian, Kristen Stewart—and mustard yellow pants. Her first stop: a perfumery. "I want to smell powerful. I want to make people gag with it," she tells the clerk. "Can you do that for me?"
"I want to smell like a Roman Centurion who's coming across an old foe, who in battle once hurt him greatly," Villanelle continues. "But since then, the Roman Centurion has become emperor, and is now powerful beyond measure." The perfumer pauses, then innocently suggests: "Maybe something more woody?"
In anticipation of her reunion with Eve, Villanelle pulls out her most designer fit to date: a three-piece suit with bungee cord detailing from Chalayan's spring 2019 men's collection, and a pair of lace-up ankle boots by Proenza Schouler. Predictably, it's a far cry from what Eve is wearing; after all, it's not like she expected a run-in with Villanelle while taking the bus. Lost in thought about her husband Niko, who's apparently gone MIA, Eve takes a bit to realize who's gotten aboard. At the sight of Villanelle, she springs into action, and almost instinctively attacks.
They tussle with abandon, as if they weren't aboard a passenger-filled bus. Finally, Villanelle wrestles Eve down onto a row of seats. "Smell me, Eve. What do I smell of to you?," she asks. Their faces are mere centimeters apart when Eve boldly gives viewers what they've always wanted: She goes in for a kiss.
And then, Eve gives Villanelle what she's always wanted: She gets violent on her own accord, mustering all of her force for a headbutt. Villanelle scampers, and stares after the bus in shock. Slowly but surely, a smile creeps across her face.
Eve, on the other hand, is definitely not smiling. Her nose is bleeding, and her jacket is ripped, and a bruise is blooming across her forehead. And yet, she still goes into work. Pressed by Jamie (Danny Sapani), Eve starts to fill him in on Villanelle. At least, until she realizes her next victim must be Carolyn, who only just manages to make it out alive.
Night falls, and it's time for Villanelle to take another victim by surprise. Konstantin is just settling into bed when he discovers that Villanelle, who's hidden under the covers, beat him to it. "Smell me," she repeats, still overcome with enthusiasm for her new perfume. "I'm wearing power. And to keep power, you need knowledge," she continues, demanding that Konstantin track down her family. "I'll sleep on the couch," he responds simply, clearly unamused.
Meanwhile, a similar scene is playing out at Eve's. She climbs into bed, only to find her own surprise from Villanelle: a stuffed pink teddy bear in a tutu and tiara, which reveals the message Villanelle recorded back at the toy shop. "Admit it, Eve," it repeats from a heart-shaped speaker. "You wish I was here."
Related: Killing Eve Season 3 Episode 2 Fashion Recap: Clowning Around