Killing Eve Season 3 Episode 5 Fashion Recap: Happy Mother's Day!
Villanelle heads home, without a trace of Eve on her mind.
---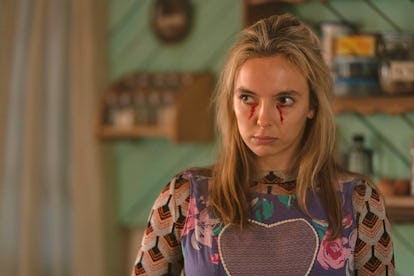 Des Willie/BBCAmerica/Sid Gentle
Only god knows how long it's been since Villanelle spent Mother's Day with her birth mom. But thanks to Konstantin, who tracked down her family, this Sunday's episode finds Villanelle—er, Oksana—on a jaunt in small-town Russia. Ostensibly, it's her home, but it's clear from the start that Villanelle does not fit in. She's jamming to wireless headphones, wearing fitted plaid trousers and a $340 designer turtleneck (a ribbed baby blue jumper by Courrèges). Under different circumstances, her rusty orange rucksack might seem sizable. But it's conspicuously small for the only piece of luggage on a miles-long, cross-country journey. Villanelle, it seems, is not here to stay.
Navigating her way past clusters of cows and donkeys, Villanelle comes upon a small house and invites herself right in. She pokes around until a little boy discovers her, followed by the rest of the family—none of whom seems to have any idea who Villanelle is. One of them, wearing a shirt that says "What are you gonna do about it?," asks if she's a slut. They're just about to call the police when Pyotr (Rob Feldman) enters. "That's my sister," he says, looking shocked.
While the rest argue about how Pyotr's sister could possibly still be alive, Villanelle joins the youngest, Boris (Temirlan Blaev), in the Elton John shrine that is his bedroom. "You've been to every city Elton's played!," he exclaims, quizzing Villanelle on what John would have eaten in cities like Vienna and Berlin. Getting into the spirit, she dons a pair of star-shaped sunglasses and a closely cropped orange wig—both of which she rips off when her mother, Tatiana (Evgenia Dodina), finally comes home. "They told me you died in fire. The orphanage phone me and say you burn place down," Tatiana says to her "baby." "It was only one floor. Two, at most," Villanelle protests, limply accepting her embrace.
With the help of an old scrapbook, we learn a few rare details about Villanelle's past. As a baby, she was "bulbous." "Everyone would stop me in street and say, 'She's beautiful baby,'" her mom says. "Head was big, but beautiful." As Villanelle grew older, she would dress up in costumes her mom made out of old curtains, Sound of Music-style. She also had a father—not that her mom seems remotely ready to acknowledge as much.
Commence 20-plus minutes of waiting for Villanelle to kill her mom. For a moment, it seems like the rest know there's a murderer in their midst: "I know a killer when I see a killer, and she's a killer," Fyodor (Dimitrij Schaad) says while they're all gathered around the kitchen table. Turns out he's talking about the card game they're all playing. In fact, they seem more than happy to have Villanelle there. No one notices that she tosses her shot over her shoulder when they toast to her—nor that she couldn't look more uncomfortable when they all rise for a raucous rendition of "Crocodile Rock."
Villanelle tones it down aesthetically the next day, but she's still sartorially out of place. When she interrupts her stepfather, who's kneeling in the dirt and gardening, for example, she's wearing head-to-toe Sacai. (A buzzier label than ever, thanks to Sacai designer Chitose Abe's upcoming takeover of Jean Paul Gaultier.) Oh, and she's also still stubbornly insisting on only speaking English.
Even when she's throwing dung at the harvest festival, Villanelle is wearing Sacai (along with some Paco Rabanne). Predictably, she wins first place. Back at home, she tops off her dung clothes with a heart-shaped apron. It's the most precious Villanelle has ever looked, but that doesn't stop her mother from telling her to get out, ASAP. "You are not a part of this family. You do not belong here," Tatiana says. And for a bit, it seems like she's the only person in the world who could get away with swatting Villanelle in the face. But eventually, Villanelle stutters. "I th—I think I need to kill you, mama," she gasps.
True to her word, Villanelle blows up the entire house. Only Pyotr and Boris survive. The latter, thanks to Villanelle's benevolence, now has enough money to see Elton's farewell tour.
On the train home, Villanelle finally changes out of her dung clothes, opting for her mom's old denim jumpsuit from the '80s. Her headphones are back on, and at first, she seems untouched as ever. And then comes Jodie Comer's best shot at winning another Emmy yet: a silent, minute-long closeup of Villanelle completely losing it.
Related: Jodie Comer Muses on Villanelle's Future in Killing Eve