It's Nicole Kidman's Turn to Creep You Out in The Killing of a Sacred Deer Trailer
It's all set to Ellie Goulding's "Burn."
---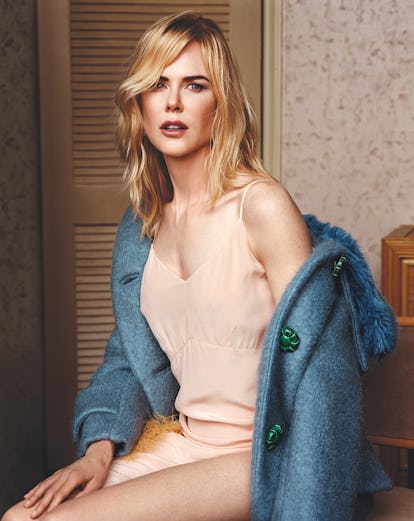 Photographs by Alasdair McLellan, Styled by Edward Enninful; Hair by Shay Ashual at Art Partner; makeup by Diane Kendal for Marc Jacobs Beauty at Julian Watson Agency; manicures by Casey Herman for Dior at the Wall Group. Set design by Stefan Beckman at Exposure NY.
Fresh off Jennifer Lawrence and Michelle Pfeiffer giving you the heebie-jeebies in the mother! trailer, here's Nicole Kidman and Colin Farrell to twist the knife into your nervous system with the deeply unsettling trailer for their upcoming flick Killing of a Sacred Deer. The film is the latest from always unnerving Greek director Yorgos Lanthimos and won the best screenplay award at the Cannes Film Festival (one of four Kidman projects there that contributed to the actress being presented with a special individual award).
Farrell and Kidman play a married couple, with Farrell as a surgeon who secretly takes a 16-year-old boy under his wing only for the boy to take an evil hold over the family in a way that the trailer (and, judging from the reviews, even the film) doesn't want you to fully understand. Meanwhile, the family's children end up basically paralyzed. If this sounds all vague and confusing too you, don't worry. Lanthimos' films are characteristically hard to summarize without watching them. Maybe it only stands to confuse more to add that his films are often funny, in their own way.
If the visuals and mysteries weren't creepy enough, the whole trailer is set to an odd a cappella version of pop star Ellie Goulding's song "Burn." An interesting choice to say the least.
If you're still not intrigued, then know that Alicia Silverstone pops up in a single, pivotal scene, and apparently it's the best thing she's done in years. Who doesn't want to get creeped out by Cher Horowitz herself?
Lanthimos is at a career high after his previous collaboration with Farrell, 2015's The Lobster, was a critical hit and nabbed a nomination for best original screenplay at the Academy Awards.
It will also be Farrell and Kidman's second time teaming up to spook you this year after the pair co-starred in Sofia Coppola's The Beguiled. Who could have seen this onscreen duo coming? Then again, both have extensive resumés in the thriller (psychological or otherwise) department. The Others remains one of the commercial high points of Kidman's career, and she's also had spooky turns in Stroker and Birth. Farrell meanwhile owes his breakthrough to 2002's Phone Booth.
Related: Nicole Kidman Opens Up About Big Little Lies in Her Most Revealing Interview Yet
Nicole Kidman Could Go on "Survivor" and Crush It:
Nicole Kidman's 13 Most Transformative On-Screen Roles, From Big Little Lies to Eyes Wide Shut
In 1990's Days of Thunder, Kidman's first role opposite soon-to-be husband Tom Cruise, she plays Dr. Claire Lewicki, a doctor charged with nursing Cruise's NASCAR driver character to recovery in the aftermath of a horrific crash. Though a critical flop, Days of Thunder marked Kidman as one to watch — and it still has a cultish fan base nearly three decades later.

Getty
Kidman and Cruise's second co-starring effort was Far and Away, the Ron Howard period piece about two Irish immigrants in turn-of-the-century America. Another film that was a popular success but a critical non-starter, Far and Away nevertheless found Kidman once again utterly transformed into the Irish émigré Shannon Christie.

Getty
Arguably Kidman's most important role to date came with To Die For, the darkly funny crime comedy about an aspiring television anchor (Kidman, as Suzanne Stone). It earned the actress her first Golden Globe (she had previously been nominated, but lost to Mercedes Ruehl in The Fisher King) and, as a bonus, also features a 17-year-old Casey Affleck in his first role.

Getty
Kidman is luminous in the already overstuffed Batman Forever, which premiered later in 1995 with Val Kilmer as the titular Batman. She plays Batman's love interest Dr. Chase Meridian, a psychologist — and though Batman Forever was far from Kidman's most complex or lauded role, it still finds her again transformed, this time into the quintessential damsel in distress (albeit one with a PhD).

Getty
In the last of Kidman's three roles opposite Tom Cruise, she plays his art curator wife Alice Harford in Stanley Kubrick's Eyes Wide Shut. It's an eerie, complicated role, in which Alice deals with her own suspicions and dissatisfactions while Cruise, Dr. William Harford, undertakes a kind of sexual odyssey.

Getty
Kidman was nominated for Best Actress at the 2002 Academy Awards for her starring turn in Moulin Rouge! opposite Ewan McGregor. It turns out, Kidman is also a capable singer in addition to a transcendent actress.

Getty
It's not just Kidman's capable acting that sees her so transformed in 2003's The Hours — the film that earned her her first and only Oscar thus far. It's also her prosthetic nose that completes her evolution into the writer Virginia Woolf.

Getty
Nowhere is Kidman's skill better on display than in the minimalist Lars Von Trier masterpiece Dogville, in which Kidman plays a woman on the run from the mob who hides out in the small town of Dogville, Colorado. With a set simply demarcated by lines on the floor, the film makes the most of its all-star cast, with Kidman at the center of it all.

Getty
Adapted from the 1997 novel of the same name, Cold Mountain earned an Oscar not for Kidman, but for supporting actress Renée Zellweger. Nevertheless, Kidman is in top form as a young society woman surviving Civil War-time hardships in the eponymous town of Cold Mountain.

Getty
With The Hours and Cold Mountain behind her, Kidman embarked on an early-'00s period of creative triumph. Two years later, she appeared in an entirely different kind of film, starring as an actual witch — Isabel Bigelow — playing an on-screen witch — Samantha Stephens — in 2005's Bewitched opposite Will Ferrell. The film itself was widely deemed a failure of an adaptation of the original sitcom — but Kidman was singled out as the movie's redeeming factor.

Getty
Kidman earned her third Oscar nomination for Rabbit Hole, the 2010 drama co-starring Aaron Eckhart and Dianne Wiest about a couple coping in the aftermath of their child's death. Rabbit Hole also marked the feature debut of Miles Teller.

Getty
Last year, Kidman found herself back in the awards season conversation as Sue Brierley, the adoptive mother of Saroo Brierley, a young Indian man — played alternately by Dev Patel and Sunny Pawar — searching for his birth family. An extremely '80s perm is just the start of Kidman's on-screen transformation.

Getty
Kidman is one part of the all-star cast roped into HBO's Big Little Lies, the limited series also starring Reese Witherspoon, Shailene Woodley, Zoë Kravitz, and Laura Dern. Kidman plays Celeste, the stay-at-home mom and wife of Alexander Skarsgard, whose picture-perfect marriage and children bely a fraught narrative of domestic abuse.

Getty