Kilo Kish Loves Vintage Hawaiian Shirts, Bold Brows
The multi-hyphenate shares the philosophy behind her too-cool style.
---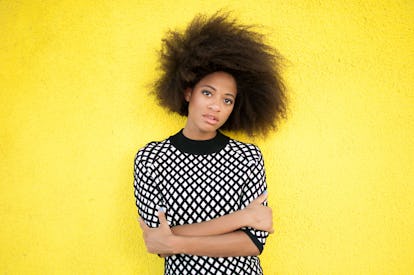 With her never-ending list of titles and talents (model, artist, and musician are just a few), it is no surprise 24 year-old Kilo Kish has a multi-faceted style to match. Taking time from promoting her new EP, "Across," and jetting between New York and L.A., Kish filled us in on her go-to beauty products, latest lusts, and summer must-haves.
Define your style in three words: Classic, quirky, grandma.
Daily uniform: A nautical striped t-shirt and some denim cutoff shorts.
Greatest hits: A super sparkly Michael Jackson cardigan that I wore for my first performances.
Finishing touches: Fun, poofy hair, or hair styled in an interesting shape.
Nighttime look: Chanel Vamp nail polish, NARS Paloma contour blush, Smashbox eyebrow duo for thick brows, and Armani Rouge Ecstasy lipcolor with Maison Kitsuné varsity jacket over anything.
Best recent discovery: Murakami Sushi on Melrose in Los Angeles. It's the best spot for an awesome sushi bowl.
Favorite stores: I don't shop that often, but now and then Maison Kitsuné, A.P.C., and Opening Ceremony.
Style pet peeve: For myself, I wear the same thing, the same ways over and over. When I was in high school and took myself more seriously I wouldn't repeat an outfit for like 4 months; I had fun with so many combinations. But I've grown lazy (or wiser) in knowing when I like it, I stick with it.
Style icons: Andre 3000, Chinatown old ladies, and anyone's grandmother.
Last purchase: A Contax film camera.
Lusting after: Chanel espadrilles.
Favorite haunts: NYC: Cafe Select, Lovely Day. LA: Jones, Goldie's, Murakami Sushi, No Vacancy.
Summer must-haves: Vintage Hawaiian shirts.
What's always in your bag: Tory Burch cat eye sunglasses, NARS lipgloss in sixties fan that I use for lips and cheeks, a little bottle of Mario Badescu SPF aloe moisturizer, RMS Beauty living luminizer, Chowards violet flavored mints.
Photos: Kilo Kish Loves Vintage Hawaiian Shirts, Bold Brows
Kilo Kish. Photo by Silke Labson.
Kilo Kish. Photo by Phillip T. Annand.