Also Known As @MuseumMammy
The talented multi-hyphenate answers our social qs.
---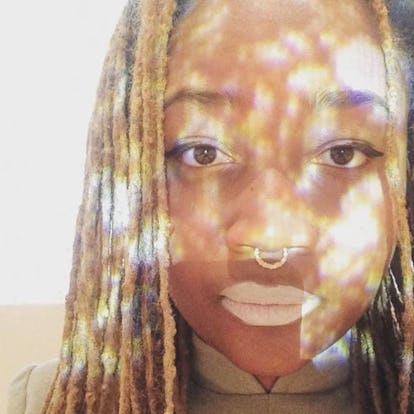 It makes sense that Kim Drew's cult-followed Instagram account @MuseumMammy covers everything from the art world to activism to the social sphere—she's an influencer in all of those realms, both online and IRL. With her casual yet informed manner, Drew has amassed over 82,000 followers. A member of the Metropolitan Museum's social media team, she excels at group shots with equally famous friends @VaJiaJia, @SirSargent, and @SusiKenna. Between her day job at the museum and her daily contributions to her personal Instagram and Black Contemporary Art Tumblr, we asked Drew to discuss her social media philosophy.
Occupation: Associate Online Community Producer at the Metropolitan Museum of Art, New York
Define your Instagram style in three hashtags:
BlackLivesMatter with a touch of #BBHMM to support my #TravelNoire.
How did you first get into social media and what is your favorite thing about it? I've been on social media for over a decade, but I truly committed myself to making it a career when I started my blog Black Contemporary Art in March 2011. I've had a sustained interest in social media because it provides users with a chance to be seen. I know many fear Big Brother, but in some ways I'm willing to risk privacy for self-determination.
What is your favorite thing to post? Books that I've been reading. I know it's really nerdy, but I love the comments that are generated. Your instagram post becomes a mock book club.
The one thing you would never post? I'd like to send a cease and desist letter to the company that introduced the Flipagram.
Instagram or #latergram? I like to share my instagrams as events are happening. #Latergrams are fine, but if you do post a photo after something is over your caption and photoshop game better be on point.
What is the most memorable comment you've ever received? Many of my most memorable comments are ones that I receive IRL. I love meeting people that I follow or that follow me. Doing social media as a job and as a personal hobby can be draining. It's nice to know that their are real people who appreciate your hard work.
Most geo-tagged location: The Studio Museum in Harlem is definitely one of my most tagged spots; their summer opening party is the best party in the art world.
Greatest hits: One of my proudest moments was sending an Instagram from inside the Instagram office. Also, I also have a photo of Drake looking at me in my eyes. His tongue is out.
Your first Instagram: A very poorly edited #latergram.
Your favorite artists or art spaces to post: I love taking #selfies in the elevator of the New Museum. I also love taking photos in artist's studios. Studio visits are an excellent opportunity to learn about each artist's process.
Your secret to social media success? Social media success is totally relative. Be yourself!
5 favorite accounts to follow: I know it's a biased opinion, but the @metmuseum account is stellar. I'm also a big fan of @5280meat, an instagram account that has mastered the art of photographing bacon; @ideabooksltd, which is full of fashion/art inspiration; @kingtexas, a dear friend and amazingly talented photographer; and I step into @theshaderoominc daily.
Social media pet peeve: When people repost images/artwork without giving proper credit. Not only are you being a jerk, but you're robbing people of an opportunity to connect with the artist or creative.
Photos: Also Known As @MuseumMammy