Kim Gordon Offering Limited Edition Tattoos as Fine Art
Gagosian Gallery has teamed up with Kim Gordon and five others to offer limited-edition tattoos as fine artwork.
---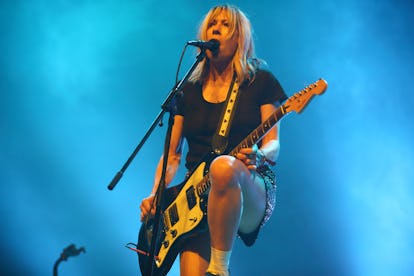 Redferns via Getty Images
Well, whatever lingering debate there was over whether the world of fine art accepts body art as a legitimate medium is over. As part of the upcoming New York Art Book Fair later this month, power gallery Gagosian has enlisted a roster of six artists, both musical and visual, to design limited edition tattoos.
That list includes Kim Gordon, Genesis Breyer P-Orridge (who fronted both legendary industrial band Throbbing Gristle and Marc Jacobs' latest ad campaign), freak folkee Devendra Banhart, Turner Prize winner Douglas Gordon, Max Hooper Schneider (whose preferred medium is actually usually biological), and Richard Wright.
Each drew a design on a "flash sheet," but a professional tattoo artist will be on hand to actually administer the work. Fernando Lions and Gillian Goldstein of Brooklyn's Flyrite Tattoo will be on hand to do the work. So, the collective punk rock world dream of getting a stick-and-poke from Gordon will not come to fruition, but this is still pretty good.
Dubbed FLASH FLASH FLASH, and billed as "an exhibition as tattoo parlor," the offerings will take a particular art world slant.
Each tattoo design is strictly limited to just six editions, and , yes, the edition number will be inked on the buyer's body.
The tatt will also come with documentation vouching for its authenticity. How embarrassing would it be to have someone accuse you of having a black market Richard Wright dupe on your body without paperwork to prove otherwise?
There also appears to be no limits on where the tattoo can be placed. So, by all means, feel free to get a lower back tattoo designed by an award-winning​ fine artist.
The only thing not common in the traditional gallery setting is that the artwork will actually be relatively affordable. Buyers will only have to shell out $250 for the inking honor. Not only is that price a steal for artwork, but that's actually pretty reasonable for a tattoo. You can pre-order you tatt on Gagosian's website.
Of course, buyers won't be able to turn around and sell their newly acquired pieces on the resale or auction market. Or, at least, we hope no one tries to do that. However, a non-tattoo print of the works will be included. A special edition book by artist Brian Roettinger will also be for sale.
So what can you get? Well, Gordon has designed an armchair flanked by the initial "D" and "O."
Schneider has designed the world's sexiest hummingbird.
The rest can be previewed here.
If you happen to miss out on the pre-orders, you can head to the booth during the Book Fair at MoMA PS1 between Thursday, September 15th and Sunday, September 18 and pick up a temporary tattoo version of the designs as well.
Naturally, we're waiting for some would-be body art Duchamp to take one of these designs to their neighborhood tattoo parlor and have it inked on without authorization and number the edition 7 of 6.
Watch W's most popular videos here: