Read Carrie Brownstein's Foreword for Kim Gordon's New Book 'No Icon'
Get an exclusive, advance look at Kim Gordon's upcoming book "No Icon," including Sonic Youth photographs from her personal archive.
---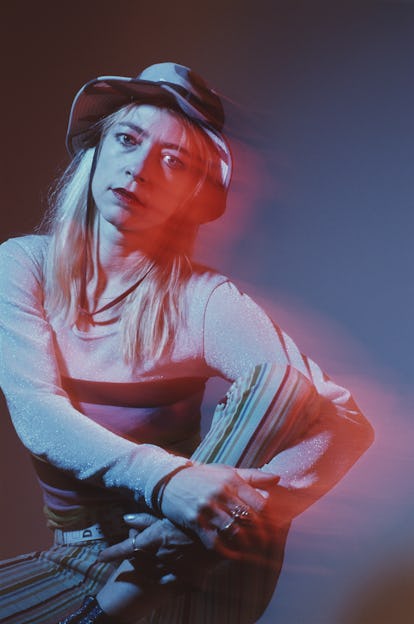 Tony Mottram/Getty Images
The last time Kim Gordon released a book was in 2016, when she put out a tome featuring her various works of art, along with a record by Body/Head, her band with Bill Mace. Titled Noise Name Paintings and Sculptures of Rock Bands That Are Broken Up, that book was one of three that the Sonic Youth singer and bassist has published: the second was a memoir, called Girl in a Band—and the third, which will be released this Tuesday by Rizzoli, is something of a comprehensive combination of the others.
No Icon feels like the most personal and complete encapsulation of the artist's life and work in print form yet. It chronicles Gordon's writings, art, music, and upbringing through photographs—pictures from her family and personal archive depict the musician's life growing up in Los Angeles; shots of her early days on stage with Sonic Youth are flanked by original fliers for the band's shows.
There are select images from the hundreds of photoshoots Gordon has done, and, of course, pieces of her art (including those from her "Noise Paintings" series and her 2019 performance with Dimitri Chamblas at the Louvre) are on full display, too.
The pages are filled with family and friends—there's a photograph of Gordon and Iggy Pop, and one of her with a young Sofia Coppola at a runway show for Gordon's label X-girl in 1994. Another close compatriot of Gordon's, the Sleater-Kinney musician and Portlandia comedienne Carrie Brownstein, lent her talents for the book, penning a foreword with an abstract and heartfelt vignette about hanging out with Gordon at her house in L.A.
Read the excerpt by Brownstein below, along with an advance look at a few photographs from No Icon.
Kim lives near me in an East Side neighborhood of Los Angeles. The first time I visited her house, she gave me a tour. She still had two dogs then, and they followed us around as we went from room to room. The older one, a blue merle Aussie Shepherd, was stiff and compensated thusly by rocking side to side like a toy horse manned by a toddler. The younger one, though not so young, was a Cavalier King Charles that humped my foot whenever Kim and I sat down to talk. So, as I recall, it was more comfortable to be standing, both for my foot and also emotionally.
We went downstairs and walked out a door from her bedroom onto a narrow deck, which had no railing and overlooked the houses below. She mentioned her plans for the backyard, ways to fill it in with plants, and she explained how the deck would be expanded—made safer, I assumed—and more capacious. When we returned to the dining room, we sat next to each other at a small circular table. It was before she'd remodeled her kitchen, which she'd do later. But, for now, the cooking and eating spaces were partitioned, separated by a pass-through window.
I could see the pans in the sink and on the stove, grease and herbs combined into dark clusters like a sap-filled forest floor. Her younger dog resumed its adoration of my shoe, and this we occasionally acknowledged.
But mostly we talked about our lives, her daughter Coco, music, and TV. We ate roasted potatoes and chicken that she had cooked for me and drank red wine. I had a dating app on my phone, and we flipped through photos, looking for potential matches for her. We saw men who said they liked to laugh, men who had once sat atop a camel, and men who knew how to hold babies. Each profile featured a slide show accompanied by a song, which made it seem like a memorial. I asked if she'd be interested in being with any of these men, and she said: "Definitely, no."
In her doorway, we hugged goodbye, and I walked to my car. As I drove home, I thought about the first time I heard Kim Gordon. It was spring break 1990, my sophomore year of high school. My family was visiting my uncle's house in coastal Maine. I only brought one CD with me on that trip, Goo by Sonic Youth. I played "Kool Thing" on repeat in a carpeted and maritime-themed living room, luxuriating in the bridge where Kim riffs on white, male, corporate oppression and liberating us girls. I was too young to even lawfully be granted more freedom than what constitutes a lenient weekend curfew, but the way she inserted herself into the middle of that noise was playfully sinister, like the rest of the band suddenly required an invitation to be there along with her. And I kept thinking that maybe to combat imposter syndrome you have to throw your own party. When I got home, I texted Kim, "Thanks for dinner." But I could just have easily said, "Thanks for being the person who helped me realize you don't have to wait for someone else's permission to be yourself."
Excerpt From No Icon by Kim Gordon (Rizzoli New York, 2020)
Related: Welcome to Kim Gordon's Second Youth