Kim Kardashian Received a Truly Elaborate Floral Arrangement From Kanye West for Her 38th Birthday
There was even a pianist too.
---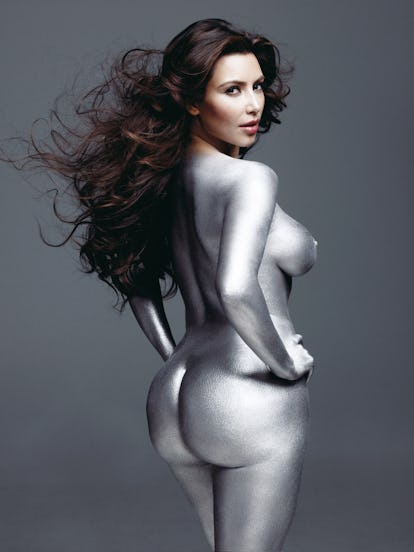 Mark Seliger
Kanye West once again outdid himself for Kim Kardashian's birthday.
The day before her 38th birthday, Kardashian woke up in the morning to a sweet surprise from her husband, which she shared on Instagram.
"This is what I wake up to, guys!" said Kardashian in her Instagram Story, showing videos of a room full of floral arrangements West had picked out and a pianist playing a serenade for his wife's special day.
"Kanye's the most creative when it comes to sending me flowers for my birthday!" she captioned one of the videos, with several heart emojis. "Love you so much babe."
The 41-year-old rapper later wrote his own sweet message on Twitter about the surprise dedicated to his wife, alongside a video featuring two of the couple's kids, North and Saint, dancing.
"@KimKardashian You're stunning," he wrote. "I will keep trying to make things that can express how beautiful you are inside and out and how much I love you and our family."
West's surprise comes after the couple took a trip to Uganda last week where they met with the controversial president of Uganda, Yoweri Museveni, who has spoken out about his support of President Trump and anti-LGBT rights.
A few hours earlier, Kardashian also posted photos of other birthday gifts she received, including three Judith Leiber handbags.
"Look what Mario got me for my birthday," Kardashian said on Instagram. "It's a black Judith Leiber heart. It's really rare and it is so cute," she said.
Kardashian then brought out an "old vintage" bag her mother, Kris Jenner, bought at an auction and wrote, "OMG MOM I LOVE YOU!!!"
The reality TV star and mogul also posted a video of another gift her mother had gotten for her, a piece of tooth jewelry shaped like a cross. "Look at this gift from my mom," she said, showing off her new accessory.
It seems like the birthday celebrations will be nonstop for Kardashian the rest of the weekend. West does really go all out for his wife's birthday each year. Hopefully their posts will put any lingering divorce rumors to rest.