Kim Kardashian Upstages Everyone
In case you missed them, here are the top style stories of the week.
---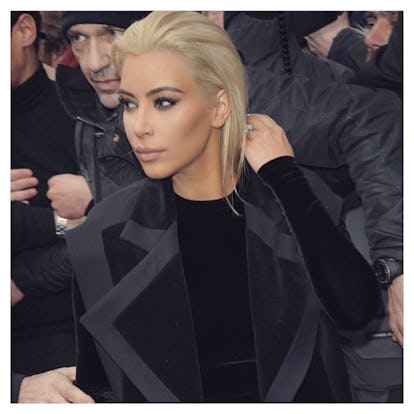 & Other Stories Cast Meryl Streep's three daughters in its new campaign celebrating a collaboration with Claire Vivier. Unfortunately, the family matriarch was not included.
Abercrombie & Fitch Sold the company's corporate jet; did not sell enough T-shirts.
Armani, Giorgio To launch a new line of women's wear called New Normal, which has no relation to the TV show.
Carven Named Alexis Martial and Adrien Caillaudaud the brand's new creative directors.
Coach The brand plans to open its first Paris flagship, making easy access to skull scarves for all.
Cole, Lily The supermodel revealed that she's pregnant with her first child. Congrats!
De la Renta, Oscar To be the subject of an exhibition at San Francisco's de Young Museum, curated by Andre Leon Talley. His memory lives on.
Delevingne, Cara May be recording something with Beyoncé. Please don't let the Insta-proof be a lie?
Dundas, Peter The fashion designer is leaving Emilio Pucci for Roberto Cavalli in the latest round of fashion musical chairs.
Gaultier, Jean Paul Teaming up with the Japanese brand Seven and I after closing his ready-to-wear collection. Had to fill up his time somehow.
Instagram Now enabling shopping within the app. For advertisers only—sorry bloggers.
Kanye The multi hyphenate is adding curator to his list of occupations.
Kardashian, Khloe May take Kelly Osbourne's place on Fashion Police. Is not condoning racism in doing so.
Kardashian, Kim Dyed her hair blonde; upstaged both Balmain's Fall 2015 show, Jared Leto's new do, and Kanye's new hobby in the process.
Lemaire, Christophe The former Hermès designer announced a collaboration with Uniqlo. Heat-tech goes high fashion.
Missoni, Margherita Continuing the family tradition by launching a collection of children's wear.
Nyongo, Lupita The actress's stolen Oscars gown was found in an L.A. dumpster. Encourages dumpster diving throughout the city.
Owens, Rick Covered the models' faces at his Fall 2015 show in gold leaf. Unfortunately, the models this year were not dancers.
Posen, Zac The fashion designer is now tasked with the challenge of reviving the Charles James brand. And bringing ball gowns back, baby.
Rousteing, Olivier Now has 1 million Instagram followers. Would like to thank the Kardashians for their helpful contributions.
Stone, Lara Reportedly split from her husband David Walliams after five years. Did not leave him for Justin Bieber, you beliebers.