Kim Kardashian Is Back In Black
In case you missed them, here are the top style stories of the week.
---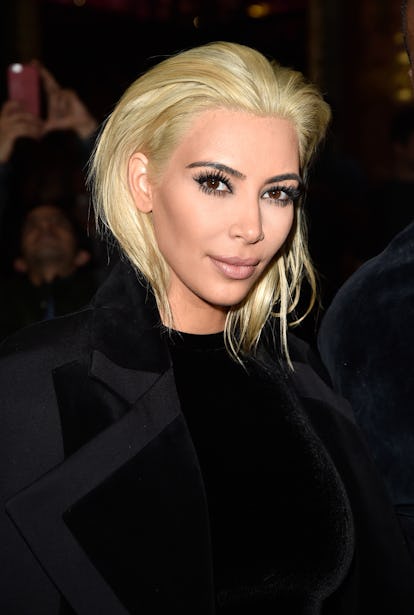 Coltrane, Ellar The Boyhood actor signed a modeling contract. Well that took long enough.
Ford, Tom The fashion designer-turned-director revealed that he's working on a film project with George Clooney. Unfortunately, Mr. Amal Alamuddin will not be starring in the movie, he will just be producing it.
Jacobs, Marc The famously anti-social media joined Instagram. Has to deal with saying goodbye to Marc by Marc in his own digital way.
Kardashian, Kim Goes back to brunette. Apparently didn't have more fun as a blonde.
Katrantzou, Mary The London-based designer won the British Fashion Council's fashion fund award. Will hopefully expand her digital prints to the masses.
Louis Vuitton Plans to stage the brand's resort show in Palm Springs this year. Because Brooklyn is so last season.
Odiele, Hanne Gaby Revealed that she's designing footwear in collaboration with Matt Bernson. Because being a model-slash-actress is also so last season.
Pyer Moss The cult-favorite men's wear brand revealed it is launching women's wear. Thank you! from all of us.
Rihanna The singer's new eyebrows are so thick even Cara Delevingne is jealous.
Saldana, Zoe Thinks it would be stupid to boycott Dolce & Gabbana, because, you know, freedom of speech.
Versace The brand plans to open 30 more stores this year. Viva Versace!
Walton, Binx The model announced that she's designing sneakers in collaboration with Superga. We're seeing a theme.
Weir, Johnny The figure skating champion is selling his fancy fur coats and has no plans to design a footwear collection.
West, Kanye The musician/artist/designer's collaboration with Adidas will be sold at Barneys. Get in line now.
Zanotti, Giuseppe The footwear designer announced that he's collaborating with Beyoncé. At least he's not announcing a modeling career.